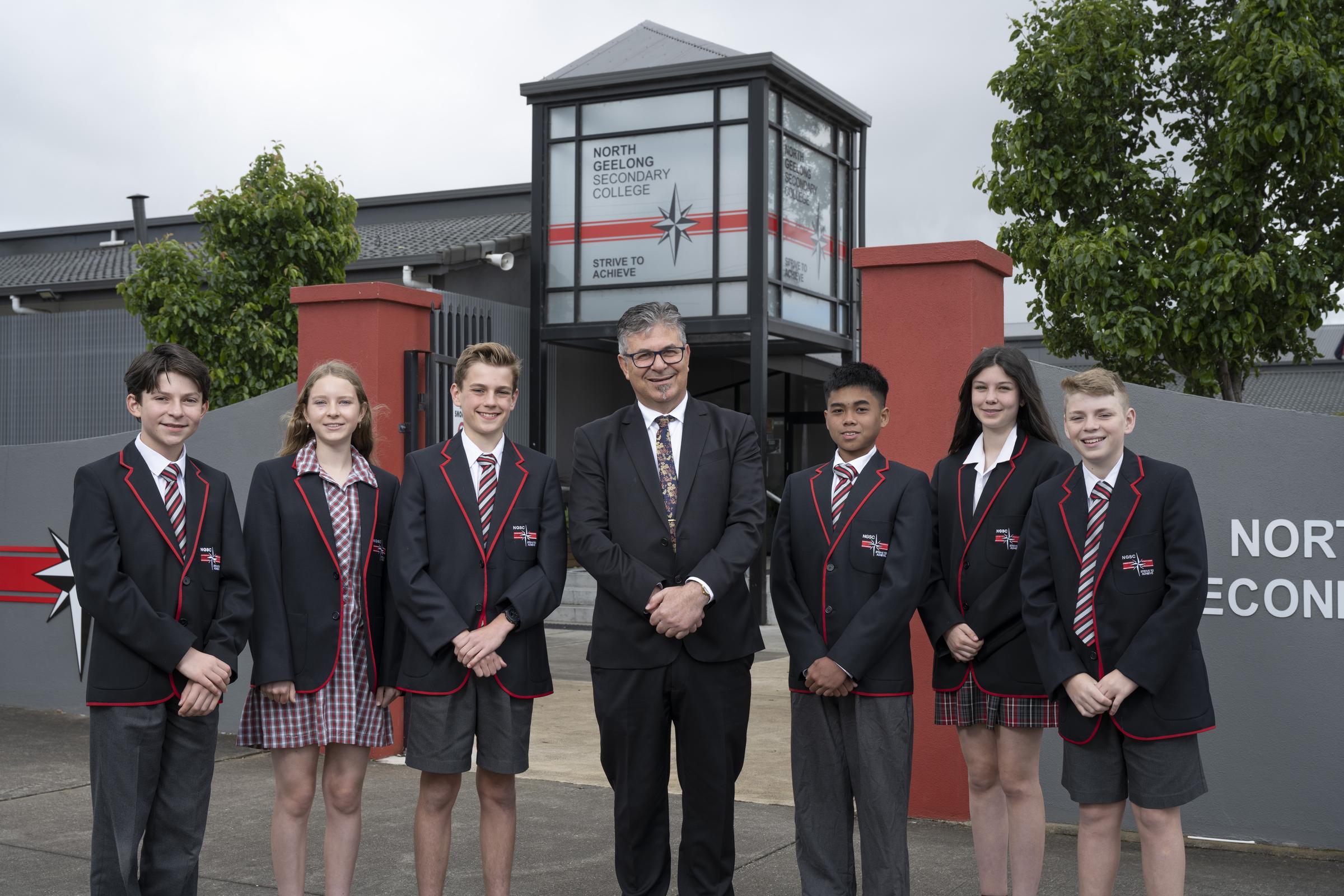 Nicolas Adamou
Principal
2023 Key Dates
| | |
| --- | --- |
| 15 Sep | Last Day Term 3 - Students finish school at 1:30 pm |
|  2 Oct | First Day Term 4 |
| 20 Oct | Multicultural Festival |
| 17 Oct | School Council Meeting |
| 25 Oct | Geelong Cup Public Holiday |
| 24 Oct to 15 Nov | VCAA Exams  |
| 30 Oct to 3 Nov | Year 11 Exams |
|  6 Nov to 17 Nov | Year 11-12 Orientation |
| 13 Nov | Year 7 Immunisations |
| 20 Nov to1 Dec | Year 10-11 Orientation |
| 13 Nov to 17 Nov | Year 10 Exams |
| 20 Nov to 24 Nov | Year 7-8 Exams |
| 27 Nov to 1 Dec | Year 9 Exams |
| 4 Dec | Assessment and Report Writing Day |
| 11 Dec | Grade 6 - 7 Parent Information Evening |
| 12 & 13 Dec | Year 7 (2024) Orientation  |
| 12 Dec | College Awards Evening  |
Just a little more about our school…
North Geelong is a hugely vibrant school that provides many opportunities for the academic, co-curricular and other individual needs of all our students in wonderful ways. It is a school of choice, and it is currently at full student capacity. The school has a very limited school zone, therefore parents from outside the zone can enrol their children at the school, provided there is capacity. 
The most convenient way to be enrolled at the school is through the transition from Primary to Secondary school, Grade 6 to Year 7, provided you follow the DE process and timeline. 
The final exams are fast approaching not only for our VCE students, but also all students from Years 7 to 11. I will urge and encourage all students to make good use of the upcoming two weeks break to take some relaxation and enjoyment and to also undertake significant revision and preparation for their final term for the year. 
On their return, our Year 12 students will have little time left at school. For parents and guardians this time can be fairly wearing as we try to encourage and support our children so that they can perform to their best levels. 
It is also a little unreal as we look back and wonder how quickly the school years have passed and wonder what the coming years will bring for them. I take this opportunity, and on behalf of the school community, wish our Year 12 students, all the best for the upcoming exams and best wishes for their future. 
Hang in there, there is light at the end of the tunnel…
Multicultural Festival, Friday, October 20, 11.00am to 3.00pm
It is that time of the year! North Geelong Secondary College is proud to announce its annual traditional Multicultural Festival celebration, on Friday October 20. 
Save the day! This school event is open to the public and you are all invited to celebrate with us our multicultural school community.
As per previous years, there will be a great deal of hands-on activities, food vans, rides, an animal farm, and stalls, suitable for students of all ages.
I am looking forward to seeing as many parents and friends as possible during our Multicultural Day celebration.
Support your child's education with 12 months free internet at home.
The Australian Government has established the School Student Broadband Initiative to provide free home internet for one year for up to 30,000 eligible families with school-aged students.
The initiative aims to boost education opportunities. NBN Co is leading the rollout of this initiative across the country.
How the School Student Broadband Initiative can help your child
Children who can access online learning at home as part of their education are more likely to engage in classroom activities.
Access to fast internet at home can also support children to build their digital skills, learn how to safely use the internet and take part in a world that is more reliant on digital technology.
Eligibility
To be eligible, families must:
have a child living at home enrolled in an Australian school in 2023
not have an active National Broadband Network internet service at their home (having a mobile internet service does not affect eligibility)
live in a premises that can access the National Broadband Network through a standard connection. NBN Co will check this for you after you apply
register interest with your school and complete a consent form to be assessed for eligibility.
How the School Student Broadband Initiative works:
If you are eligible, your home internet service will be provided at no cost for one year with a participating internet provider over the National Broadband Network. Each internet provider has its own step-by-step process to get you connected, which may involve you providing identification.
Once you sign up, the internet provider will help you set up your connection. The initiative does not include devices such as a computer or tablet. Other members of your household can use the internet service provided through this initiative.
The one-year period will start from the day your service is activated with your chosen provider. At the end of the one-year period, you will not be placed onto a paid service by your internet provider without your consent. The Australian Government is considering options beyond the one-year free period.
How to apply
Please contact the school and speak to Ms Leanne Scarlett for a copy of the School Student Broadband Initiative consent form.
Complete the consent form and return to Ms Leanne Scarlett. 
NBN Co will use student address details on the consent form to confirm eligibility.
If you are eligible, NBN Co will issue a voucher for your family to use to sign up with a participating internet provider. This will be provided to you by your school.
Please note: NBN Co will review the home address for eligibility. No personal information other than your main home address will be shared with NBN Co. Please see the consent form for details about how personal information will be used.
Find out more:
For more information about the School Student Broadband Initiative, visit 
https://www.infrastructure.gov.au 
 Working together with our parents and guardians. "It takes a village to raise a child…"
The phrase "It takes a village to raise a child" is an African proverb that emphasizes the idea that the upbringing and nurturing of a child is a collective responsibility that extends beyond just the child's immediate family. This concept highlights the important role that parents, guardians, extended family members, friends, teachers, and the broader community play in shaping a child's development and well-being.
In today's interconnected world, the idea that "it takes a village to raise a child" remains relevant. While the specific roles and structures of communities may vary, the underlying principle of collective responsibility for the well-being and development of children continues to hold true. When parents, guardians, and the broader community work together, they can create a more positive and enriching environment for the next generation.
Research shows that parents play a critical role in their school children's academic success at every year level. Effective communication with parents has proven to be an important tool for teachers and school administrators to use as part of a planned continuum through the secondary year levels. 
Regardless of income or background, studies show that those parents who are engaged in schools have students who have higher test scores and higher GPAs, improved attendance, better social skills. Parental influence also is seen in students who take higher level course work, who graduate, and who go on to post-secondary studies. 
The important role parents play in education is embedded in teacher evaluation programs. Many of these programs now measure how teachers and school administrators strengthen communication with parents and require evidence of these efforts. "When schools, families, and community groups work together, as a Community of Practice, to support learning, children tend to do better in school, stay in school longer, and like school more." That's the conclusion of "a New Wave of Evidence", a report from Southwest Educational Development Laboratory.
The report, a synthesis of research on parent involvement over the past decade, also found that, regardless of family income or background, students with involved parents are more likely to: 
Earn higher grades and test scores and enrol in higher-level programs. 
Be promoted, pass their exams, and earn credits. 
Attend school regularly. 
Have better social skills, show improved behaviour, and adapt well to school. 
Graduate and go on to post-secondary education. 
The school plays an important role in determining the levels of parental involvement in school. Specifically, schools can outline their expectations of parents and regularly communicate with parents about what children are learning. Also, schools can provide opportunities for parents to talk with school staff about parent role in their children's education through home visits, family nights, and well-planned parent-teacher conferences and open houses. 
When parents talk to their children about school, expect them to do well, make sure that out-of-school activities are constructive, and help them plan for tertiary educational settings, their children perform better in school. When schools engage families in ways that improve learning and support parent involvement at home and school, students make greater gains. 
At North Geelong SC we endeavour to build on and strengthen our partnerships and relationships with families, respond to parent concerns, honor their contributions, and share decision-making responsibilities, empowering the parents and guardians to sustain connections aiming at improving student achievement and future pathways. As we have experienced in the last couple of years with Covid-19 pandemic restrictions, in and out of remote and flexible learning have highlighted the critical role of a parent/guardian in their child's education and success. 
Scholarship Program - Year 7 intake 2024 
Congratulations to the following students who have been successful in gaining a scholarship for Year 7 and 8. Also congratulations to their respective primary schools for the wonderful work they do, supporting their students to perform to very high levels.
I am looking forward to presenting these young scholars with their scholarships and celebrating their achievements with their family and school community.
Academic Excellence - Hamish Dodemaide, Manifold Heights Primary School
The Academic Excellence Scholarship is available to students with an exemplary academic record who have demonstrated outstanding application and achievement in one or more of English, Mathematics or Science, together with a strong performance in general studies.
Student Leadership – Oliver Reed, Herne Hill Primary School
The Student Leadership Scholarship is available to students who have demonstrated leadership skills. The successful applicant(s) will have excellent communication skills, display initiative, and have a passion to motivate, delegate, guide, and direct fellow students.
Community (Good Citizenship) – Azra Sultan Kuru, Rollins Primary School
The Community (Good Citizenship) Scholarship is available to students who have made a significant demonstrable contribution to their community. The successful applicant(s) will display a strong social conscience as well as an outstanding work ethic and behaviour.
Sporting Excellence - Lachlan Flett, Teesdale Primary School
The Sporting Excellence Scholarship is available to keen sportspersons who have shown outstanding aptitude and personal achievement in one or many sporting field(s). 
The Arts - Sayde Woolley, Lara Lake Primary School
The Arts scholarship is available to students who have displayed excellence and shown commitment in one or more of the Arts areas (such as: Drama, Music, Dance or Visual Arts). Successful applicants should have a record of involvement in all aspects of primary school life in addition to artistic talent.
Scholarship Program - Year 9 intake, 2024
Our scholarship program for next year's Year 9 intake is in the process of being completed. Please contact the school and speak to Mr Steven Quinn – Transitions/Pathways Leader or Ms Tonia Tigani –Assistant Transitions/Pathways for more details. 
Scholarships are awarded for two years in Years 9 & 10. 
Last Day of the Term - Friday, September 15
Friday, September 15 is the last day of Term 3. I take the opportunity to wish you all a very safe and restful break and look forward to re-joining you next term. 
Term 4 begins on Monday October 2.
---