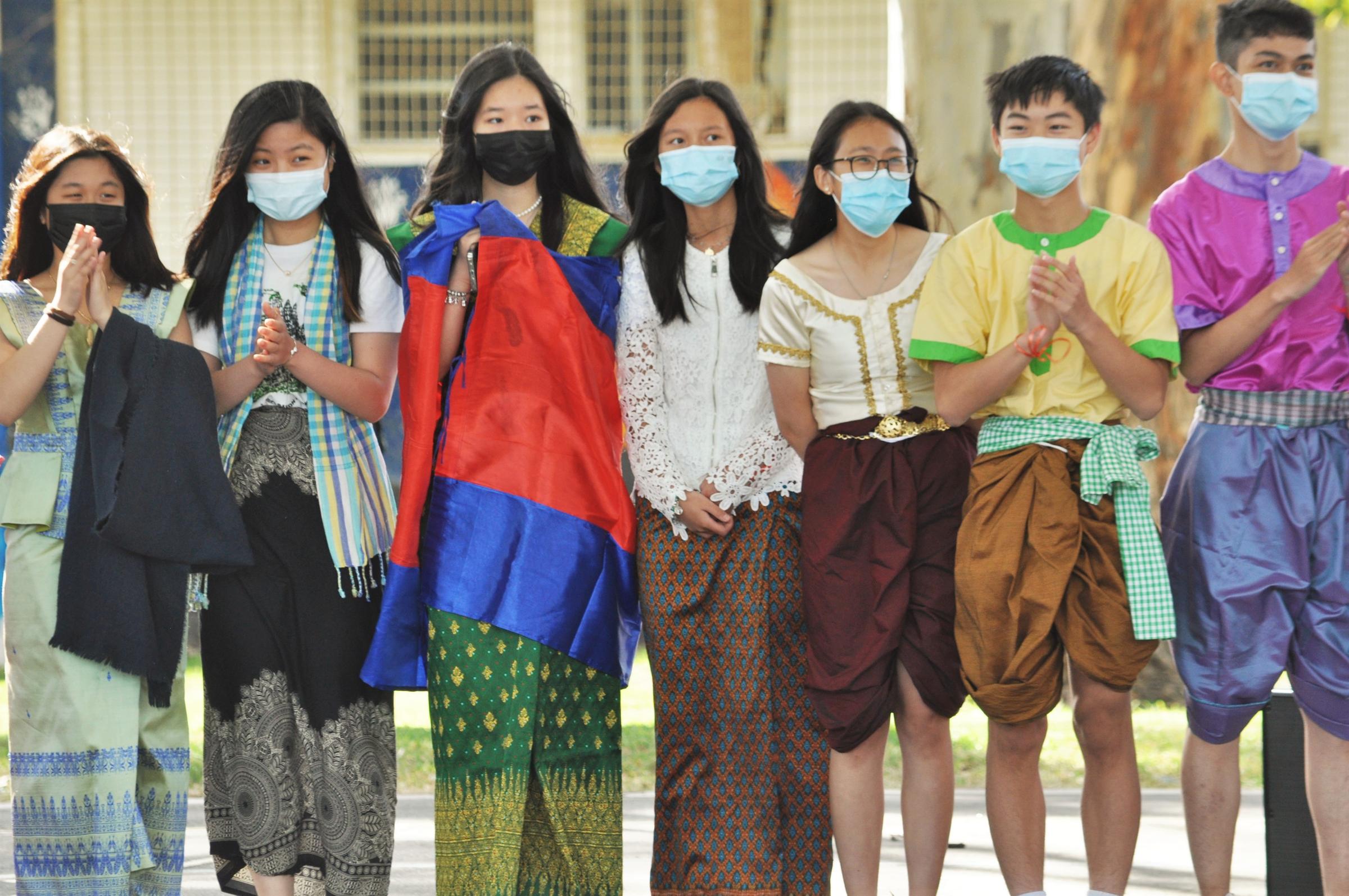 Message from the 
International and WELC Coordinator - 
Ms Debby Morgan
We are now at the end of Term 1. It has been a very busy term in the Language Centre, with new students arriving throughout the term. We now have 39 students and 5 teachers in our Centre. 
Our students have worked hard and made excellent progress with their English. It has been lovely to see our students develop friendships and become more confident as they spend more time together.
On March 23 our students participated in the Westall Harmony Day celebrations. Many of our students dressed in their traditional clothing and took part in the Fashion Parade.  Later in the day, WELC students participated in a team competition and showed their knowledge of places around the world by Guessing the Country and playing Scattegories. You can see some of the WELC Harmony Day photos in this newsletter.
On 5 April, we opened up our school and welcomed many parents and relatives to have a look around our school. I would like to say a big thank you to all our student volunteers who gave up time after school to be part of this event. I commend them for their willingness to try something new, and the friendliness they showed to our guests!
We have a few more events planned before the end of term. On Thursday 7 April, all WELC students will go to the Melbourne Zoo. They will have the chance to reinforce the knowledge they have been learning in Science classes by looking at a variety of different animals in their habitats.  It will be the first excursion for many of our students in a long time and they are excited to finally be able to go on a day trip together!
Finally, on Friday 8 April, we will hold a graduation celebration in WELC.  This term, three of our students will be graduating and moving on to their mainstream high schools.  We wish them all the best as they continue their education in Australia!
Friday also marks the end of term. We will have two weeks of holidays and resume classes again on 26 April 2022.  I wish everyone a happy and safe holiday and look forward to seeing everyone again in Term 2!
Ms Debby Morgan
International & WELC Coordinator
MY FIRST EXPERIENCE AT AN
AUSTRALIAN SCHOOL
School can be very different in Australia, compared to some countries. Group 1 students have written a letter to a friend to explain their first experience in an Australian school. Below are letters from our WELC students:
Schools in Australia are very different from schools in my country. In our country, students' study life is very intense. We have a lot of homework to complete, so we often stay up late until the early morning. The rest time is either occupied by the teacher or used to complete the tasks assigned by the teacher. But through these few weeks of study, I have learned a different way of education. I have ample time to exercise, talk with friends and explore nature. All in all, these days of my study life is very pleasant.
Joyce
Hi Bruce,
How's it going these days in Beijing? I know you guys are under great pressure now, I hope you can relax and don't be that nervous about the coming exams. My life in Victoria is brand new: new friends, new teachers, new lifestyles and so on. My friends in school are mostly Chinese, it gives me a sense of home and makes me feel less homesick. My friends are nice to me and we've got lots of common topics.
Let's talk about my experiences in Australia! As you can see, Australia is truly a natural paradise for animals and plants. The environment here is graceful, the air is fresh, and there is little pollution. I enjoy the environment and nature here. You know that I'm in Westall English Learning Centre to improve and adapt to the pure English learning environment. The courses in WELC is interesting and attractive, which gives me more time to experience the local customs of Australia. Everything goes well but still miss you guys.
 Yours sincerely
Ann😎
Dear Chi Ming
Today is my third week in Australia, and although I have daily text messages and video calls, I still miss you and my mom, and today is my second week at Westall English Language Centre, and in these two weeks, I've learned a lot of people from different countries and made a lot of new friends. Everybody was very warm and friendly, and they used to teach us some words how to say in the language of their country, which was really interesting. The teacher here is also very kind and patient, and every time he encounters a problem, he will patiently help us solve the problem, and he will ask them how they are doing before class and after lunch, and what they have eaten today, very warm communication with the students so that there is no sense of distance between teachers and students.
Yours sincerely
An Jou
Dear mum, 
Hope everything has been well recently! 
I have been in Australia for almost three weeks now. I am delighted to tell you that everything is good here, teachers, classmates, and especially the scene,  I now take the bus to school every day. The way of teaching here is completely different from China. The teachers here will give the students more space to use their imagination and creativity and not be rigid. That is fantastic! 
And my friends share their own lunches, and of course, I also share mine, but the meals I bring are basically not very tasty.  
Please feel free to call me anytime! Remember I love you always! 
Sincerely, 
Gracie 
Dear Y
I arrived in Australia 2 months ago and have attended school for 3 weeks. Now, I'm studying English at Westall English Language Centre. Before the school term, I was very nervous because I thought that adjusting to a new environment seemed challenging for me. Finally, I have recognized it's a misconception. I have made a lot of friends.
On the first and second days, I had to do a test, then I was separated into group 1. I was very happy when I found out that. In the sports period, I played volleyball with my classmates. That was the first time I played volleyball, so I didn't know how to play and my friends showed me. It's an interesting sport. Besides, I have learned a lot of new words in English when communicating with friends. All of those were great experiences for me.
Yours sincerely
Hailey
Dear Hong Binh,
Today I went to my new school in Australia -Westall English Language Centre. I was very nervous and worried about my first day at the new school. When I went to class with my aunt, I met a Vietnamese girl who would study in a same class with me. She and I was very worried because our English weren't good. When teachers talked, we didn't understand what they said. And we didn't know how to filled the form for the new students. Thankful the teachers instructed, we could filled a few in form. In the breaktime, we went to the restroom and we found two Vietnamese students and we made friend with them. Then the four of us went to class and sat together. We talked about new school and the feeling on the first day at new school. I was very excited and I looked forward to studying with new teachers and new friends in Westall English Language Centre.
Yours sincerely
Huynh Nhu Y Nguyen
I really want to tell you something about my first weeks in Westall Language Centre. When I came to this school for the first week, I took online classes at home because of the covid-19. But I still made a lot of good friends online. When we resumed school, my good friend Estall showed me the school, and made me feel very friendly. We took classes together with classmates from other countries and did homework on the computer, which I have never experienced before, it was very interesting! The teachers here are also very friendly, and the classes are full of fun. I also met a lot of new friends, and they are all very friendly. Some are from Vietnam, Thailand, Africa, and some from China. It also makes me very sad because this is my last semester to study here. 
Yours sincerely 
Hannah Wu 
Dear Tom,
How are you? Such a long time I haven't see you.
There are a lot of new things in Australia. Everyday I go to school by train.
After 2 weeks I was learning at school I can learn a lot of. The experience that have that is be confident and be friendly because everyone are kind. I had meet Vietnamese friends and Chinese, they all kind and very talkative. There are about 3 teachers teaching and they all friendly with the students. They are teaching us English and I need to learn more English including you because people here speak English very fast.
I will comeback to Vietnam in winter, send me back when you receive my mail.
From MINH
Dear Augustus,
During the days of school life and study, I have gained a lot, I made many new friends and learned more knowledge. When I think to back to the first time I came to the Westall English Centre, it was unforgettable. At that time, I followed the teacher to her office for an interview.
I passed by the classroom. I saw that my classmates were very hardworking about using the computer in class. I was very happy to think that I would be friends in the future. When I was
doing my test in the teacher's office, Estella came to answer her family's calls. She spoke
English very well, also she greeted me when she left. I think she is a very warm and lovely girl.
When I finished the test, Estella, Hannah and some classmates were very kind to show
me the school. I am very cheerful on my first day at school.
How about you in China? You can write to me.
Yours sincerely
Your friend Shirley
Dear Xiao ming
It's been a few months since I came to Australia and it's been a good few months. Although we can't see each other again, we can send emails. I'm currently studying at a school called Westall. It's a Language Centre. I've met many new friends here. We also go out to play on weekends. Anyway, , I am very happy now, and I hope you are doing well too. 
Yours sincerely
Melani
Dear Kathy,
I'm Amy, I've been 4 months from the day that I arrived Australia. How are you Kathy? I missed you so much! I was busy so couldn't sent you any letter from that day.
At this time, I'm student of Westall English Language Centre, which mean I'm a part of Westall's family! I have lots of fun here, I got new friends from different country, we used to study together, practice and improve our English everyday. Did you know Kathy, I want to be with you like we were, I want to study with you in this school, together we become good student. Our education are very great, I hope one day you will come and try this! I missed our school in Vietnam, all my friends, but for me to live in here is good chance. So, I can't come back there with you. I hope you and all our friends will always take care, study better, try your best, soon become good person or can come and join with me in this good learning environment!
Take Care!
Hope To See You, Love You Fellow Desk-mate!
From Amy
Harmony Day
On the morning of Wednesday 23rd March, we were having an exciting and brilliant time. We celebrated Harmony Day in Westall Secondary College Arena. Students from countries got together and had a great time there. They all wore their traditional costumes, which made these different cultures more inviting and charming.
First of all, the celebration began with the particular Smoking Ceremony. The Aboriginal Elders in the community came to hold this ceremony of Welcoming to Country. Following this, we enjoyed the performance of the drums brought by the students from Senior High. We also appreciated Anita's vocal solo in Armenian. Her voice was adorable and fascinating. We also relished the dance performances brought by the Chinese learners and Indians. These dances added joy to the atmosphere, which made us cheer and applaud. 
Next was my favourite part. The young girls from the Cook Islands performed their traditional dances. Their charm and confidence made their culture very attractive and engaging. I could see their pride and love for their national culture from their smiling faces and enthusiasm. I felt that was the best part of all the performances. 
As the celebration drew to a close, we watched the cultural parade. People from different countries wore their traditional clothes and walked on the red carpet. People around were clapping, cheering, and even screaming. All these things made me feel welcome with the multi-cultures within our school. With the sound of music, Harmony Day also came to an end, as everyone gathered together.
This celebration made me realize the different but wonderful cultures of many countries. At the same time, it let me know that we need to be inclusive of these cultural differences and not discriminate against others because of the gaps. 
Perhaps this is what Harmony Day wants us to comprehend.
By Ann Jia
Yesterday was the most interesting day I've ever had because it was Harmony Day at school, Westall Secondary School. I was notified about this festival about a week ago, and I was excited to celebrate it. I woke early in the morning to prepare, putting on makeup and dressing in 'Ao Dai,' my country's traditional costume. 
We went to the Westall Arena to celebrate the festival. The smoking ceremony was organised by Aboriginal Elders to begin the assembly. Anita then gave a musical performance. I really enjoyed her performance because she has a professional voice like real singers. 
Next, the most interesting performance was the traditional Cook Islander dancing. The cheery dances were very appealing to the audience and the girls danced gracefully, making me wonder how they could dance so easily.
Following that was a Chinese dance performance. It was a modern dance with gentle Chinese music, and the girls wore traditional Chinese costumes, which made them look elegant and gentle. 
Then, the Indians gave another dance performance. Finally, there was a national parade at Westall Secondary College. I loved the Vietnamese students in the parade as they were dressed in beautiful traditional Vietnamese costumes called 'Ao Dai' and 'Non la'.
This day was fantastic for me; I was overjoyed and excited. I saw many traditional costumes from other countries and participated in many activities with my friends. My friends and I also took a lot of beautiful photos.
"There is a choice we are making
We are saving our own lives
It is true we will make a better day
Just you and me."
Singing the song that my teachers had taught, an idea coming up on my mind. I think that from today, my favourite day of March will be the 23rd, when the big celebration for all nation that take place, it is Harmony Day. I am extremely excited looking forward for this 'Big Day.' I loved it, because it was the day when everyone come together, respect each other, remind about the past and looking up for the brightly future. We celebrated at Westall Arena on that beautiful morning.
I remember that I woke up early that morning, changing my sleeping gown into my precious Ao Dai – our Vietnamese Traditional dress. Stood up in front of the mirror, I sing the song that use to introduce about Vietnam called "Hello Vietnam.' I felt proud that I will represent my country's tradition, I proud that it is the day that we all will be respect. I came to school in the mood of hurry but elate. 
As started earlier at school, we went to the Westall Arena and we have a School Harmony Day Assembly. We sat together in closeness and comfort. We joined with the Westall Primary School Children, Westall Community, and our parents. Firstly, there was the welcome to country ceremony, did by the Aboriginal Elders. they did the smoking ceremony in Bunurong language, which is new and strange for me, so I am curious. Then, there were a drumming group playing drum, they make us extremely excited by the beat of drumming. The next part is my favourite part of the assembly: Anita sang solo in Armenian. I have heard she sang The Australia Fair in the school assembly last time, and I am extremely fall in love with her voice, high and sweet. Even I could not understand her language, but I like her performance so much! After Anita was a group of Cook Islanders dancing, made everyone stand up a dance with them. They are a little bit funny but also genuinely nice and highly polished. Then we watched some more traditional dance.
After some great performances, there was a "Traditional Dress Parade." I was a part of it, and I felt proud of my country because our beautiful cultural, and proud of myself because I am not shy anymore and felt that I am accepted. We hold the others hand and go on a parade, with a catchy song in the background, cheered, dance and sing. Also, we can witness some gorgeous traditional dress from many countries. My classmates dressed up very lovely, too. Shirley with Chinese's Hanfu, Setara's, Bintang's, all of them each brought one piece of colour and joyful! 
Furthermore, we spend period 2, 3, 4 in the class activities. We wrote recount for our wonderful experience in the school's assembly in period 2. Then we have a recess, and in period 3 we were all gathered. Miss Chow divided us into 8 group and play some games, to find out about Harmony Day and different pieces of languages, knowledge. I was a part of group 7, with Ngan, Iris, and Tien. We answered some questions about countries, how to say "Hello" in different languages. It was hard but fun! I knew some more words such as Ciao (in Italian), Bonjour (in France), Aloha (in Hawaiian). And not only that, but we also learnt to sing "We Are the World" with Miss Samuels and Miss Hambley. I am sure that everyone will never forget these precious memories that we spend together. And so on, we played one more game with Miss Chow, Miss Stephanie, Miss Hambley. It was a game that like "Stop the bus," we have some topic, and the teacher will give a letter, we need to find a word in that topic start with that letter. I am so surprise that our group ranked the second! We all have some chips as prizes, and we chatted a lot!
In conclusion, this Harmony Day is truly a day when all of us being sociable with each other's, looking for the brightly future. For me, it is great to make new friendship, know about many diverse cultural and languages, and the most important thing is respect each other. I am so glad to be a part of Westall's Harmony Day, I cannot wait for the next celebration with Westall!
By Amy Tran (Tran Nguyen Khanh Vy)
Harmony Day Photo Gallery
WELC Volunteers
WELC Sport