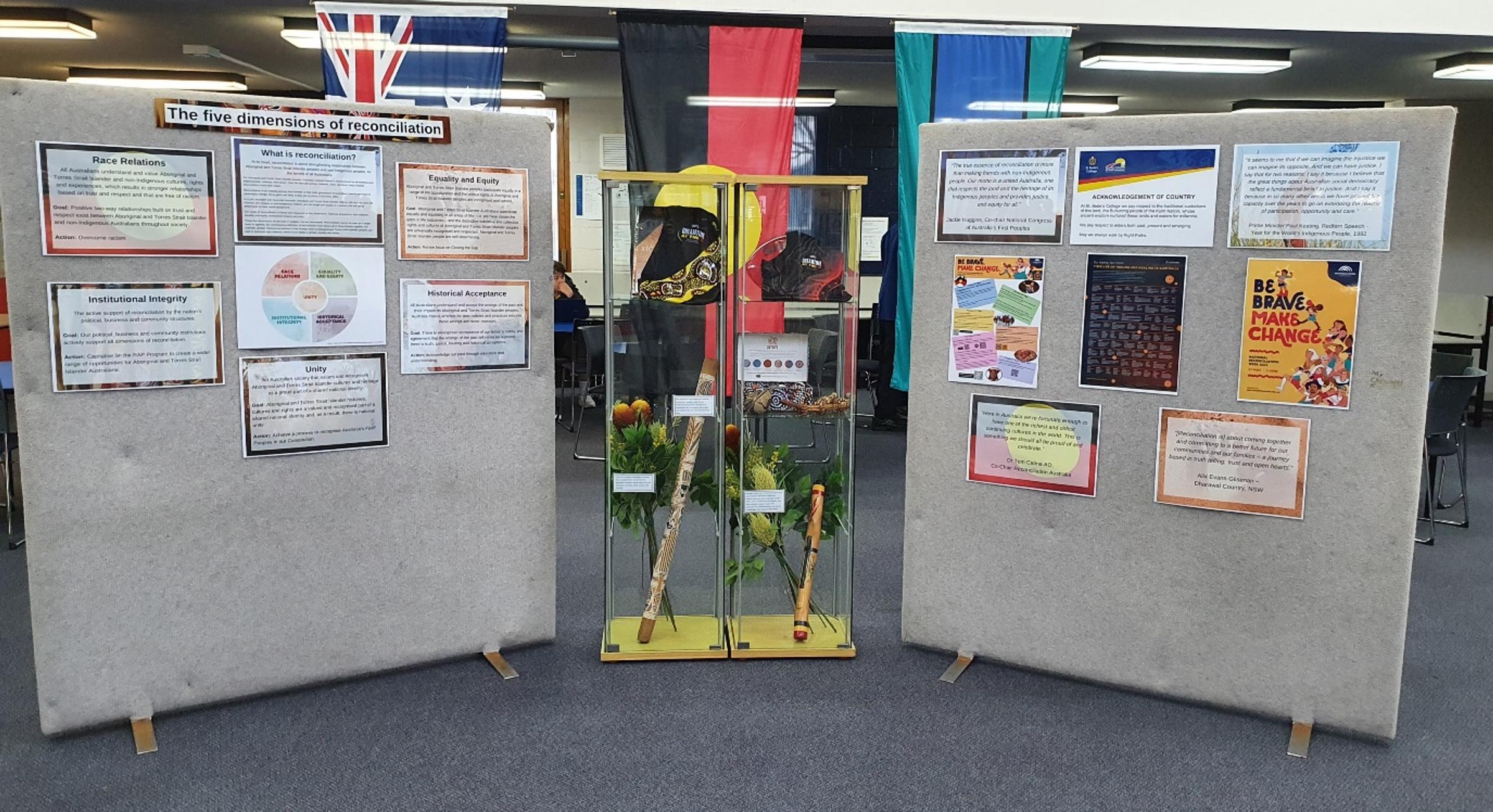 "People aren't one-dimensional; we are naturally inclined to have multiple skills and interests." Bertrand Wong.
The Library was fortunate enough to host the annual House Debate competition with Benilde taking the final prize. It was a fast-paced battle of wit and sophisticated techniques which had the audience enthralled. It was wonderful to see robust support for all who participated.
Reconciliation Week
In recognition of Reconciliation Week, the Resource Centre has created a display about reconciliation along with items that denote indigenous culture. Please come visit us and check out our incredible display. Special thanks to Meaghan Ryan, the Resource Centre team, Thomas Hubeek and Sherine Burl for assisting to make this possible.
Bentleigh East Campus Resource Centre News
Manga Mondays
Manga Club has started this term Mondays at lunchtime.  The students discussed which were their favourite Manga series & made some recommendations to Mrs Stark about which Mangas to purchase for the library.  Students have been writing mini reviews of different series which are now on the shelves next to the books for other students to see.  Students enjoyed a drawing lesson from Mr Kirkles where they learnt how to draw eyes.  It's a lot harder than what it appears! Other upcoming activities include manga quizzes and manga Jenga. All students who are fans of Manga are welcome to come along with their lunch on Mondays.
Chess Tuesdays
Coaching has started for all students interested in playing chess on Tuesday lunchtimes in the library.  Suitable for players of all abilities, the sessions begin with 10-15 minutes of coaching before students begin putting into practice what they have been taught by playing games against each other.  Students are learning a lot and having fun. If you haven't yet signed up, come along each Tuesday with your lunch to the library as soon as the bell goes! 
Seeking tips on finding great research articles, citing sources and more?
Our expert Teacher-Librarians are ready and willing to help. Don't forget to explore the Library's website.
Resource Centre Staff