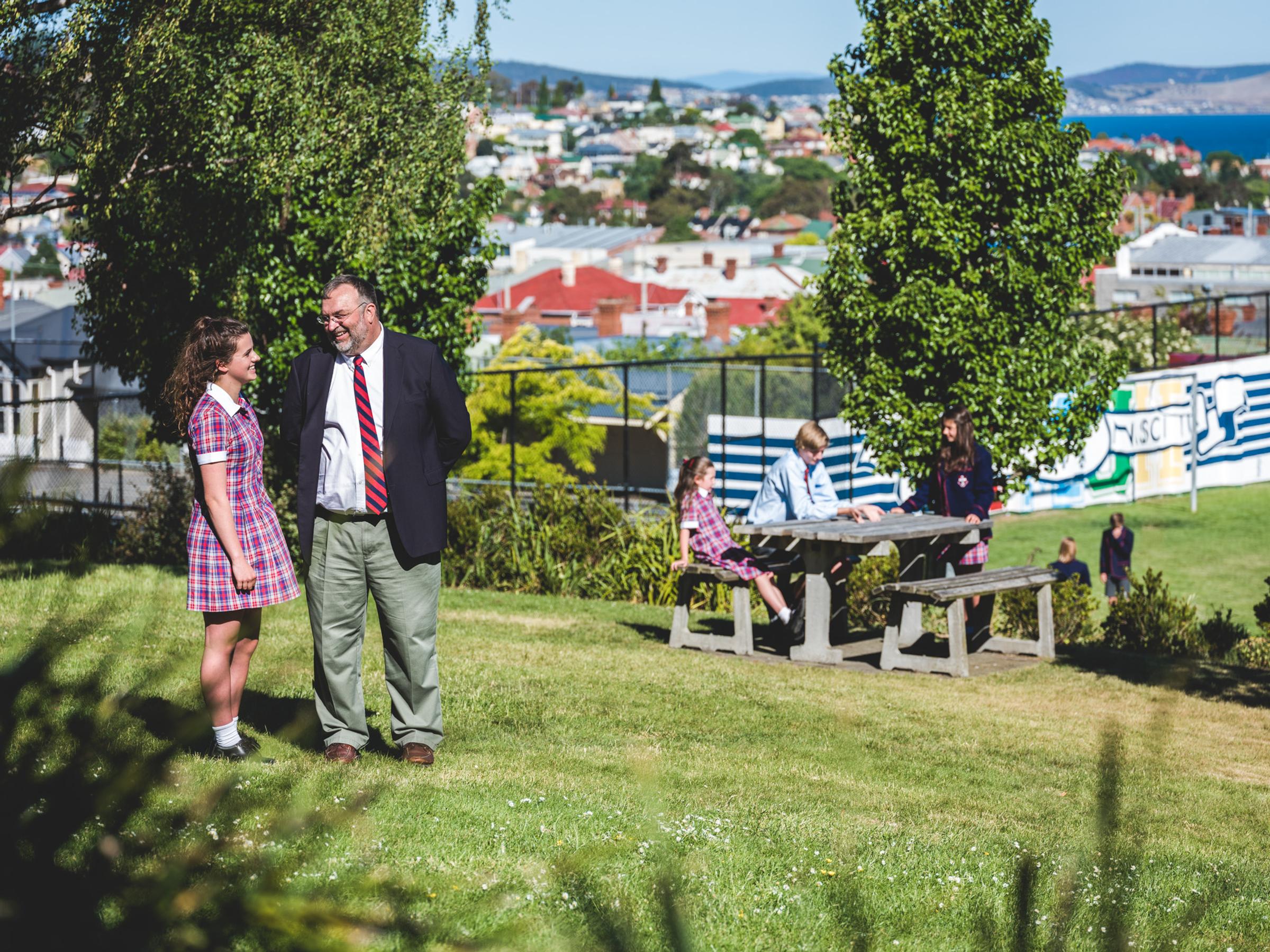 I trust this edition of the Rose and Waratah finds you and your family healthy and well. As much as we would like to put the pandemic behind us, it continues to dominate our thinking and news. Although Tasmania has remained incredibly safe during the pandemic, worry still creeps into our daily consciousness causing unwanted stress for students, staff and families. I know many of us have loved ones in other parts of the country or the world who have not been as fortunate as we have been here in Hobart over the past 18 months or so. I also understand that some in our School community are suffering because of the continued restrictions on interstate travel.
August and September have not been easy months for those of us paying attention to other parts of the world - the continuing human atrocities and suffering in places like Afghanistan and Haiti to just name a couple. Expressing gratitude for our lives here in Hobart as well as trying to help others are two excellent courses of action to take.
Here at School, student life has been relatively 'normal' with many of the familiar learning activities in full swing. In addition to student learning, there are many areas that we are focusing on in order to do better, become more socially responsible and improve student learning and understanding of the world around us. The School continues to consider the current organisational structure of year groups and what that might look like moving forward. We have sought feedback from current parents and the staff as well as reflecting on what is unfolding in the rest of Tasmania. At the same time, we are preparing for a visit from the International Baccalaureate Organisation in August 2022 and reviewing our two IB programs - the Primary Years Programme and the Diploma Programme. The Board of Governors is also considering a set of recommendations put forth by the Climate Impact Working Group on how the School can better educate our students and practice our environmental responsibility. 
Another important working group is in the process of developing a draft Reconciliation Action Plan for the School to consider in its relations with the First Nations People of Tasmania. Interwoven through all of this is the implementation of the School's Social and Emotional Learning (SEL) program E-12. As a staff, we work hard to ensure respectful and thoughtful relationships happen on a daily basis throughout the School day and year.
Consent has been a much-discussed topic throughout Australia this year and respectful relationships lie at the heart of consent education. Equality and right relationships have always been core to Quakerism in ways that seemed very strange when Quakers first appeared on the scene more than 350 years ago. When Quakers expected equal and respectful relationships and rights amongst all people and genders, other Christians at the time were quite disdainful of that practice.
All of these initiatives, thinking and planning are on top of the very exciting physical changes happening on the Commercial Road campus. The new Sports Centre will soon be closed in (roof and windows in place) and finalisation of the inside will be taking place. Before you know it, the renovation of the WN Oats Centre will be underway in order to transform the physical layout of the Commercial Road campus in time for 2023. Very exciting times indeed!
I hope you enjoy this edition of The Rose and Waratah that shows a small snapshot of what is happening here at Friends'.
With Friendship and gratitude,
Nelson File