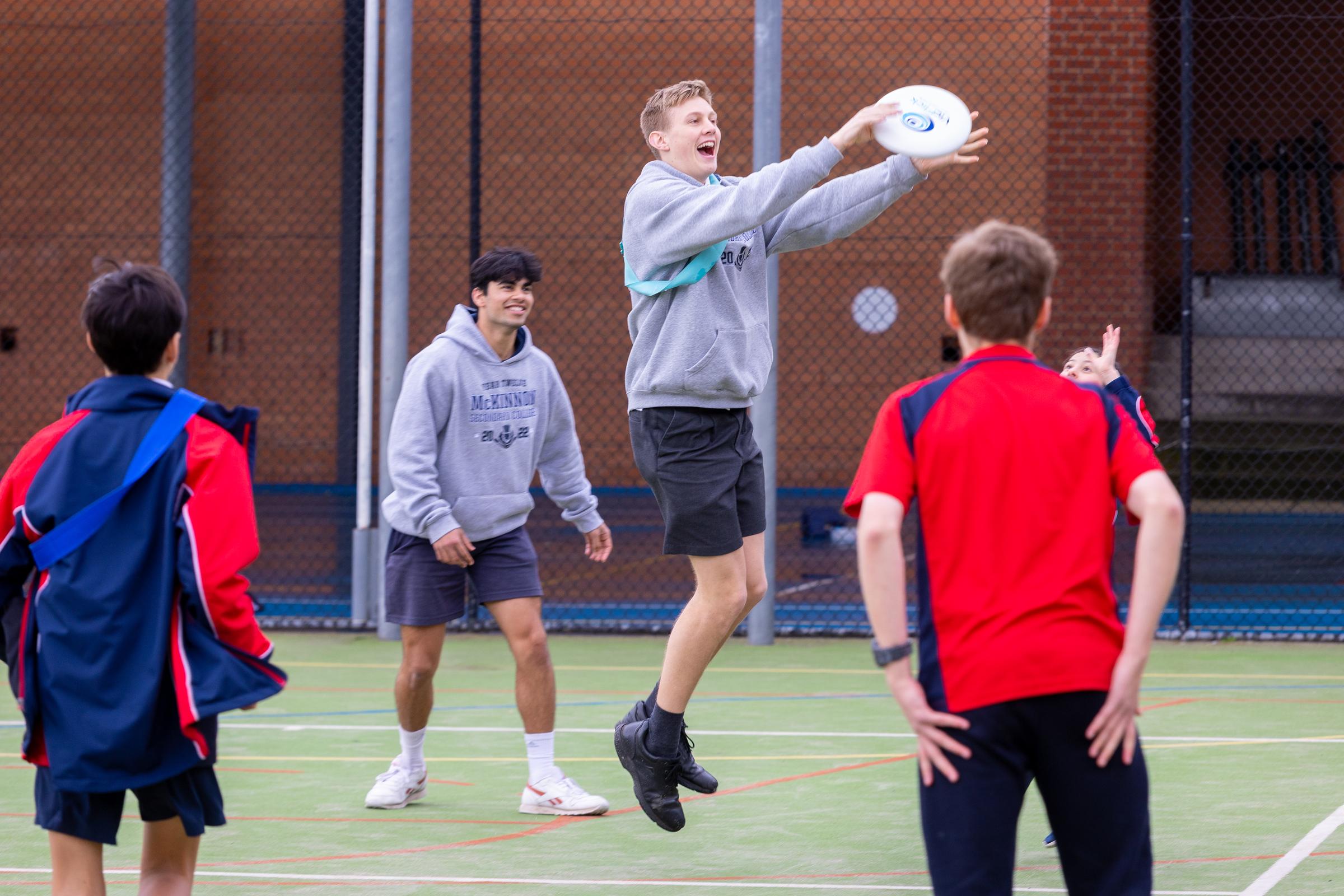 HEALTH & PE 
In week 8 of term we celebrated all things Health and PE in recognition of National Health & PE day on Wednesday 7 September.
The PE and Health Departments' mission is to create positive attitudes towards lifelong participation in physical activity and healthy lifestyles. To promote this ethos students had the opportunity to participate in a range of activities across both campuses and had daily health and well-being tips shared with them.
Highlights from the week included a Just Dance Off on Monday recess, a Dance Concert on Thursday recess and House Captains Lunchtime Take Overs from Tuesday - Friday. Activities students participated in included Capture the Flag, Ultimate Frisbee, Futsal and Year 12 v the rest of the school Dodgeball.
Just Dance Off
Futsal
Ultimate Frisbee
Handball & Soccer
Capture the Flag
The Nikki Visaj Movement Dance Concert
Dodgeball East
Dodgeball Main
Thanks to all of the House Captains and PE staff for giving up their lunchtimes to organise these activities, and thank you to all of the students who came along and had an amazing time.
Keep your eye on the newsfeed for more lunchtime activities coming your way in term 4.
Stay active over the holidays.
Jennifer Pemberton
Head of Physical Education
KINGSTON ATHLETICS
On Monday 29 August, 98 of McKinnon's finest athletes competed in the Kingston District Athletics Carnival. McKinnon dominated the day, in particular the Relays, with:
7 of the 12 teams placing 1st; 
4 teams coming 2nd and; 
1 team coming 3rd.
Congratulations to Rosie O'Brien (Year 8), Allegra Orso (Year 9) and Matthew Day (Year 12) who were age group champions. The Junior, Intermediate, Senior Girls and the Senior Boys teams were also awarded the aggregate pennants. The final result of the day was a win for team MCK who have brought home the overall district pennant for another year!
Thank you and well done to Ms Hooper for organising the whole event and to Ms Weiss, Ms Hatch, Ms Pemberton, Ms Breidahl and Mr Adlington for helping the events and ensuring the day ran smoothly. 
A big congratulations to all the McKinnon athletes who competed and to those that came first in their events who have qualified for the Southern Metro Carnival early in Term 4. Good luck!
Claire Weiss
Athletics Organiser
YEAR 8 GIRLS HOCKEY
On Friday 9 September, the girls competition hockey team went to Brighton Secondary to play a round robin against Parkdale and Brighton.
Our group achieved an overall 3rd place. Led by Subira Seymour and Jasmine Duarte, and our amazing goalie Hiya Sharma and our two backs Audrey Gelberg and Lamija Buturovic we were very competitive. 
Amazing effort also came from our midfield of Chloe Cooper, Gigi Vlasak Galante and Anum Shariq. Although we were missing three players we carried on and were very proud of our achievements in our two games. The round robin day was deeply enjoyable. 
Thank you to Mrs Hooper for organising this event.  
Subira Seymour, Jasmine Duarte, Hiya Sharma, Audrey Gelberg, Lamija Buturovic, Chloe Cooper, Gigi Vlasak Galante and Anum Shariq
Year 8 Girls Hockey team
YEAR 7 GIRLS HOCKEY 
On Tuesday 13 September, the Year 7 Girls Hockey team played in a round robin at Brighton Secondary College.
The first team we played was against Bentleigh Secondary College, which we won 1-0. 
Our second game was against Sandringham. It was a tough match but unfortunately we lost zero to one in their favour.
Our final game was against Brighton Secondary College. We were convinced we were going to lose, yet we won 3-1!! A special mention to Ai Ki Yeong who scored 3 of our 4 goals! Well done to all players, it was a great team effort.
Maddie Chang, Serissa Dmello, Rebecca Epelboym, Mansi Kashyap, Katie Katsaros, Sophie Kay, Eunice Lin, Emma Lindsay, Tessa MacFarlane, Maya Mattathil, Emma Mcarthur, Rebekah Merry, Tiziana Sancetta, Rene Staples, Riddhi Yadav and Ai Ki Yeong
Year 7 Girls Hockey team