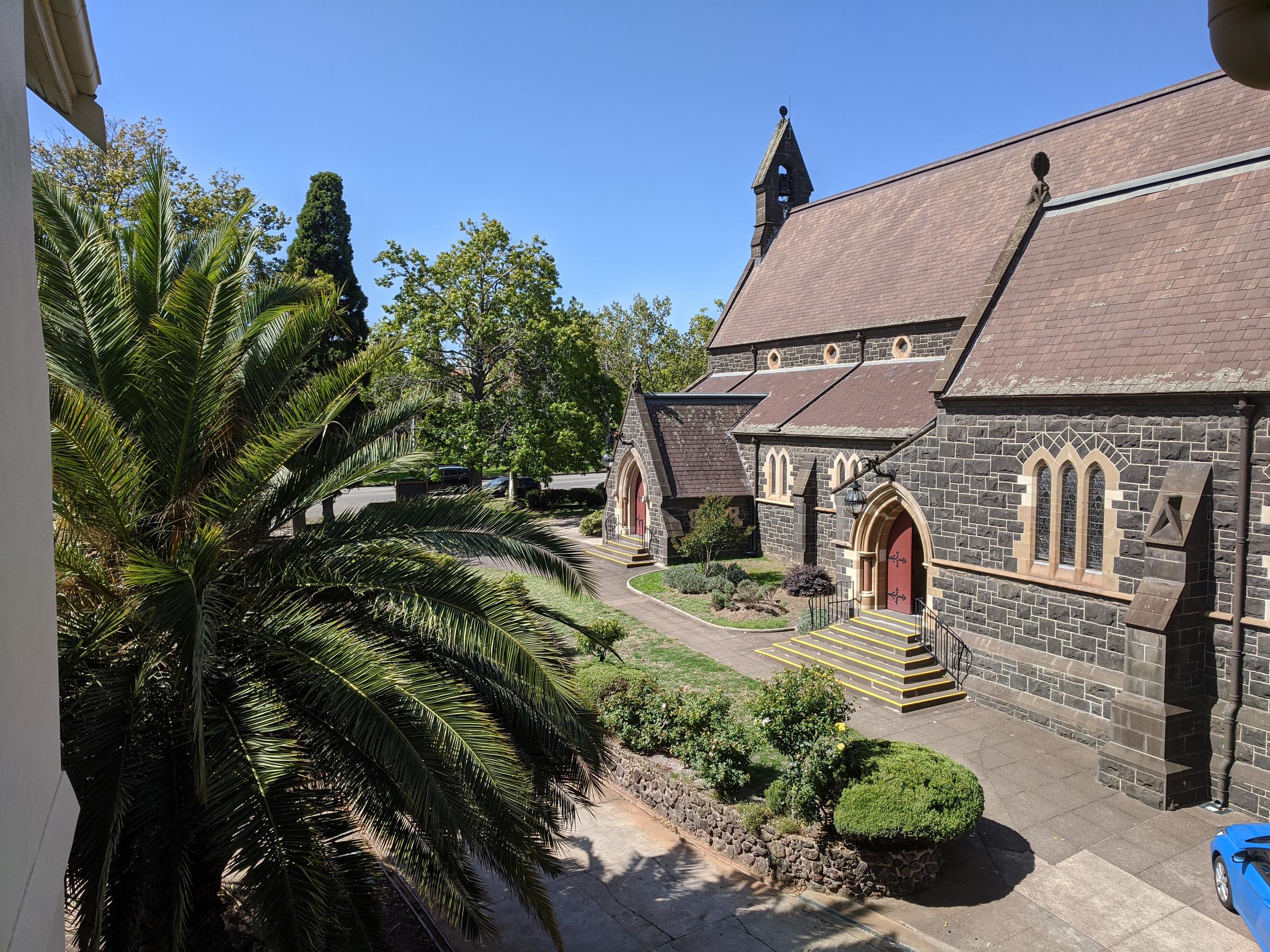 Year 12 Graduation Liturgy
Our Year 12 Graduation Liturgy, like all events in our COVID world, had to be redefined. In place of our traditional Mass at St Mary's Church each Year12 homeroom gathered in Logue Hall. The prayer liturgy was presided over by Fr Jerome Santamaria which was live streamed home to family and friends.
The Gospel (Matthew 16:13-19) reflection from Fr Jerome was put into a COVID context, these times have been unprecedented:
Perhaps you'd agree with me that the word of the year might be "unprecedented". For a while it seemed like it was in every sentence, every conversation. Up there with "uncertain" and "stay safe" as part of COVID bingo. But then it got a bit weird. If the year was unprecedented, still every day began to feel pretty much the same. And so each day began to have a precedent. It was the day before and the day before that.
 But there is a part of life that is always unprecedented, something we should never forget. What is completely unprecedented is each one of you. There has never been someone like you, and there never will be again. Actually, I should correct that: if you live well, if you pay attention to your lives, then there has never been someone like you and never will be again. I remember reading a saying somewhere that read: everyone is born an original, but too many of us turn ourselves in photocopies.
I think this time then might be a huge wake-up call for our country and our culture. This unprecedented time might be a reminder that each one of us is unprecedented if we pay attention. And we need to pay attention, because much of the world is out to distract you, to stop you noticing what is new, what is possible, basically, what is personal, unique to you.
You can hear this in our Gospel today. Jesus asks his disciples who do people say I am? This is an easy question. It is just what other people say. It is what other people think. It is what the culture tells us. We don't have to worry, we just have to report. This is what is precedented. 
Jesus's second question, though, is the important one. Who do you say I am? This is the kicker. Now the spotlight is on me. I am accountable. I am responsible for my answer. This is what is unprecedented. Personal relationship. The gift of my unique life and my reception of that gift.
Once we realise the relationship that God calls us to, one of truth and freedom, then we realise that has happened before need not be what happens next. For good or bad. The good things might not happen unless we choose them. And the bad things won't stop unless to choose to stop them. It is up to us. What do we want? What kind of life do I want to live? What kind of values do I want to embody? What kind of friend do I want to be? What kind of world do I want to be a part of? God is entrusting each one of us uniquely with this task.
Sure, we can look around for guidance. And we would be fools not to do so. We would be fools not to take advantage of the education we have received here, fools not to take the ball and run with it by continuing our education for the rest of our lives. But, even this is really is up to us. No-one else can lead our lives for us. In the end, we cannot blame someone else. In the end, it is up to us, the choice to live a precedented, unaccountable life, or the choice to open our ears and our hearts to the life that God is offering us, something unique and irreplaceable, a truly personal response to Jesus's question today.
So, let's pray today for faith in God's love, faith in God's power and faith in God's gifts. Let's thank God for all God has done for us through CBC, knowing there is so much more to come. And let's pray that this Yr 12 class of CBC students will be unprecedented in its joy and fruitfulness as it heads out into the world. 
Fr Jerome Santamaria | St Mary's Parish Priest
CBC is supporting SHARE THE DIGNITY
Share the Dignity is a women's charity that makes a real, on-the-ground difference to homeless women and victims of domestic violence. Share the Dignity collects thousands of pads, tampons and personal hygiene products every year for women experiencing homelessness and poverty. Donations are currently being collected at CBC. 
How can I help? 
Choose a bag
The bag itself can be new or used. If you are using a pre-loved handbag we ask that it is in great condition, clean and no clear signs of use.
You'll also need to decide whether you're creating an:
Adult bag 
Suitable for adults experiencing homelessness, fleeing domestic violence or living in crisis. Regular-super absorbency in period products is recommended. 
Teen bag 
We recommend backpacks or cute teen style bags. Please donate teenager/girls pads and tampons in these bags.
Mum and bub bag
The mum and bub bag is not only essentials for a new mum but also for her new baby. Large bags will be required for this donation as there are bulkier donations needed, some people put these items in two bags- one for mum and one for bub - and tie them together. Please donate maternity pads for this bag donation.
Please drop any donations to the College student reception or via your son's homeroom teacher. 
Ms Kate Johnston | Director of Identity 
---