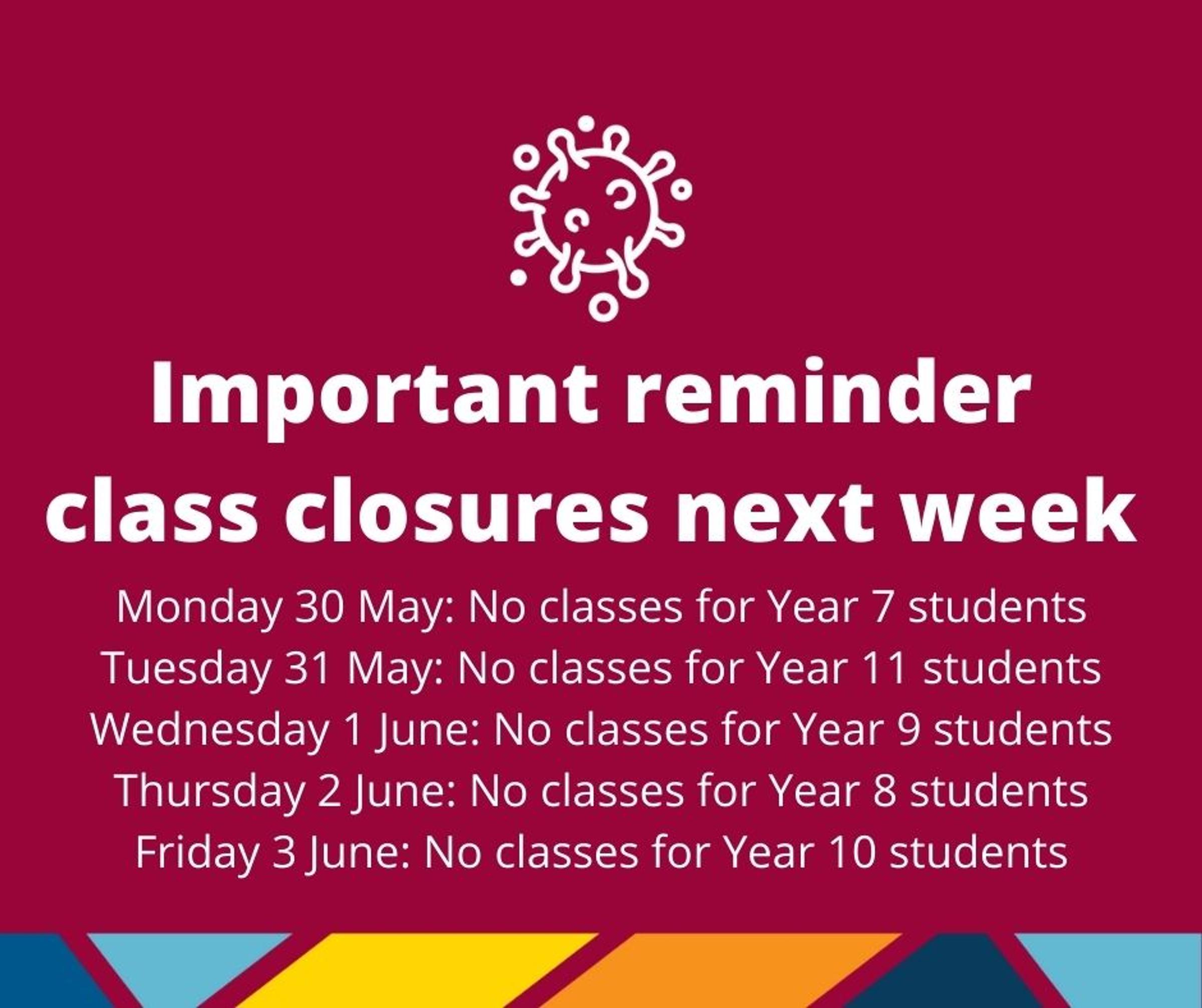 Class Closures
As per communication with parents earlier this week, we have made the difficult decision to cancel classes for some year levels. These are as follows:
| | |
| --- | --- |
| Monday 30th May | No classes for Year 7 students                                            |
| Tuesday 31st May | No classes for Year 11 students |
| Wednesday 1st June | No classes for Year 9 students |
| Thursday 2nd June | No classes for Year 8 students |
| Friday 3rd June | No classes for Year 10 students |
A supervision program will be available to support students whose parents are essential workers. This will be conducted in the Library from 8.45am – 3.20pm. You must book your child in if they will be attending for supervision on the day their class is cancelled. Please use the link on the letter sent via Operoo earlier this week. 
Invitation to Families: Road to Resilience Session
Parents and caregivers are invited to come along to this face-to-face session to learn how you can support your child's learning and wellbeing. 
Our presenters understand that we are an F-12 College and have tailored this program especially for us!
St Augustine's College Kyabram 
Thursday 9th June, 2022 
7:00 – 8:30pm 
Audience: Foundation – Year 12 Parents and Caregivers
Location: College Auditorium
Purple Day for The Gift
On Friday 10th June, all members of our community are invited to dress in purple to raise money and awareness for the local organisation 'The Gift.' 
The Gift is an organisation based in Kyabram that exists with the sole aim of providing assistance for locals with cancer. Locals being anyone from our district - Kyabram, Stanhope, Rushworth, Girgarre, Tongala, Lancaster etc. The Gift has existed for many years and takes pride in the fact that they have raised over $625,000 to support locals with cancer. Help is provided to recipients by way of The Gift paying for groceries, travel to treatment related appointments, utility bills; basically anything deemed a necessity.
The annual Purple Weekend is seen as a major fundraiser to help continue raising money for local people going through a cancer journey. Due to Covid, fundraising efforts over the past few years have been quite difficult, so everyone's support would be greatly appreciated. 
We have a Whole College Assembly on this day and would love to see a sea of purple in our Brigidine Centre raising funds and awareness for the work of The Gift.
Don't forget your gold coin donation.
Start planning your purple outfit for the day!
Instrumental Music Program Recital - 7th June
ICAS
We wish to inform you that students from St Augustine's College will have the opportunity to participate in the world-renowned ICAS competitions this year. This is an optional testing system that parents are able to purchase online.
What is ICAS? 
ICAS is an online academic competition that is designed to assess students' higher-order thinking and problem-solving skills in English, Mathematics, Science, Writing, Spelling Bee and Digital Technologies. 
Each assessment celebrates students' accomplishments by providing opportunities for recognition and development. Every student who participates will receive a printed certificate and an online results report. Top performers will be eligible for medals. 
The following tests are offered for the following year levels:
| | | | | | |
| --- | --- | --- | --- | --- | --- |
| Digital Technologies | Science | Spelling Bee | Writing | English | Mathematics |
| Year 2 to Year 10 | Year 2 to Year 12 | Year 2 to Year 7 | Year 3 to Year 12 | Year 2 to Year 12 | Year 2 to Year 12 |
Further information about ICAS can be found here. 
How to participate in ICAS 
If you wish for your child to participate in ICAS this year, please: 
Read about ICAS subjects and prices here:
Go to Parent Portal here
Enter our school's access code – XMI408
Enter your child's details, select the tests you would like to purchase, then proceed to payment. After payment is made via the Parent Payment System, you will receive an order confirmation email. 
The Parent Portal will close automatically on 1st August, so please sign up before then.
We will notify you of the date(s) that we run ICAS at the school and when your child's ICAS results are ready. You and your child can access the results once released via the Reports Portal using the TAP ID and pin found on the back of the ICAS certificate.   
RMIT University Information Evening - Shepparton
---