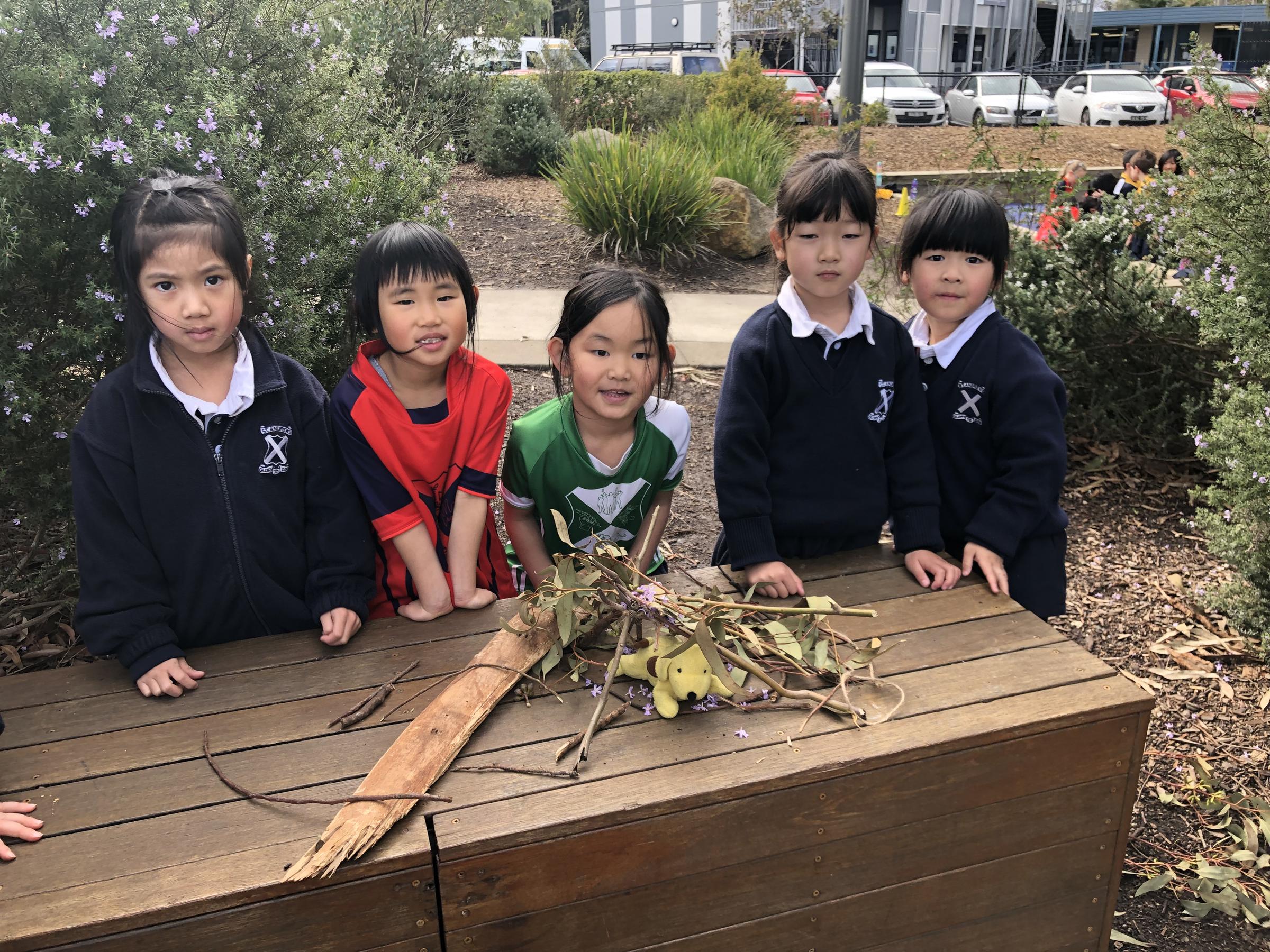 God's Amazing Creation
On our first day of term we started our Humanities unit on God's Amazing World. We learnt about how Indigenous Australians lived on and off the land and how they cared for the environment. We then went outside and made our own shelter using only material that we found on the ground. Our class room friends Leo, Ellie and Spot were very impressed.
Shellene Pillifeant 
Prep Teacher
Prep S
In Prep S we are thankful to God for the fun-filled days back at school between the latest lockdowns, to have been able to enjoy face to face learning. 
Some highlights were:
* celebrating class mates' birthdays
* learning about God's creation of our country Australia and Australian animals
* revising Ee, Dd, Gg and Ss and making our own mini phonogram cards
* learning about Subtraction and playing Maths games together
​​​* enjoying PMP, Chinese, IT, Music and our very first face to face Drama class
Sonia Sires
Prep Teacher
'Imagine' Dioramas
After reading 'Imagine' by Alison Lester, we were inspired to create our own dioramas of different natural settings that God has wonderfully created. We even wrote a story to match the setting that we created. We loved working together for this project. 
Nathalie Nheu 
Year 1 Teacher
 3A's Friendship Soup Recipes
Anthea Albertus
Year 3 Teacher
Year 5 & 6 Camp
We had an amazing time on Year 5 -6 Camp! We travelled to Phillip Island Adventure Camp, and made so many amazing memories and had such fun experiences featuring flying foxes, canoeing, cooking a 'bushman's breakfast', archery, giant swings, laser strike and SO much more! And of course we also had our "Talent Show"…which had everyone in hysterics! 
We got to enjoy so much quality time together – sitting around campfires, games nights, movie nights and growing together in devotions each day!
One of the greatest highlights of camp was our "thankfulness list"… Mrs Hughes challenged us all to find things that we were grateful to God for, and to write them down on a list. By the end of Camp, we had over 500 things on our list!
Everyone had an amazing time away, and we feel so blessed to have been able to go.
Say Hello to the Future Seismologists!
Well, what a learning experience 6L students enjoyed today.
The task: in groups, students were to create a design that measures the activity of a simulated earthquake. Key word: create!
Students used their engineering nouse and innovative ideas and brought forth some superb earthquake measuring devices. However, they needed to be able to explain to the class how it measured movement in the earth, the intensity of the earthquake and the level of destruction caused. 
Their measuring devices were put to the test as other groups posed questions and gave critical feedback. Groups were to defend their device and give an answer to pertinent questions. 
If this lesson was any indicator of success, the future is bright for 6L students! 
Melanie Lepileo
Year 6 Teacher
Visual Arts Unit 1 & 2
Studio Arts in Years 11 & 12 are incredible subjects where students are able to research, explore, develop, present and evaluate artworks across time and place. This year students have encountered new techniques such as working in egg tempera, silk screen printing, oil painting, water colour painting and digital art making. From the exploration phase, students begin to develop their own theme, springing from the College's theme – Trust in the Lord. 
Robert Ruan has worked hard to complete an experiment in newspaper! His 'Paper Man' is intricately layered and precisely glued to show the delicate folds in the clothing of the 20 cm sculpture. Each piece of paper was selected with care and if you look closely, you can see words in specific locations plus the cotton shoe laces, buttons, shirt collar and metal glasses. Robert is considering exploring his theme of trust by combining this paper man with animated images.. like a small bird alighting on the man's hand.
This year we are having an ART SHOW in October to celebrate the wonderful creativity of St Andrews Christian College students from Prep to Year 11! Look out for more information to come.
God Bless,
Mrs Marina Heading
Head of Visual Art
Jack Moody Artwork Installed
When you are next walking past the Year 8 homerooms towards the Library, I invite you to view the newly installed "Rosebud" by Jack Moody, the winner of the 2020 Acquisitive Studio Art Prize.
Artist Statement:
'Rosebud' explores the degradation of memory, looking at how it changes and fades over time. Inspired by a poem of the same name written by my father, I used personal subject matter drawn from our shared memory of driving past a sea monster on a road trip down the peninsula. By physically damaging the paper and skewing the perspective of the sea monster I show how the experience has been polarised in my mind, portraying it as I remember.
Well done Jack!
Mrs Marina Heading
Head of Visual Art
Media Arts
Year 8 Media Arts students have been practicing interview techniques, camera skills, choosing shots, making story boards and preparing to film! Their current assessment is a short, candid, expository documentary on 'how youth is represented in the Media' framed from their point of view. I am very proud of the way they are handling the equipment and working together. The next step is to move from pre-production to full filming mode then work in Adobe Premier Pro in the post-production editing phase. It's all very exciting!
Mrs Marina Heading
Secondary School Teacher
Year 11 Theatre Studies News
Over the mid-year break, several of our Performing Arts Alumni (along with the fabulous Mr Batty and Mr Waterman) re-organised our Drama storage room, known affectionately as 'The Vault'. Here we can see members of the Year 11 Theatre Studies class enjoying the new system as they prepare for their upcoming production of 'Pinocchio 3.5'.
Kathryn Brown
Theatre Studies Teacher