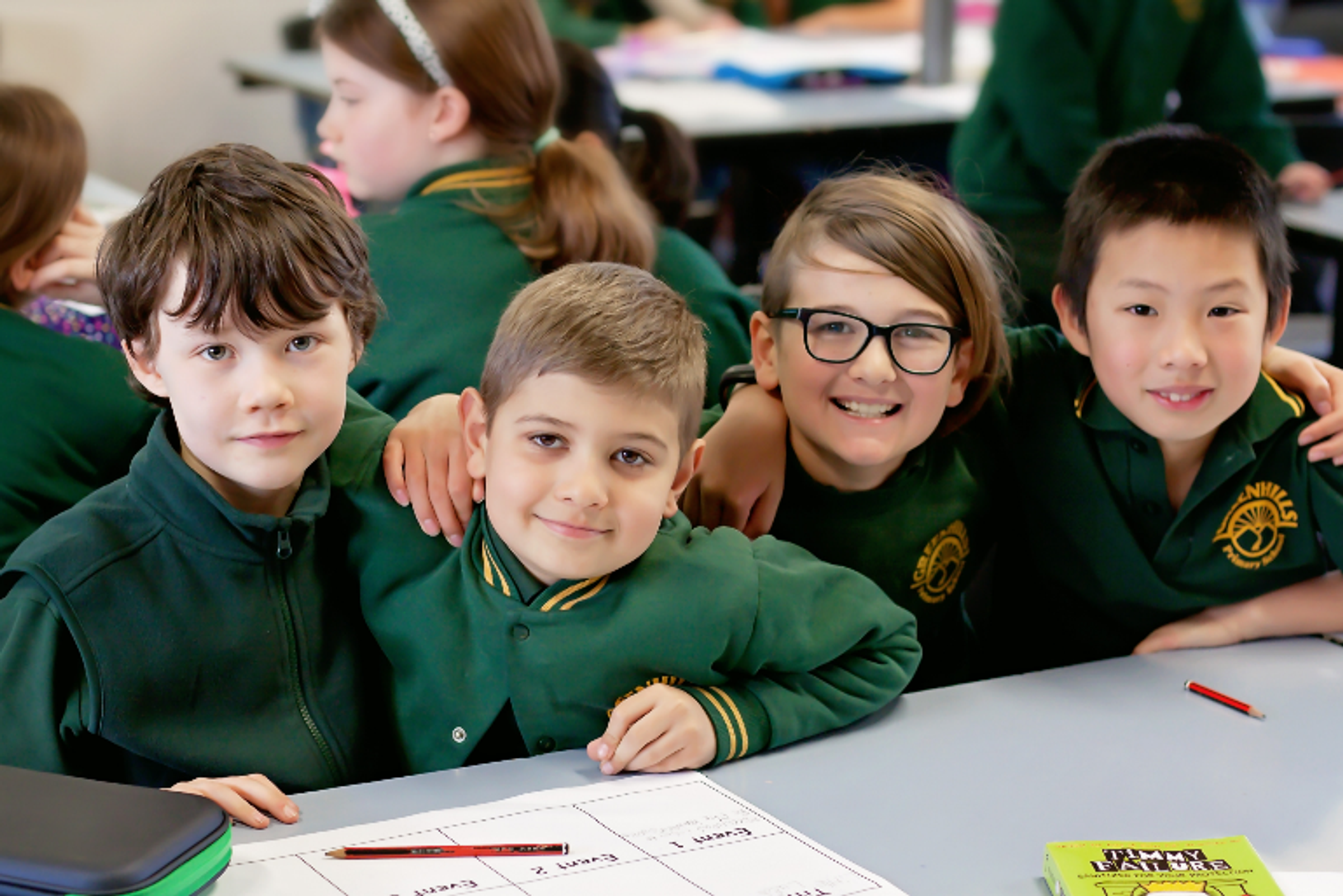 INTERSCHOOL SPORT - WINTER SEASON
Round 1: Friday 19th May 2023
Greenhills A VS Glen Katherine A – HOME
Time:

Sport:

Venue:

9.30am-10.45am approx.

Aussie Rules Football

Greensborough Park

Netball 

Greenhills PS

Soccer

Partington's Flat

Softball Boys

Greenhills PS

Softball Girls

No Game
Greenhills B VS Hurstbridge – AWAY
Time:

Sport:

Venue:

9.30am-10.45am approx.

Aussie Rules Football

Ben Frilay Oval (Top)

Netball 

Hurstbridge PS

Soccer

Ben Frilay Oval (Bottom)

Softball Boys

NA

Softball Girls

NA
Congratulations to Lily M (3MH) who had an incredible Diamond Valley Little Athletics season, taking home the following awards at a recent presentation event:
Most Improved U9 Female in the Diamond Valley
Team Managers Award for her club (Greenbriar Stingers)
3rd Place for the U9 Girls at her club (Greenbriar Stingers)
Well done, Lily!
Congratulations to Elvira P (2AD) who attained her orange belt in karate last weekend. She has worked so hard, and after only one term, graduated from white belt. 
Well done, Elvira!
Congratulations to Matilda H (PSM) who, after her first ever Auskick, was awarded the Prep Player of the Week! She had the best time and can't wait for Friday to do it all again!
Well done, Matilda!
Congratulations to Pierce S (3AK) who, on Sunday 7th May, was awarded player of the day/match for Greensborough Junior Football Club. This is a great achievement, and shows that he is really coming out of his shell, and becoming a more confident team player. 
Well done, Pierce!
Congratulations to Heath K (6BS) and his baseball team, the Eastern Athletics, who won the Little League Major State Baseball Championship a couple of weeks ago. They are now representing Victoria at the National Championships in Sydney next month.
Well done, Heath!
If your child achieves something special (grand final win, most valuable player award, best and fairest etc.), please email me (jordan.daley@education.vic.gov.au) through photos and an overview of the achievement to post in Contact. It is important to celebrate and recognise such successes with the school community.
Thank you, 
Jordan Daley
5 CENT FRENZY
Raid your money boxes, lift up your couch cushions, ask your grandparents, collect your spare change, 5c frenzy is here again. 
Starting Monday 22nd of May and running for 5 weeks until Thursday 22nd of June.
Please send in your spare change to your child's classroom during the week (any coins accepted). The money will be collected and counted each week on Friday morning. 
Weekly prize - 15 mins extra playtime for the class who collects the most money each week.
Grand prize - Fish and Chip lunch for the class who collects the most money overall during the 5 weeks. 
This year we are raising funds for Classroom sports equipment (skipping ropes, basketballs, footballs, down-balls etc to use at playtime). 
Let's make it bigger and better than last year. 
From your friendly PA team.
VOLUNTEERS NEEDED IN THE CANTEEN 
The canteen relies on the help of parent volunteers to operate. Parent helpers are needed for a maximum of one hour, from 1pm - 2 pm (Wednesday, Thursday and Friday).   Helpers need to have completed the 2023 Volunteer OHS Induction. 
To book in to volunteer, please go to 'Care bookings' http://www.carebookings.com.au).  Access Code is JGU9L. 
Thanks, 
Miriam.
STUDENTS OF THE WEEK
Term 2 Week 4 - Presented at Assembly 2nd June.
| | | |
| --- | --- | --- |
| Noah L | Prep BH | Noah, I love the way you always come into the classroom with a huge smile on your face ready to read your reader to a friend. You are amazing!! |
|   | Prep BZ | Eugene, you are a star word SUPERSTAR!! I am so proud of all the effort you are putting into practicing your star words and identifying them in different texts we are reading. Keep up the amazing work! |
| Matilda H | Prep SM | For being such a kind and helpful member of PSM. I love the way you are showing adventure in your learning and are helping out others to do the same. Keep working hard superstar! |
| Albert C | 1GC | For showing GRIT during our writing sessions. Well done Albert, you are such a writing superstar. I love how hard you are trying to complete your writing during the sessions and always including a beginning, middle and end. |
| Emma E | 1JC | Thank you for being a wonderful listener, worker and helper in the classroom. continue to come into the classroom eager and ready to learn. You are amazing! |
| Isabella | 1KO | For always sharing her creative ideas and thinking. Isabella, we especially love how you share during writing as it really helps develop our ideas. Keep it up superstar! |
| Leo K | 2AD | For being such a wonderful friend and helper in 2AD. You are always looking out for others and encouraging people to do the right thing and make them feel good about themselves. You're amazing, Leo! |
| Ruby R | 2JM | Ruby has been working hard in the classroom and always turning up with a smile. She is also building strategies to help her when she's not sure about a new learning which is showing good self-reflection skills. Well done Ruby. |
| Celeste | 2LO | Thank you for being a wonderful member of 2LO. You are always helpful and look after your peers. It is so great to see you tackle all challenges and give all learning a go. It's a pleasure to have you in our grade. |
| Harry C | 2SH | For your enthusiasm and curiosity in Inquiry. Harry, I love listening to you share your predictions and wonderings with our class, as well as seeing the enjoyment you show in experimenting with forces. What a superstar! |
| Chloe S | 3AK | You are to be commended for your passion for reading. It is always a delight being a part of your excitement when you discover another great book or author in our library to borrow and read avidly at home or in the classroom. Keep up your enthusiasm for reading! |
| Bayden | 3MH | For being a 'Super Scientist' when conducting experiments during our 'Hands on Science' incursion. You displayed great curiosity and teamwork skills, sharing your vast knowledge and asking interesting questions. Very impressive work Bayden! |
| Henry H | 4DS | For the remarkable respect you display towards your peers and teachers. Henry, you set a GREAT example for others in the classroom. Keep it up! |
| Vihaan | 4IH | For always coming in to class with a positive attitude and a passion for learning. You are a valued member of our class Vihaan, keep up the great work! |
| Brodie | 4JR | For always willing to share your thoughts and opinion during class. Your adventurous spirit and willingness to take on new challenges never fail to impress me. Keep up the great work. |
| Jack M | 5BC | I have been so impressed with the grit and effort Jack applies in Maths lessons. He isn't afraid of having a go and takes on challenges. Well done Jack! |
| Max R | 5SM | For your incredible leadership skills on our Year 5 Leadership excursion. Max, you are amazing at cheering on and encouraging those around you. Keep spreading that 'Max R' magic of yours! |
| Matilda A | 6BS | For being the absolute legend that you are! Tilda, I am so proud of how you are sharing your incredible personality and humour with our whole grade. I love hearing your thoughtful responses to the Giver and have been blown by your effort during maths sessions. Keep being you! |
| Aiden K | 6LR | For being an expressive and creative writer. Aiden I enjoy watching you write with enthusiasm and your pieces are gripping to read. |
| Ella B | 6TS | For being a mature classmate, leader and a driven learner. Well done on your contributions to our class discussions and the way you focus on learning. |
| Philippa M 1KO | ITALIAN | For your infomative and interesting presentation on the 'Giro d'Italia'. You included so many facts and EVERYONE LOVED your pink 'Giro d'Italia' cap!!! BRAVA. |
| Cordelia P 3MH | ART | Well done to Cordelia for effectively using contrasting colours in your artwork and on being able to explain your learning to a school tour as well. |
| Jasmine B Prep BZ | MUSIC | I love the way you come to Music with a smile on your face and are excited to sing, dance and play the instruments. Great work Jasmine. |
| Jax M 2AD | STEAM | For his infectious enthusiasm during our Paleontology unit. Jax is full of ideas and has been a huge help when sharing what he knows and wonders about Dinosaurs. Awesome work Jax! |
CAMPS, SPORTS & EXCURSIONS FUND (CSEF)
CSEF is provided by the Victorian Government to assist eligible families to cover the costs of school trips, camps and sporting activities. If you hold a valid means-tested concession card or are a temporary foster parent, you may be eligible for CSEF. A special consideration category also exists for asylum seeker and refugee families. The allowance is paid to the school to use towards expenses relating to camps, excursions or sporting activities for the benefit of your child.
The annual CSEF amount per student is: $125 for primary school students. 
HOW TO APPLY 
New applicants should complete the attached form or contact the school office to obtain a copy. If you applied for CSEF at GHPS in 2022, you do not need to complete an application form this year unless there has been a change in your family circumstances. You only need to complete an application form if any of the following changes have occurred:
new student enrolments: your child has started or changed schools this year.
changed family circumstances, such as a change of custody, change of name, concession card number, or new siblings commencing this year.
Check with the school office if you are unsure. Applications need to be submitted no later than 23rd June 2023. Any queries, contact the office.