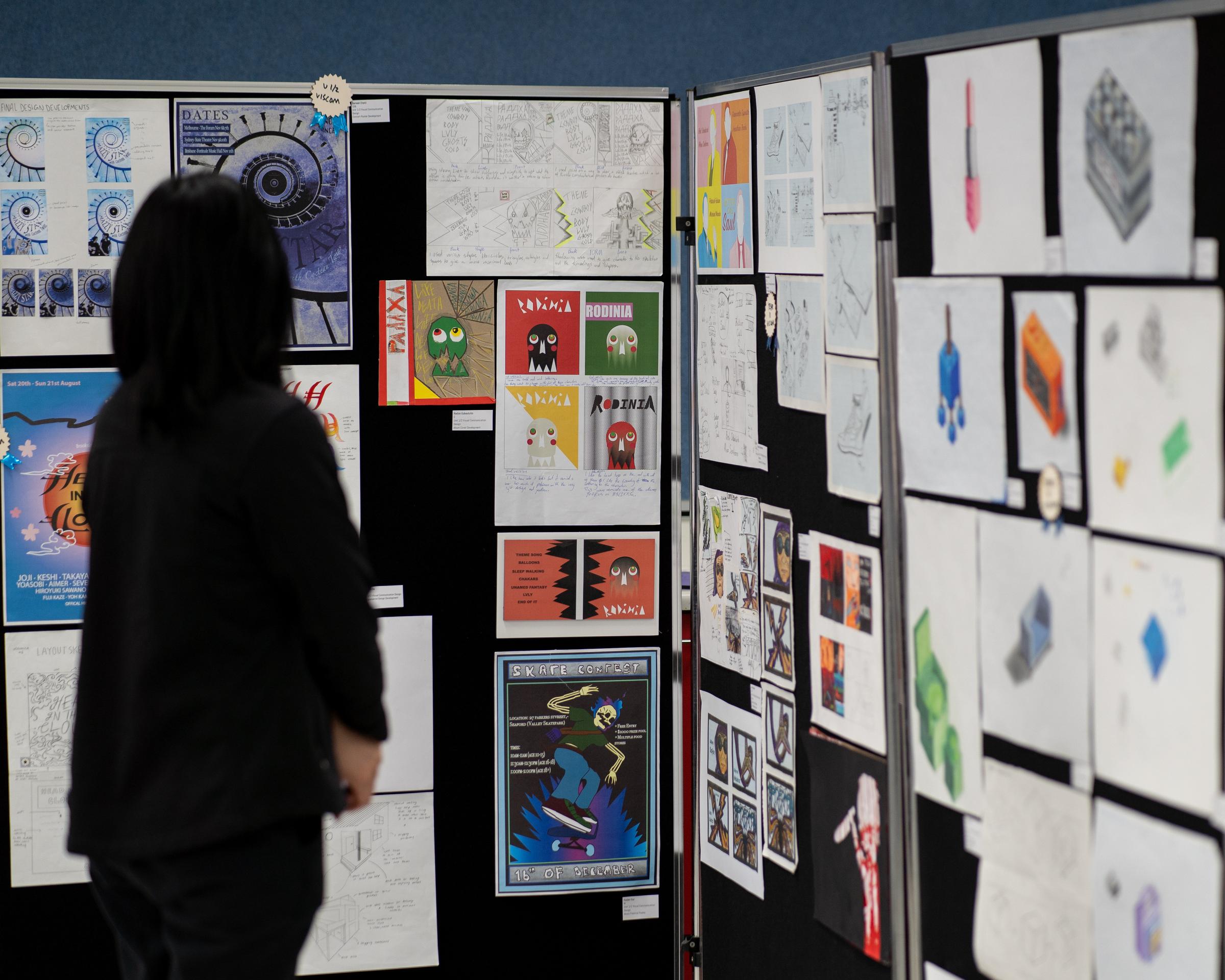 PRINCIPAL'S REPORT
A MESSAGE FROM THE PRINCIPAL
ART SHOW
The Senior Art Show was celebrated last week at the Main Campus and featured an inspired collection of works by Years 10, 11 and 12 students. 
We welcomed Melbourne-based, award-winning Artist Anthony Breslin to open the formal part of the evening. Anthony's colourful, highly recognisable and intricately detailed artwork is very much a part of our local community, with the "The Story of Big Frog" mural installed in Murrumbeena village in 2021. 
Michael Kan and I had the pleasure of selecting the winners of the PRINCIPAL'S ACQUISITION awards. Congratulations to Fiona Liu (Year 10), Cayden Fredericks (Year 11) and Michelle Guo (Year 12), whose artwork will be displayed in prominent locations across both of our magnificent Campuses. 
Thank you to the many staff involved in making this event possible. I would like to acknowledge and thank Ms Jessica Rogosic, Mr Peter Eglezos, Ms Rebecca Johnson, Mr Jonathan Pertile, Ms Raphaella Roden, Miss Katherine Sip, and technicians for 2022 Miss Annalise Bosnjak and Miss Angie Pai.
We look forward to the Junior School Art Exhibition to be held on Monday 5 December at the East campus.
VCAA SEASONS OF EXCELLENCE
Well done to Jenny Hoang and Michelle Guo have been shortlisted for the VCAA's Seasons of Excellence Top Designs Exhibition in 2023 and we congratulate them on this amazing achievement, a testament to their unwavering dedication to their studies in this area.
Congratulations to their teacher Mr Eglezos for his guidance and support in the Visual Communications study.
EXAMINATIONS
Years 10 and 11 students have undertaken exams these last two weeks, and I congratulate them for their dedication and commitment.
These weeks are difficult and students feel overwhelmed, but consistent effort, motivation and revision will assist them to be prepared and achieve their personal best.
RESPECT AND RESILIENCE PROGRAM
Today, as part of our Year 10 Respect and Resilience Program, we were pleased to offer our Year 10 cohort the opportunity to participate in a workshop facilitated by an organisation called Tomorrow Man/Tomorrow Woman. These workshops aim to question and unpack the history, expectations and dynamics of modern-day womanhood and masculinity. 
I hope our Year 10 students have left these workshops with strengthened resilience, a deepened sense of respect for themselves and others, self-confidence, connectedness to their peer group and an ability to just be their authentic selves. 
I also take this opportunity to wholeheartedly thank Jordan Stout, Class of 2010, for his work in raising funds (by running two marathons in a single day!) to support the work of the Tomorrow Man/Tomorrow Woman organization, allowing them to deliver this program at McKinnon.
Patty Etcell, Peter Gale and David Machin have worked hard to arrange this invaluable learning for the Year 10 cohort.
KWONG LEE DOW YOUNG SCHOLARS PROGRAM
Congratulations to Suen Kee (Year 10) who has been selected for The Kwong Lee Dow Young Scholars Program offered by Melbourne University's Class of 2024. Suen has been selected from over 1300 applicants across the State.
Suen has not only been chosen for her strong academic success, but also her qualities in community involvement within the school and broader community. Suen is an exceptional student, and we wish Suen all the best as she embarks on this exciting academic enrichment program.
DUKE OF ED GOLD AWARD CEREMONY
Awards Victoria held the 2022 Duke of Edinburgh Gold Award Ceremony on Monday 21 November at a lavish event in Melbourne's Town Hall to commemorate the achievements of all 140 Gold Award recipients. 
Awards Victoria CEO Mr Stephen Mason conducted the ceremony with former Victorian Premier Dr Denis Napthine presenting the Gold Awards to the worthy recipients. In his opening speech, Dr Napthine applauded each award recipient on the dedication and commitment they have shown throughout their Bronze, Silver and Gold Awards and paid particular recognition to recipients for managing their studies throughout that time. 
Representing McKinnon in receiving their Gold Awards were Monique Andjelic and Skyla Ruthven of Year 12. 
Throughout their Duke of Ed journey, both Monique and Skyla have dedicated over 200 hours towards being physically active, 180 hours learning a new skill, another 180 hours providing voluntary service to our community and have spent nearly three weeks away from home completing their Adventurous Journeys. 
Monique and Skyla have truly embraced the vision of The Award by becoming empowered to explore their potential, serving those around them and igniting their sense of adventure in the world. Their humility, gratitude and appreciation are a direct reflection of their maturity, emotional intelligence and ability to look beyond themselves. We are incredibly proud of their achievements and we wish them every success in the future.
Thank you to Mr Paul King and Mr Jack Gromer for their support of our Duke of Ed students.
YEAR 7 CRICKET STATE CHAMPIONS
Congratulations to the Year 7 cricket team who have been crowned State champions.
In the semi-final we batted first and made an incredible score of 0/137 from 20 overs.
Harish Salwathura displayed one of the greatest batting performances in McKinnon cricket history. He made 75 not out and carried us to victory. Alex Bridges also batted superbly for 35 and Archer Hankin chipped in with 20.
The final was against Maribyrnong SC who batted first and made 78. We bowled and fielded very well with Neel Parab and Archer Hankin being the main wicket takers.
We cruised to victory in 9 overs with Alex Bridges guiding us to victory with a brilliant 40 not out, supported by Archer Hankin with 30 not out.
What an incredible team effort by all!
Thank you to Mr Greg Hoskin for his coaching expertise and Mr James Bridges for his encouragement and support.
CAMPION EDUCATION
I would like to acknowledge and thank Campion Education and in particular Jim Bonikos for their ongoing support and their supply of educational resources for our school. 
It is a large undertaking each year and I thank them for making the process as smooth as possible. They always look after a few families in need and this generosity and kindness does not go unnoticed.
GLOBAL YOUTH FORUM
Sixteen Year 9 students from McKinnon participated with 65 Victorian and more than 50 schools from the Asia Pacific region (including Indonesia, Malaysia, Singapore, India, Cambodia, Japan, China) in an interactive three-part learning program designed to deepen students' understanding of what it means to be a global citizen. 
Students interacted with peers from across Australia and Asia-Pacific exploring different global perspectives and applied their knowledge and skills to discuss real world situations building their capabilities to be active and informed global citizens. The topic this semester was the 4th Global Sustainable Development Goal: Equity in Education. 
Congratulations to all involved and Andrea Fowler for her organization of this opportunity.
MIPS
Years 9, 10 and 11 students have all had their interviews about course selections and career pathways.
It is a massive undertaking by our dedicated Student Managers and Careers Advisors. 
I particularly want to acknowledge Kate Jobson for her coordination of these interviews. Setting goals, having clear aspirations and making good decisions about their subjects all lead to helping our students succeed.
---