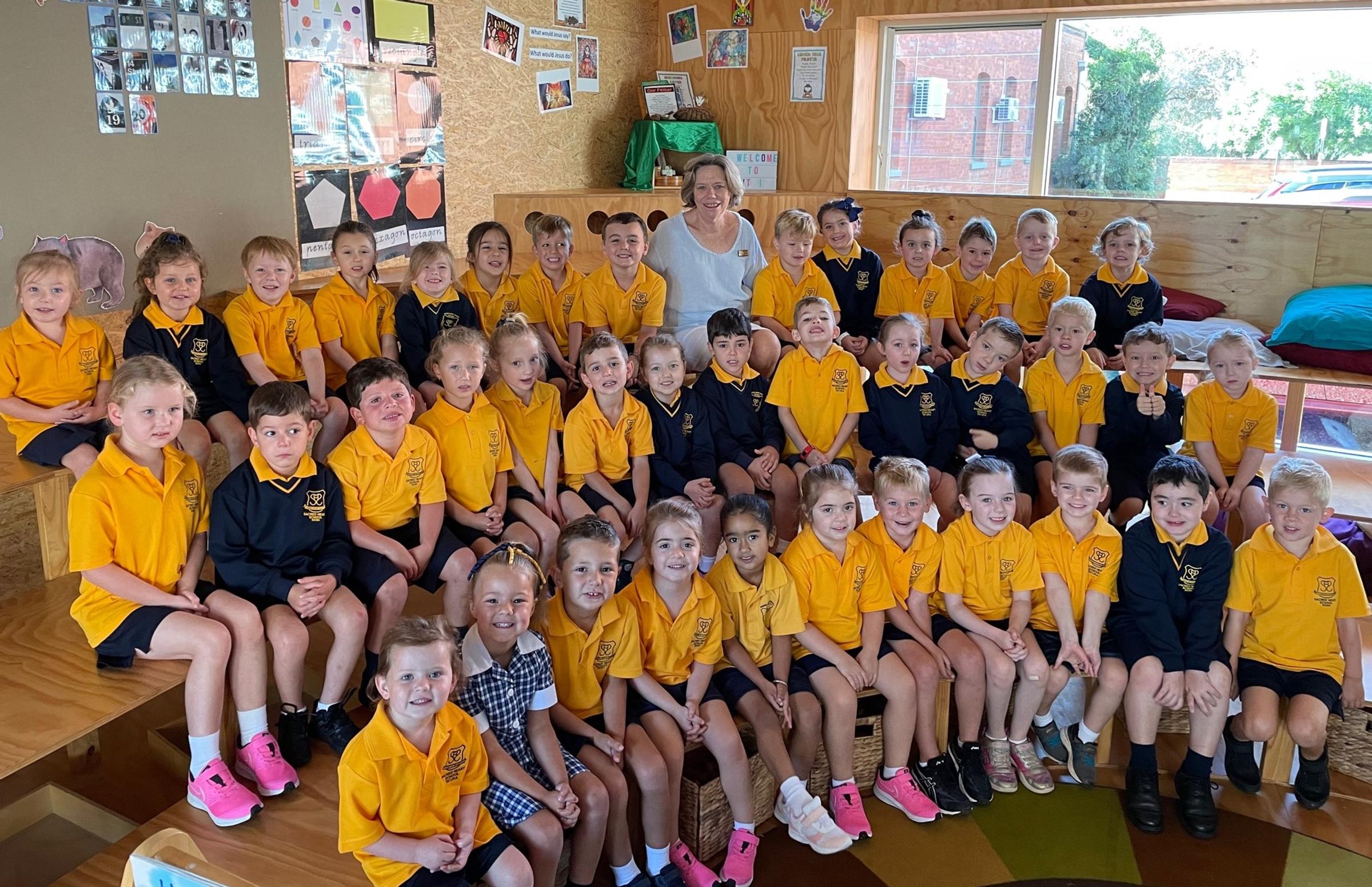 Message From Our 
Principal
Dear Parents and Caregivers,
Last week we celebrated The Feast of the Sacred Heart, which is very special for our school community. Although we were unable to celebrate with our families and parishioners because of number restrictions, it was good to be able to once again gather as a group and enjoy the day. The Liturgy reminded us of the love and compassion that Jesus has for everyone, especially the poor and suffering. It was lovely to be able to welcome Fr John Paul to our Liturgy. Thank you, Fr John Paul and Jessie Simpson, for the beautiful reflection.
During the Liturgy our new Mini Vinnies were commissioned. This is the pledge the team gave as they received their certificates and badges. 
Lord, Open our eyes that we may see the needs of people. Move our hands so that we can feed the hungry. Touch our hearts that they may bring warmth to those who are sad.  Let us share our time and possessions with those in need.  May we all be a source of support and encouragement for each other as we strive to build a more loving world. 
Amen
Our Mini Vinnies have already begun their important work in this area as they launched our Annual Winter Appeal. I look forward to working with them as they enact their pledge and provide opportunities for our school to further grow in the area of social justice.
Our day continued with Year 5/6 Leaders providing lots of fun with Tabloid Sports and we were then entertained by our School Choir and Rock Band. What an amazing group of talented singers and musicians we have at Sacred Heart!  Congratulations everyone and a big thank you to Karen Nihill, Matt Hooper and Matt Cameron. It was lovely to see the band and choir performing together once again and we really look forward to the day when we are able to have visitors in the audience.  Thank you to all the staff for making The Feast of the Sacred Heart such a lovely celebration and to all our students for the way you participated in the day.
Semester 1 Reports will be available on PAM tomorrow. It has been a pleasure reading the reports and seeing the learning that has taken place over the first half of the year. There have been many achievements, academically and socially. Well done to the students for all their efforts and parents you should be very proud. Learning Conversations will take place Week 2, Term 3.
Congratulations to all the children who have achieved full attendance at school this semester.  This reflects very clearly in your report. The number of days many children are absent or arriving late for school is a concern to myself and their teachers.  We want everyone at Sacred Heart to be their best and coming to school each day and on time is very important to that success. We completely understand if children are unwell that school is not the place for them but when good attendance patterns and routines are established early, we know what a positive impact this has on your child's wellbeing and future success.
Congratulations to the special Sacramental children who will make their First Reconciliation this evening. It has been a particularly long journey for them as they have had arrangements rescheduled several times but tonight is their special time. We remember these children and their families in our prayers and ask God to bless them as they are renewed by His healing grace.
Last night the School Advisory Council met. On the agenda was the recent school uniform survey. Thank you to the overwhelming number of families for responding to the survey which asked the question "Do you believe there is a need to change the colour or colour combination of the Sacred Heart School Polo Shirt?"  72.8% voted no, 25.6% voted yes and 1.6% voted neither yes or no. Based on the survey results it was decided not to make any changes to the current uniform, however the Advisory Council members wished to thank parents for their response to the questionnaire. One of the roles of the Advisory Council is to provide a voice for members of the school community. Members of our Advisory Council wish families to know that the door is always open if there is something you wish to discuss.
This year we have five of our students competing in the Elmore EA Equestrian Club Interschool 2021 Event which will be held on the 3rd and 4th of July. Congratulations to Eliza and Sarah Abrahams, Ivy and Annie Aikman and Amelia Petrie who are representing Sacred Heart School and will be competing across several disciplines over the two days. These will be dressage, jumping, showing and handy mount events. Well done and good luck girls. We look forward to hearing all about it.
Thank you for the many donations already received for our Winter Appeal. They will be very much appreciated by St Vinnies who will distribute them to those within our local community who need our help. Tomorrow is the last opportunity to fill the trolleys before our Social Justice Team take them down to St Vinnies so let's all give generously and follow Jesus' example of caring and sharing for others.
Congratulations to Kaidyn Walsh who received the Principal's Award last week. For his continued commitment to the Rock Band and to his own practicing, his patience in waiting many months to perform and his drumming in last week's performance.
A reminder that Friday 25th June is the last day of term and the children will be dismissed at 2:30pm.  I hope you all have a relaxing holiday break with your families and look forward to seeing everyone back at school on Monday 12th July ready for the new term.
May the Sacred Heart of Jesus continue to watch over our school community and bless us always.
Pauline Hindson
Principal                                                                                                                                                            
---