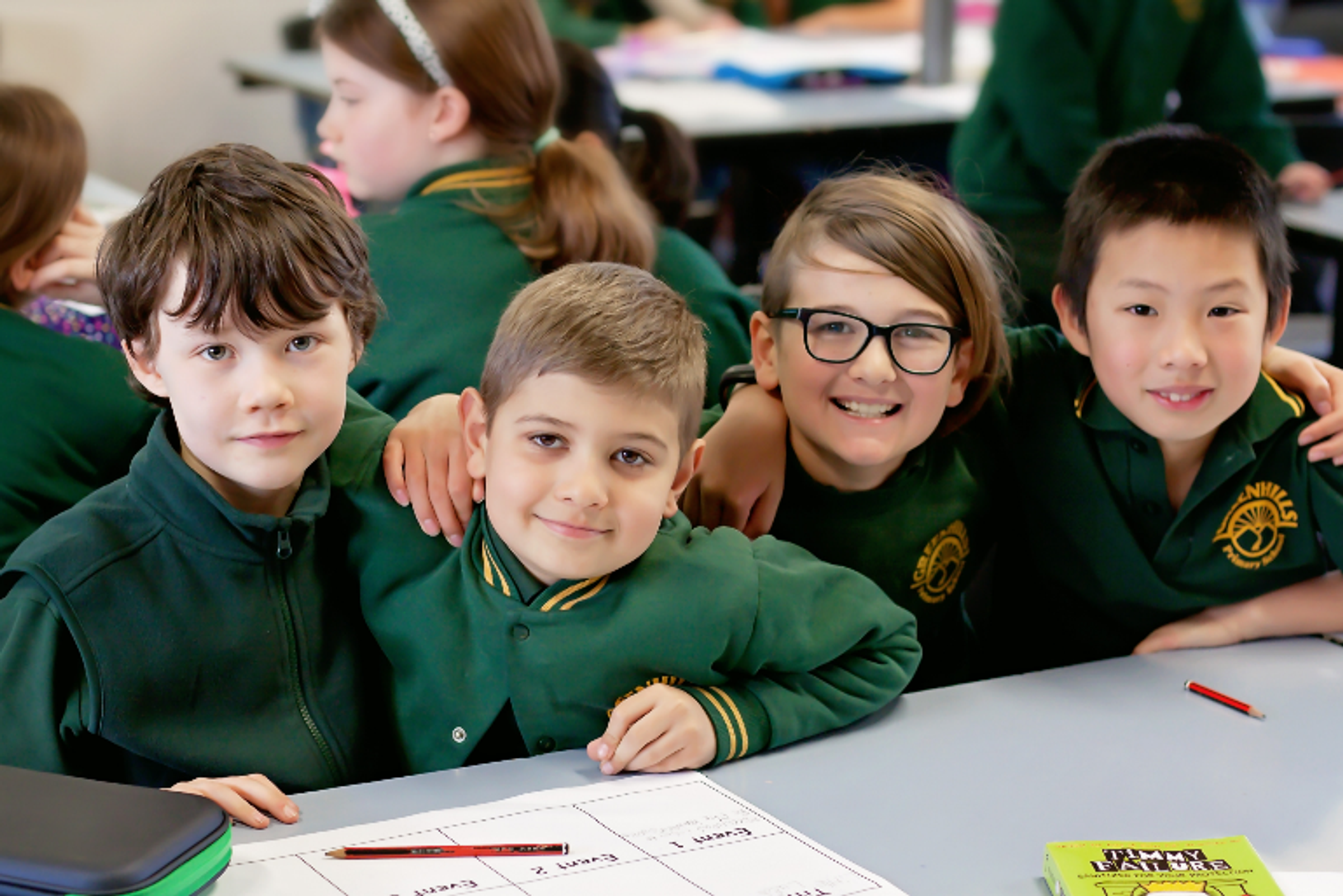 INTERSCHOOL SPORT 
Round 11: Friday 11th November 2022
Greenhills A VS Laurimar A – AWAY
Time:

Sport:

Venue:

9.30am-10.30am approx.

Basketball

Laurimar PS

Cricket

Laurimar Recreation Reserve

Hot Shots

Laurimar PS

Rounders

Laurimar PS

Volleyball

Laurimar PS
Greenhills B VS Laurimar C – HOME
Time:

Sport:

Venue:

9.30am-10.30am approx.

Basketball

Greenhills PS

Cricket 

Whatmough Park

Hot Shots

NA

Rounders

Whatmough Park

Volleyball

Greenhills PS
SSV STATE TRACK & FIELD CHAMPIONSHIPS
Massive shout out to Heidi K (4BJ) and Sophie M (3MH) who represented themselves and Greenhills PS at last week's SSV State Track & Field Championships. Regardless of the results attained, making State is an incredible achievement and something to be very proud of - especially as 92 000 students started the process at the District level. 
Very special mention to Heidi who finished first in the 800m and 1500m, taking home the gold medals and the mantle of Victorian Champion.
FREE DRESS DAY - TUESDAY 29TH NOVEMBER 2022
Congratulations to Greenhills Primary School student Heidi K (4BJ)! Earlier this year, she was selected to represent Team Vic at the National Cross Country Championships, and will do the same again at the upcoming National Track & Field Championships. This is an amazing achievement and great reward for all the hard work Heidi puts in to reach her goals. 
Participation in Team Vic is self-funded - the cost for each student and/or their family to attend each of the School Sport Australia Championships is approximately $1000-2000 which includes uniforms, host state levies, transport, accommodation and meals.
To assist the family in raising funds, we will be having a free dress day on Tuesday 29th November, for a gold coin donation. 
COMMUNITY SPORTING ACHIEVEMENTS
If your child achieves something special (grand final win, most valuable player award, best and fairest etc.), please email me (jordan.daley@education.vic.gov.au) through photos and an overview of the achievement to post in Contact. It is important to celebrate and recognise such successes with the school community. 
Thank you, 
Jordan Daley
GET INVOLVED WITH OUR NEW MINI NATURAL HISTORY MUSEUM
The Weather is warming up and it's time to get outside and enjoy the benefits of nature.
While you are out and about why not look for something that interests you or sparks your curiosity to add to our growing mini museum located in the reception area.
Ensure you check with a grown up before you pick something up to make sure it is safe.  It doesn't have to be an item - it could be something you have drawn or taken a picture of.  Please don't remove any critters from their habitat for this project.
If you have something you would like to add, collect a specimen card from the office to fill out to present with your item. 
No valuable items please.
At the end of the exhibition there will be a prize of a nature journaling kit that will go to the most interesting/informative exhibit!  
OFFICE NEWS 
We are in the process of finalising 2023 Book lists, these will be sent out via Compass next week along with details on how to order and  details of 2023 Parent contributions.
We are no longer receiving deliveries of RAT tests. We do have spare supplies if anyone needs a box. 
Please collect from the School Office.
BOOK CLUB 
The catalogue has been distributed at school and can also be viewed online 
Online orders are preferred:
Orders will be delivered to your child – free of charge! 
And 20% of sales are returned back to the school!
Issue 8 
ORDERS CLOSE – WED 30 NOV, 5PM
            CONNECTED SCHOOLS 
Mind your language. How what you say creates your child's mindset - By James Anderson
One of the big ideas in education over the past 10 years has been Professor Carol Dweck's work on Growth Mindset. However, despite (or perhaps because of) the hype, much of Dweck's work has been misunderstood, or misapplied. Too often we've tried to teach about growth mindset, instead of teaching for a growth mindset. Importantly, the role parents play in helping develop a growth mindset in their child has been largely overlooked.
In this article I share a simple way you can help your child develop a more growth-oriented mindset.
About Mindsets
Your child's mindset is how they view their most basic abilities, like their talents and intelligence, and it has a profound impact on their learning.
A child with a fixed mindset believes they are fundamentally limited. Who they are today, is pretty much who'll they be in the future. For them, school and learning is a way to discover those abilities. They'll ask if they are musical, or how smart they are. For these children, school becomes one long test to discover the answers to these questions.
A child with a growth mindset understands they have the capacity to develop their abilities. For them learning becomes a vehicle for creating and developing those abilities. You'll hear this child say things like "I want to become really good at maths, so I'm going to work hard to make that happen."
Why parents matter
Contrary to what social media might say, you can't just tell your child to have a growth mindset. Their mindset is rooted in a lifetime of experiences.
As parents we play an important role in creating the experiences that develop our child's mindset. What we repeatedly say, value, and reward all shape our child's mindset. And I should know because I got it wrong.
What I did wrong
When my daughter was young, I encouraged her to try lots of different activities. She tried music, art, gymnastics, singing, the Maths Olympics. You name it, we tried it. And that's fundamentally a good thing.
The problem wasn't what I was doing. It was the messages I attached to it. Sometimes when she wasn't keen to try a new activity, I'd say something like "Come on sweetheart, give it a go. You never know, you might be good at it!"
Can you hear the fixed message in there? "You might (already) be good at it."
I turned trying something new into a test to find out if she was good at it. I promised her the possibility of instant success. To make things worse, if she didn't have instant success, I'd often console her with something like "Well, don't worry. You can't be good at everything."
In other words, she'd failed that test. Now it was on to the next test to see if she was good at that instead. The unintended lesson: If you're not immediately good, give up.
Why did I do that?
If you just had an "ouch" moment, you're not alone. Parents say these types of things all the time. We say them out of love, and with the best of intentions.
When we see our child upset or struggling, our natural reaction is to want to protect them from that discomfort. But what I did was to provide my daughter with an excuse for struggle by saying "you're not that type of person."
Perhaps you've provided your child with a similar excuse by saying something similar like "I was never good at that either." The underlying message being "we aren't the right type of person to be good at that—we don't have those abilities."
A nudge in the right direction
To help us be better parents and nurture a more growth-oriented mindset in our children, we need a little nudge. A reminder that helps us counter any unconscious bias and ensure we create more growth-oriented messages for our children.
I've created lots of these nudges, for all types of situations. The one relevant to this situation is to remember that "Learning is about creating, not discovering."
Learning is about creating, not discovering.
In the context of trying new things, this nudge reminds us that we're not trying to find out if my daughter has those abilities. We're trying to decide if she wants to develop those abilities. So, now I might say:
"Darling, getting good at something takes time and the right type of effort. You need to decide if this is something you're prepared to invest the time and effort into getting good at."
The nudge helps us repeat this message over and over, slowly creating a more growth-oriented mindset. They become more empowered and see life as being in their control. They recognise they can become whoever they want, or need, to become.
It's like George Bernard Shaw said, "Life is not about finding yourself. Life is about creating yourself."
TRIVIA NIGHT
GREENHILLS ANNUAL MUSIC FESTIVAL - 2022
Dear Parents/Guardians,
Just a reminder that this year the Greenhills Music Festival will return to being a live event after two years being online. The venue has changed but the content will again showcase the marvelous musical talent we have at Greenhills. The Music Festival is a celebration of the work the 2 choirs -the Recital and Training Choirs, the School Band, the instrumental students and our special guests, the Grade 3 students, have been doing this year. It will be held at Eltham High School on November 30th.
The prices for tickets are $20 Adult and $8 Students/Concession
. Tickets can be purchased online on tryBooking, using the following link. 
https://www.trybooking.com/CDWTZ  
Please note that there will be a rehearsal during the day for students in the Choirs, Band, and various small group ensembles or solo items. All other Grade 3 students will not be required to attend the rehearsal. Please be on the look out for Compass Permission Notifications.
I look forward to seeing you at Eltham High School on November 30th.
Best Wishes
Kate Stewart
Don't forget to book for your Greenhills Family Portrait
Have you booked your Aver & Line Family Portrait session yet?
We only have 7 slots remaining for Saturday, 19 November and 5 slots remaining for Sunday, 20 November. 
Bookings are only $20.00 and include:
20-minute portrait session
20-minute viewing / selection session
an 8" x 12" print
'Mini Click' magnetic frame + print
Complimentary re-touching
Here are the links to the booking site for each day:
Saturday, 19 November - https://bookwhen.com/greenhillsprimary-saturday
Sunday, 20 November - https://bookwhen.com/greenhillsprimary-sunday
** Please note this fundraiser is also open to family and friends so feel free to share the booking links ** 
Saturday, 19 November - https://bookwhen.com/greenhillsprimary-saturday
Sunday, 20 November - https://bookwhen.com/greenhillsprimary-sunday 
STUDENTS OF THE WEEK
Term 4 Week 6 - Presented at Assembly 18th November
| | | |
| --- | --- | --- |
| STUDENT | CLASS | COMMENTS |
| Rhyda H | Prep BH | For the fantastic effort he is putting into his Maths during our Maths Masterclass sessions. Rhyda I love the way you are able to work out a problem and then explain the strategy you used. You are a Maths Superstar! |
| Frankie A | Prep SM | For the amazing effort you have been putting into all of your work. You are taking care and making sure you have included everything you need to. You are being a role model to everyone around you. Keep being a star Frankie! |
| Emily C | 1GC | For being a kind and caring member of 1GC. You are always ready to listen and learn, you are setting an excellent example for your peers. Well done Em! |
| Xavier S | 1JC | Thank you for always being such a wonderful role model for our class. You always follow the rules, your classmates think you are fantastic and you are a great helper to me. Xavier you are a superstar! |
| Ruby | 1KO | For wowing us with your wonderful writing! Ruby, you seem to have found your passion and are applying all of your learning to create really engaging pieces of writing. What a superstar you are! |
| Amelia S | 1TS | Thank you for being such a wonderful role model and bringing such positive energy and enthusiasm to our class. You display our Greenhills values of grit, respect, effort, adventure and teamwork everyday. You really are GREAT Amelia! |
| Isabella A | 2JM | Isabella had been showing us some amazing writing this term. She has stepped out of her comfort zone and really shown a sense of adventure. She is making brave choices with her story arc and the vocabulary she is using. Well done Isabella.  |
| Fabian C | 2LO | For your amazing reading with fluency during our Readers Notebook sessions. Fabian, your determination in reading just blows me away, you should be so proud of yourself. Keep it up superstar! |
| Anna T | 2SH | Anna, it has been such a joy watching your belief in your own abilities as a reader flourish this year. In our group reading, you show great confidence, make fantastic self-connections and show pure enjoyment in what we read. It is lovely to see you have opened up the wonderful world of entertainment and enjoyment that books can provide, well done Anna! |
| Isaac A | 3AK | You are an AMAZING role model for your peers. You are so respectful and considerate of others. You possess beautiful manners. You always have a go at tasks and you are a reflective learner, recognising and working towards new goals in your learning. Keep up the GREAT work and attitude! |
| Emma S | 3MH | For your amazing effort and enthusiasm. No matter what we are doing, parading our Italian costumes, using our Science skills as we explore living things in the playground, or presenting to the class, you ALWAYS have a big smile on your face. Well done Emma! |
| Oliver B | 3RM | For demonstrating your passion and knowledge of Science when teaching the class about the 'Floating Egg' experiment. Your curiosity and enthusiasm for all things scientific is inspiring. Keep up your GREAT work and positive attitude, it's contagious to those around you! |
| Ethan P | 4BJ | For the GRIT and EFFORT you are putting into your writing. It was so wonderful hearing you reflect on how writing has become something you enjoy this Semester as well. Keep it up superstar, I am so proud of you! |
| Amber M | 4DS | For the GRIT and ADVENTURE you demonstrated when learning about mixed numbers and improper fractions. Amber, it was a joy to see you pushing yourself to unlock new understandings. Keep it up!  |
| Isla T | 4TW | Thanks for being a super scientist Isla. I love the way you used your critical think skills to pose a question for the whole grade to investigate during our 'Investigating Insulation' science experiment.  |
| Victoria M | 5BC | Thanks for being a positive and mature role model to others Vic. You can always be trusted to do the right thing and set a great example for those around you. Well done! |
| Parker | 5JR | Parker, you have had a great year in 5JR you have shown amazing efforts in our Earn and Learn unit with your organisation of money and business plan. Keep up the GREAT work. |
| Matthew B | 5RE | For your positive approach to your school day and your persistence when trying new things. Matthew, I love the way you care for others, use initiative and are building your resilience. Keep up the great work. |