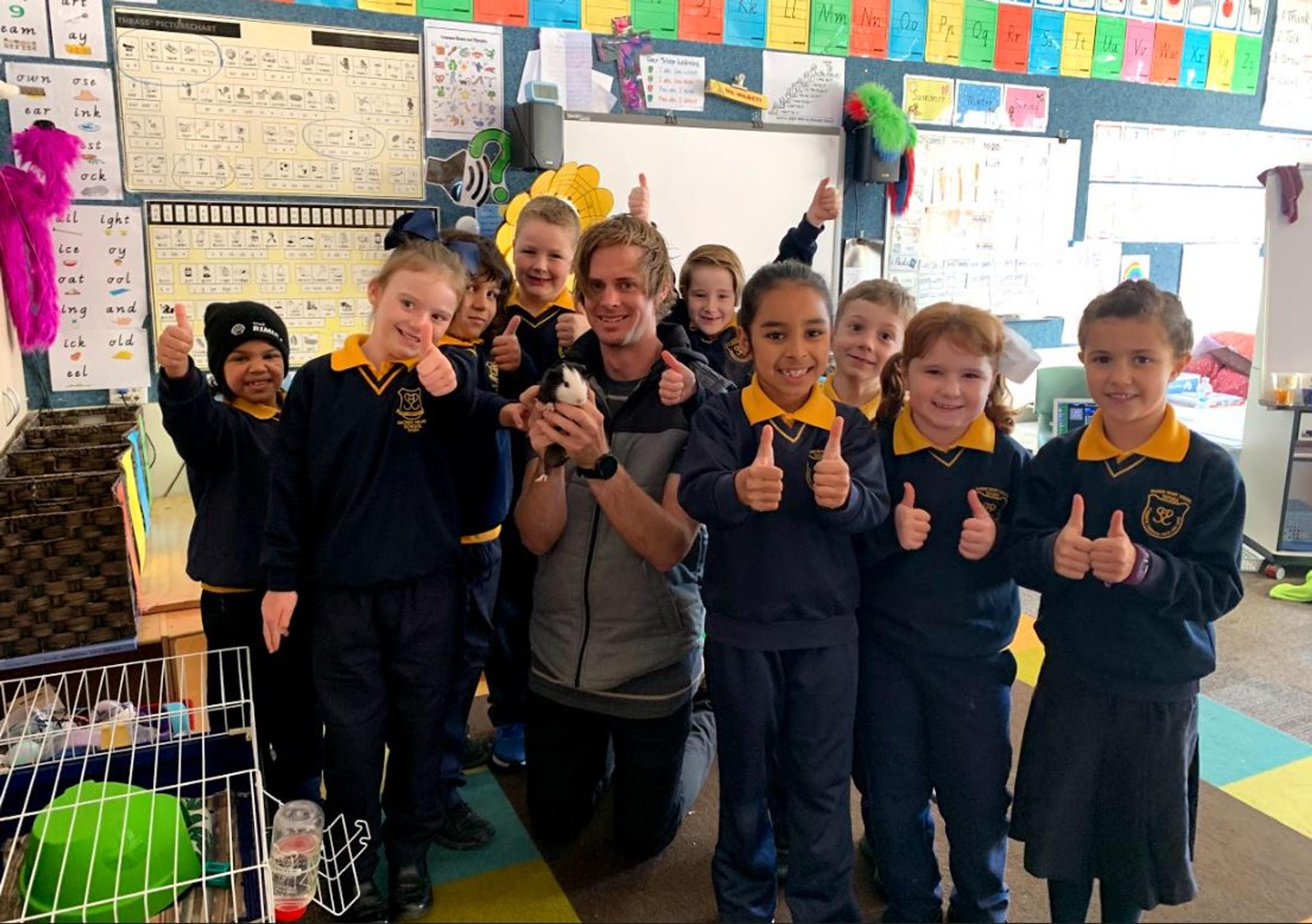 Wellbeing MATTERS!
Dear Families,
Well most of us are back into the 'swing' of Home Learning and it's successes and trials!    For me, from the school and teacher perspective, I find it personally hard to work with - the usual sounds of kids playing and learning at school are no longer there.  School is just not 'school' without all those little people who make my life at school 'buzz'.  BUT we all need to make the BEST of things and I find if I look hard enough there are always the positives and the 'silver linings'. 
This week I have reached out to some of our resident EXPERTS - your fellow school Parents - to see what they thought.  I asked them to give me their "Tips for Success" in the HOME LEARNING environment. 
Even if you only read a few of these you will get the OVERALL MESSAGE - THERE'S NO RIGHT OR WRONG WAY TO DO IT - JUST DO WHAT SUITS YOUR FAMILY - AND WHAT GETS DONE, GETS DONE!   Here's what they had to say…..
My top tips (for the kids) are:
1. Get some exercise: Walking the dogs for about an hour at lunchtime gives time to talk to the kids about what they've been working on for school and we discuss / bounce ideas / explore connections in what they're learning about - plus we are getting fresh air & exercise and the dogs love it.
2. When it all gets 'too hard' call break time, collect the mail, collect the eggs - then try again - it's amazing how some tasks that were 'too hard' just click after a break.
My top tips (for the adults) are:
1. I remind myself that if it all doesn't get done it doesn't matter (I need to work, as well as look after my family, help with schooling, run a household, and a farm...) - what matters most is having a happy healthy family that's working together. So if all the school work doesn't get done, that's ok! 
2.  If I need some downtime, I get the kids ready for bed earlier so they 'get extra time' to read, or get them to play guitar /sing together (sometimes at the furthest point in the house haha) or I ask for help to make the evening meal. Teamwork.
Routine is essential for us.                                                                                                         
This time round I'm more working by the "first & then" scenario. First we do some school work then we play outside or a game etc...having something to look forward to is a motivator! 
We do start our day in the same way everyday. Breakfast, get dressed, and ready for roll call and google meet session at 9.  We get organised - print of work and set up with plenty of room to spread out.  We keep our things in a basket - work books, pencil case, dictionary etc. this way thYe have all of what they need within arms length.                              Mini breaks between tasks are essential. For example, playing lego so that he doesn't get overwhelmed.   
This time around, I firstly made a special desk area for all 3 children so they had a space they could make their own and feel like they were at school away from our main living area. On the days I'm home we try working to a similar plan to school till around 1pm, then take a break ie. go outside for a walk or ride around the block to make sure we are all getting fresh air. Each day is different with kids needing assistance with all their work. Some days our plans change and I help one, then once finished I help the other. They are all enjoying their home learning but miss their friends at school.
Juggling remote learning and working from home 3 days a week isn't "easy" but we are working through it.                                                                                                             
Tips:-                                                                                                                                      
We don't have a set time table.  We found after trying to run to a set timetable last time that it didn't work for us.  I find that it keeps things more relaxed and our boys don't get anxious over not finishing things "on time". 
Making sure we break up the day with some outside time / exercise.  By adding in some outside time in between learning sessions I find they focus better and are able to achieve more. 
Continuing music lessons via Zoom with Dillmac has been fantastic.  With so many other aspects of their lives changing, this has given the boys a sense of "normal".  Both boys really look forward to their lesson each week.
BIG THANKS TO OUR EXPERT PARENTS FOR SHARING THEIR TIPS! 
I have more TIPS to share next newsletter.  Stay tuned….. .
So, of course there are also lots of websites on the internet that have tips and suggestions on how to 'survive' our time in 'iso' and 'home learning' if you feel you need some 'expert' help to navigate your time I've included a few links.  They are in no particular order and are just a few I found on the internet...
Coronavirus: just letting children play will help them, and their parents, cope      March 31, 2020 12.29am AEDT   
https://theconversation.com/coronavirus-just-letting-children-play-will-help-them-and-their-parents-cope-134480
School's Out: A Parents' Guide for Meeting the Challenge During the COVID-19 Pandemic    https://nyulangone.org/news/schools-out-parents-guide-meeting-challenge-during-covid-19-pandemic
PARENTING DURING COVID-19   https://www.triplep-parenting.net.au/vic-uken/hot-parenting-topics/parenting-during-covid-19/
Coronavirus (COVID-19) parenting tips
Expert tips to help you deal with COVID-19 parenting challenges. 
https://www.unicef.org/coronavirus/covid-19-parenting-tips
JOKE OF THE WEEK 
Whenever I try to eat healthy, a chocolate bar looks at me and snickers!
Please feel free to contact me if you have any concerns or queries.
Debbie Turvey
Pastoral Wellbeing & Learning Diversity Leader
dturvey@shtatura.catholic.edu.au
Stay tuned in our school newsletter for more ideas and conversations around promoting wellbeing and learning in our school community.
Have a great week, make the choice, be your best!
---