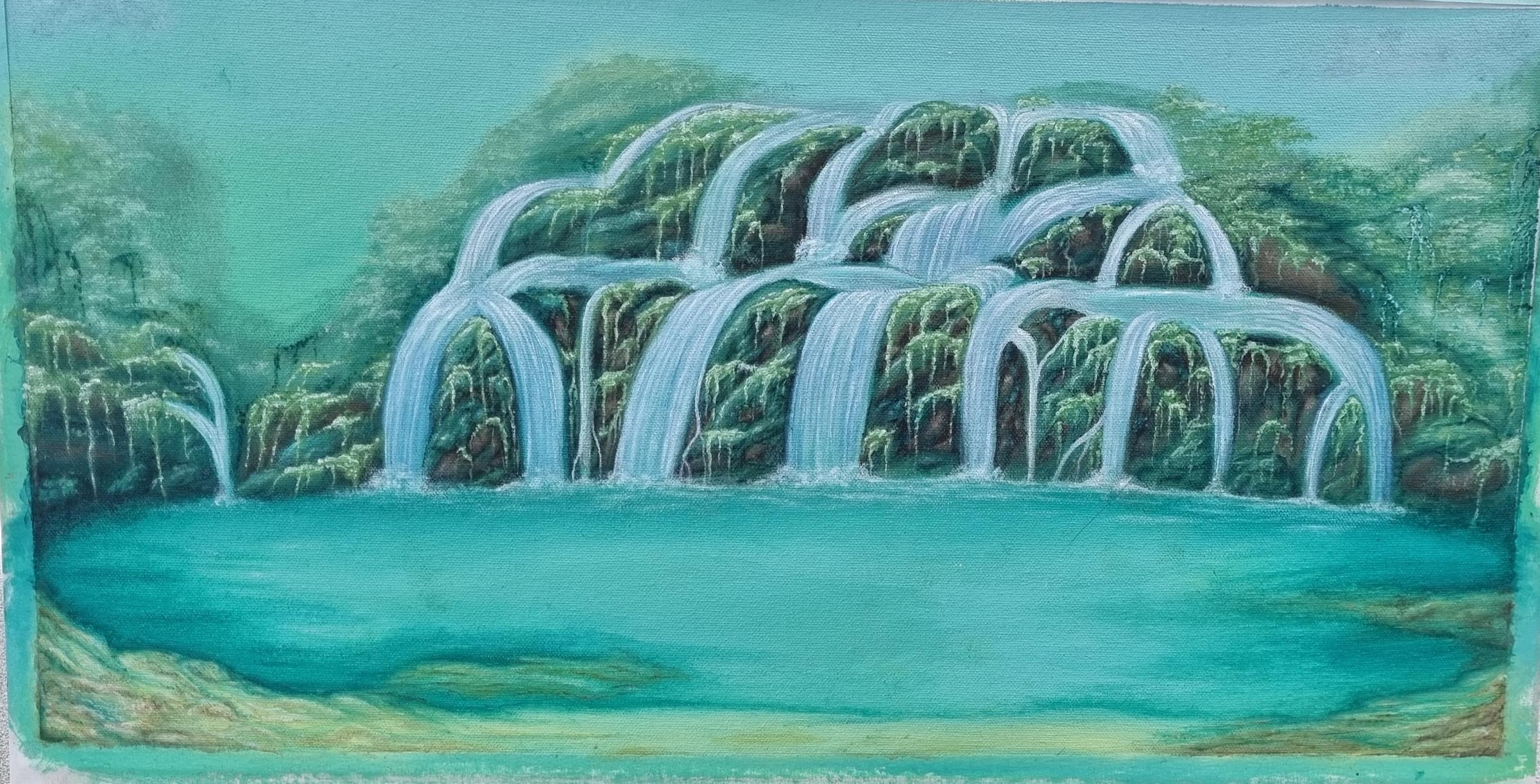 LEARNING HOW TO PAINT – YEAR 7 PAINTING
Our Year 7 students have been making great progress on their painting Learning Tasks over the last weeks. After recording all their research and generation of ideas in the Digital Visual Diary, they are focussed now on the creation of their beautiful landscape paintings.
Below, some of our outstanding Year 7 students tell us how they used different techniques, tools, and processes and overcame technical problems when they arose.
Mrs Garcia
Visual Arts Teacher
This term, I learned about many special painting techniques, such as using the wet-on-wet technique to achieve smooth blending for skies, stippling to give some trees that much-needed texture, and ways to use colour theory to achieve every colour on the spectrum with nothing but the three primaries, red, blue, and yellow, including white and black to vary shades and tints. Additionally, we learned about all the different tools we could use to achieve these techniques - we learned about how to properly use flat brushes, round brushes, and other types of painting tools such as fan brushes and palette knives.
Qolbi Kamila Year 7
During the first lesson to paint our landscapes, we had to start by painting the background. I started with the sky using the wet-on-wet technique to create a gradient effect, which involved using different shades of blue and a flat brush to create a seamless blend of where the light reflected. I then used a fan brush to create wispy clouds across the sky.
Next lesson, I continued on the middle ground which involved creating a grass terrain for a forest to be painted on later. I made it by using a similar gradient technique to the sky to show how as you got further away the less you would see. I did so by using different shades of green. Then, I created a path down the middle of the grass using browns and various shades of green to give it a slightly overgrown look.
For the last lesson, I had to paint the foreground which was made up of trees to create the illusion of depth. I made the closer trees darker and wider and the ones towards the back thinner and lighter. Then, I added some details with a smaller rounded brush, like the sunlight on the trees or more greenery to the painting.
Sophie Wein Year 7
YEAR 11 ART CREATIVE PRACTICE: THE CRITIQUE
Recently in art, we were required to present a Critique; a slideshow detailing the process we as a student followed to complete our final artwork. For this learning task we completed three artworks, with each artwork inspiring the next. Our first artwork was a quick, personal piece depicting our cultural experiences. We then worked collaboratively in small groups to create one artwork containing a mix of similar features, symbols and techniques. Finally, to complete this task, we created a larger, refined final artwork using oil paints. 
When our critiques were presented, we were given fantastic feedback on what people liked about the artwork and what they felt was needed to improve. During my critique, I learned a lot about what others thought of my artwork. I learned about things that I didn't even know/think about. This was very helpful and important to me as I found new things to add to my artwork, and it allowed me to look at my artwork from a different perspective than I previously did. 
Seeing the progress of other people's artworks was also inspiring. I saw the process and the paths people took to get to their final product. This also gave me some ideas which I could implement into my artwork. 
Overall, critiquing my artwork and seeing the progress of others, really helped me in deciding what I needed to improve on and was a great experience overall.
Pujan Kukadiya
OTHER STUDENT ARTWORK
Sam Adlard Year 11
Sofija Lukac Year 11