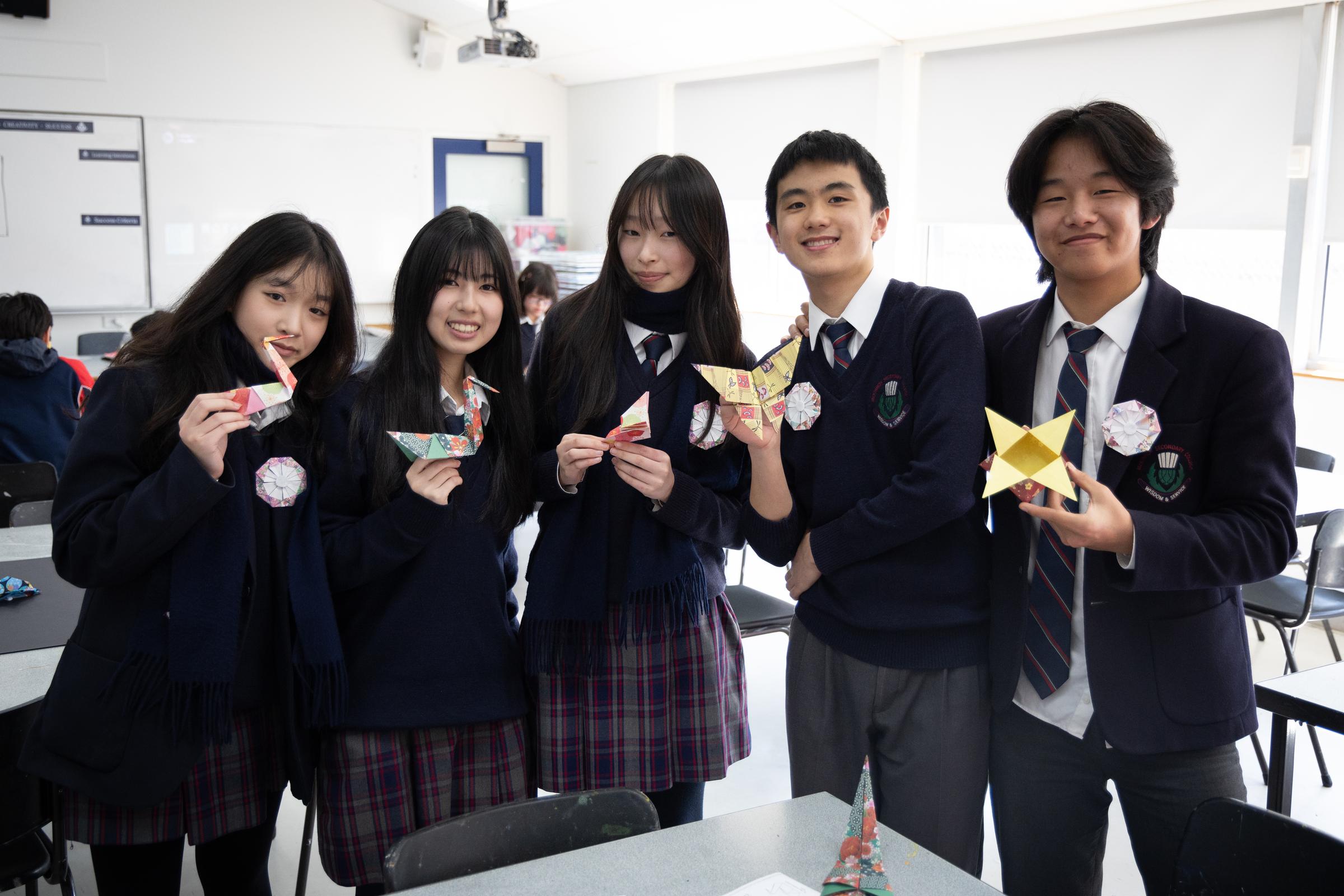 PRINCIPAL'S REPORT
A MESSAGE FROM THE PRINCIPAL
PARENT-TEACHER -STUDENT CONFERENCES
Thank you to the parents and caregivers of our students who scheduled and attended the online Parent-Teacher-Student Conferences. These sessions provide important feedback to ensure our students receive the best possible outcomes from their learning.
I also thank those who passed on positive feedback to our staff who work so hard to support our students.
CULTURAL DIVERSITY WEEK 
As part of our multicultural and inclusive community, we have been celebrating Cultural Diversity week this week, which is devoted toward learning and understanding the arts, traditions and heritages of different parts of the world. 
Staff got involved and dressed up in traditional clothing from different cultures and there was a variety of different foods to try out for lunch. Students were able to set up food stalls like Mango Lassi, Falafels and Haman Teshan. Year 7 students enjoyed Greek dancing and the East Campus students participated in 'Zorba Till You Drop'. 
An Origami workshop was hosted to practise this amazing Japanese artform and some of our school's Spanish and Chinese singers sang traditional songs and did some fun karaoke. Bharatanatyam was performed by Year 7 and 8 dancers. 
One activity loved by so many students was the Henna hand painting. And lastly, self-defence professionals came over to teach Year 8 students some martial arts. 
This has been an incredible event that provided the opportunity to make new friendships and foster greater understanding and appreciation of different cultures.
Thank you to all the staff involved and I would like to particularly acknowledge Rekha Nayyar for her dedication in putting together this incredible week of inclusive celebrations.
STATE SCHOOL SPECTACULAR
I was lucky enough to attend the State School Spectacular at the John Cain Arena last Saturday where two of our studentsVicky Bui (Year 8) and Briana Portella (Year 11) were representing McKinnon.
Vicky was part of the lighting crew and Briana was a Principal Dancer. Congratulations on being involved in this incredible event. Thank you to Natalie Same who joined me at the event. It was indeed a spectacular!
YEAR 12 PRACTICE EXAMS
Good luck to our Year 12 students who undertake their practice exams during the second week of the holidays. Students were sent their timetables via Google classroom a few weeks ago.
We ask students to use their time wisely and effectively revise work to ensure they give themselves the best opportunity.
GLOBAL ACADEMIC CHALLENGE
In May this year 120 Year 8 students participated in the Australian Council for Educational Research's (ACER) Global Academic Challenge.
This competition, for students in Years 4, 6 and 8 across Mathematics, Reading and Science, provides students with the opportunity to challenge themselves with questions of an international standard, and to see how their results compare to both an international and Australian cohort. Our students achieved excellent results, performing remarkably well in a very high-achieving cohort.
We had eight students achieve a High Distinction with Honours, placing them in the top 1% against international benchmarked standards. Special thanks to Mrs Emma Mullane for leading these students.
Congratulations to:
Maths
Lucas Huang
U-Zin Goh
Alisa Krivulin
Reading
Clementine Hull
Alexandru Virbanescu
Science
Jonathan Huang
Kevin Liu
Jack Wein
BIG 3 VOLLEYBALL TOURNAMENT
The final of the 'Big 3' Volleyball Tournament was held at Eltham High on Monday 4 September. We successfully won the finals to become Champions in our division. McKinnon Junior Boys defeated Rowville 3-0 and the McKinnon Senior Girls defeated Eltham 3-2, with a final set of 21-19, showing our true McKinnon magic with only having five players on the court. Thanks so much to Liam Adlington for coaching the boys and driving the bus. Thank you also to Sandy Hope who coached the girls.
SOCCER STATE FINALS
Well done to both the Year 7 Girls Soccer team and the Year 8 Girls Soccer team, who both recently competed in the state finals. Congratulations on representing McKinnon, we are so proud of your commitment. 
The Year 8 team sadly didn't progress to the final but fought hard and tried their best. The Year 7 team won all 3 games in their pool and made it to the grand final. The game was very close going into penalties. Unfortunately, McKinnon weren't able to secure the win but received second place. Well done everyone!
Thank you to Mara Karro, Liam Adlington and for supporting these teams and also Harley Karro (Year 9) for helping coach the Year 8 girls.
YEAR 12 MUSIC NIGHT
Congratulations to all the Year 12 students involved in the Year 12 Music Night.
The dedication and commitment to your music is impressive. We wish you all the best as you prepare for your final performance assessment. 
Thank you to everyone involved last night - the audio-visual team, the staff who attended and helped out with the evening and also, the friends and families who attended and provided their continued support. 
Thank you to Andrew Albanis for organising this outstanding event.
SENIOR CONCERT 
Following on from the recent success of the Winter Concert, tonight we are looking forward to the Senior Ensembles Concert at 7 pm in the Assembly Hall. This will be a wonderful opportunity to hear the Senior Core Ensembles perform for the last time this year, and will also include Senior Singers, Chamber Strings and the String Quartet. We will be acknowledging the hard work and commitment of the Year 12 musicians over their schooling at McKinnon at this event. 
Many thanks to ensemble directors Tracy Videon, Blanka West and Clare Bugeja, and to Martin West and Bernadette Russo for their assistance on the night. This evening wouldn't be possible without the support of the wonderful AV team, facilities, student help and overall organisation of the event by Clare Bugeja.
R U OK? DAY
Today is R U OK? Day, a reminder that every day is a good day to ask, "Are you OK?" and have a meaningful conversation when you notice someone you care about might be going through a tough time. 
I'd like to take this moment to remind you of the support available through our wellbeing team and external resources. For a list of useful services, please visit How to ask "Are you OK?" | R U OK? and  Children, young people and mental health services. Please also see the Wellbeing report for more resources.
UNIFORM - TERM 4
I remind families that both the summer and winter uniforms may be worn up until Cup Day (Tuesday 7 November), after which time the summer uniform is required. Please ensure your child has the correct uniform and visit our uniform supplier Bob Stewart if you need additional items.