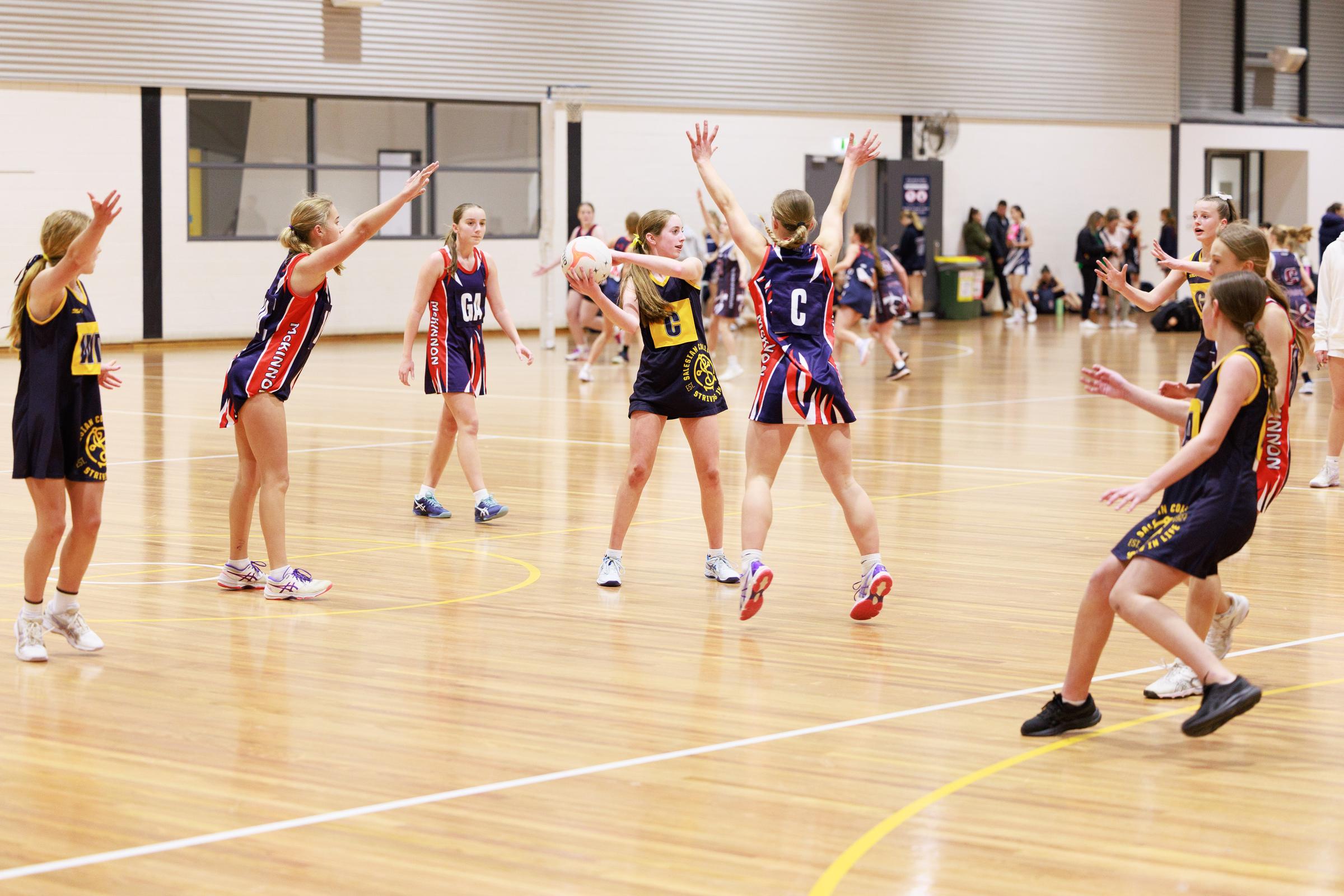 SENIOR GIRLS NETBALL
Last week marked the final event of the Senior Girls Netball Season, this was an accumulation of hard work and success throughout the year.
The Senior Girls started their Netball campaign back in May with some early morning training sessions and trials ahead of the Kingston Division Championships. The team played some excellent Netball and were undefeated throughout the Divisional and Southern Metropolitan Regional Rounds. The squad then headed to the All-School Championships at the State Netball Centre where they faced the best of all public, private and catholic schools. This was a good test for the upcoming SSV State Finals. 
Following the All-Schools Competition, the team headed to the State Finals of the School Sport Victoria Competition at Jells Park. The team played some excellent Netball and went on to draw against Whittlesea Secondary College, win against Wodonga Catholic College before being defeated by Trinity College Colac. The squad should be very proud of their achievements this year as they were in the Top 8 of the whole state.
Congratulations to Indy Baker-Hill (Year 11), Arden Bailey (Year 12), Stephanie Braniska (Year 12), Isabella Di Lecce (Year 11), Michaela Di Lecce (Year 11), Hannah Foran (Year 11), Bo Fox (Year 11), Lani Hammam (Year 11), Eva Gray (Year 11) and Annabelle Sakurai (Year 12) (Captain) on an amazing season.
Jennifer Pemberton
Coach
SENIOR GIRLS BASKETBALL
The Senior Girls Basketball team attended at the Melbourne Sports Centre in Parkville for the State Finals on Tuesday 12 September.
The girls had a convincing win over Bendigo Senior Secondary College in first match, before losses to outstanding basketball schools in Box Hill Senior Secondary, and Strathmore College.
Well done to our state finalists.
Chris Hudd
Coach
'BIG 3' VOLLEYBALL TOURNAMENT FINAL
This year, McKinnon competed for the first time in a new volleyball tournament against Eltham High and Rowville called the "Big 3". 
The Final was held at Eltham High on Monday 4 September. Our Junior Boys defeated Rowville 3-0 and our Senior Girls defeated Eltham 3-2. It was a very exciting match right to the end. Well done! 
Thanks to Liam Adlington and Sandy Hope for coaching. 
Sandy Hope
Coach
YEAR 7 AND 8 GIRLS SOCCER STATE FINAL
Year 8 Girls Soccer
On Tuesday 5 September the Year 8 Girls Soccer team set off to Darebin International Sports Centre to compete for the State title, representing the Southern Metropolitan Region. Their first game was against Thornbury, they fought hard and didn't stop until the end securing a 3-2 win. Up next was Greater Shepparton, which they knew would be a challenging game, however they persevered and maintained their skill for the entire game with a final score of 1-1. 
Our last match was against Daylesford, we needed a win with a goal difference of at least 5 to be in the final. The girls tried their best and put up a tough fight resulting in a final score of 5-1. Unfortunately, this meant that the girls didn't progress to the final, however, they proved themselves through all their games and showed their determination and dedication by trying their best and putting in all their effort until the end. 
Good job to all the girls on an outstanding effort. 
Year 7 Girls Soccer
The Year 7 Girls Soccer team set off to the state finals after being crowned Southern Metropolitan champions, to compete for the State title. Their first game was against Brunswick, which proved to be challenging however the girls pushed through until the end and showed their determination securing a 2-1 win. Up next was Catholic College Wodonga which again the girls asserted their skills and showed their abilities attaining a 3-0 win. 
Our last pool game was against Ballarat, we fought hard until the final whistle with a final result of a 7-0 win. This meant that the girls progressed through to the State Finals. All the girls' hard work and endurance had paid off. 
The Grand Final was against Canterbury Girls Secondary College. It was an extremely tight game with both teams demonstrating their outstanding skills and perseverance. By half time the score was 0-0 and then again at full time. This meant that extra time was going to begin. Extra time meant that an additional 10 minutes (5 minutes each way) was required to find a winner. Both teams played so well and put up an amazing performance. This resulted in a final score, after extra time, of 0-0. 
Thus, we had to participate in penalties to determine a winner. We scored our first 3 goals and our keeper saved one, meaning we needed to make the next 2 to win, however they didn't go in. We secured 2nd place in the entire State. It was such an amazing effort and outstanding performance that the girls fulfilled. The final score didn't give them enough credit. 
Congratulations to all the girls for representing the school and region with such a passionate, determined effort. 
Harley Karro
Year 9 MSLA student