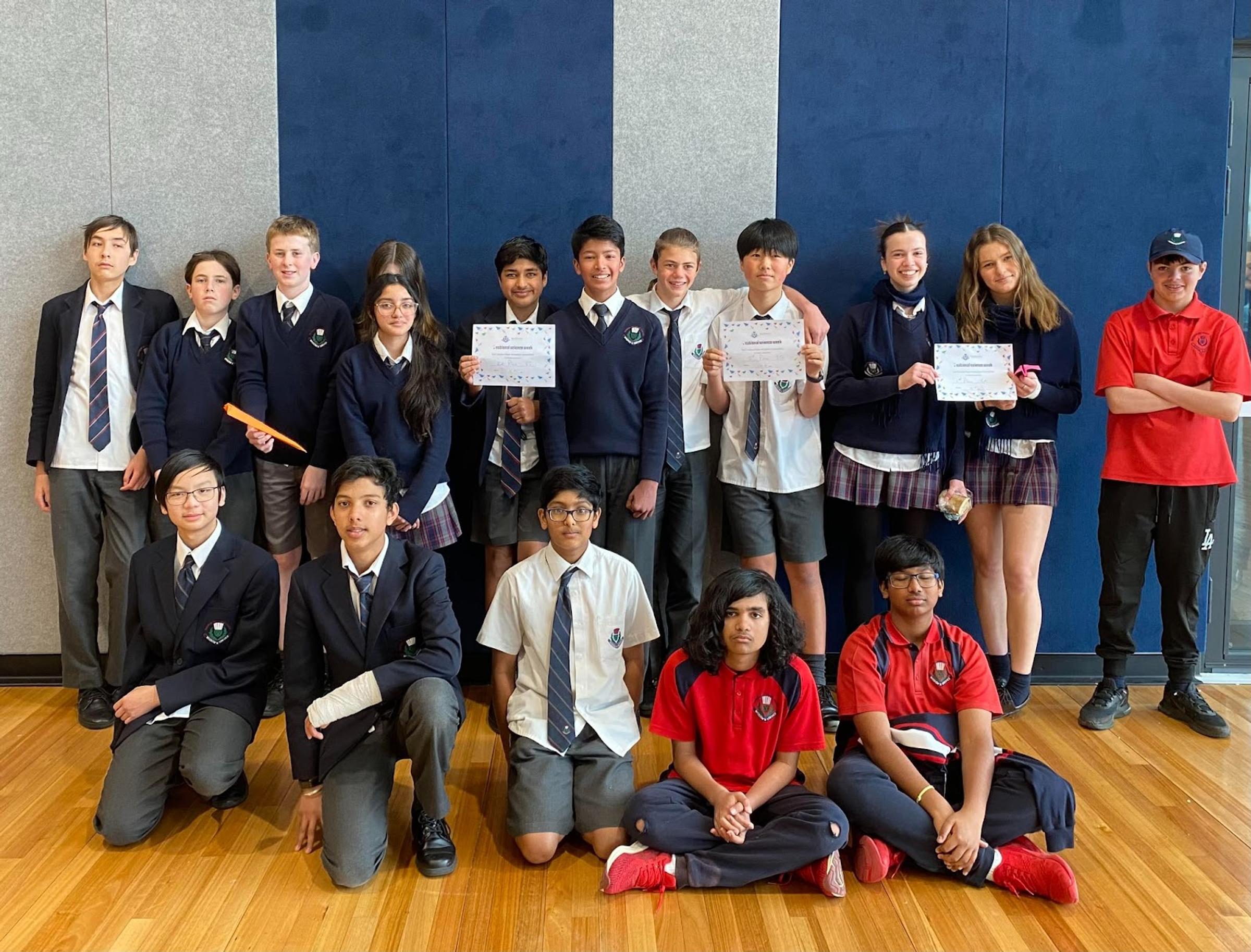 PAPER PLANE COMPETITION 
At lunchtime on Thursday 17 August, the McKinnon East Campus Science Faculty ran a Paper Aeroplane Competition in the gym. 
This was one of several events organised for National Science Week. Two participants from each form were asked to exercise their engineering, paper folding, and plane launching skills to design a plane and launch it by hand to fly their planes the longest distance. Many Year 8 classes fielded skilled entrants and we all watched as amazing distances were achieved by these keen aeronautical competitors.
Well done to all those who participated, especially the Top 3 teams!
|   | Name | Name | Distance |
| --- | --- | --- | --- |
| 8M | Ava Smith | Ciara Tarasiuk | 16.70m |
| 8G | Jal Shah | Aarav Sahu | 15.95m |
| 8Q | Sean Yoo | Beau Reynolds | 14.40m |
| 8K | Manan Sati | Roger Pham | 13.50m |
| 8D | James Rae |   | 13.00m |
| 8P | Ari Goodman | William Eisenhut | 10.83m |
| 8F | Ryan Raja | Mukul Balasubramanian | 7.65m |
| 8L | Alvina Ukrani | Ana Pantelic | 4.60m |
| 8O | Zac Finnigan | Hanon Abraham | 3.78m |
Ping Hu
Science Teacher
SCIENCE WEEK 
On Wednesday 16 and Thursday 17 August, McKinnon Secondary College hosted several activities to celebrate National Science Week. 
This nationally recognised week is dedicated to celebrating all things related to Science and Technology with this year's theme Innovation: Powering Future Industries in the spotlight. 
During the two-day event, students were able to make their own souvenirs to take home such as bath bombs using essential oils and bracelets using binary code to spell out the first letter of their name. Students were also able to watch selected films from the International Science Film Festival, participate in the Stroop effect competition and levitate lightweight mylar shapes using Fun-Fly-Sticks to demonstrate electrostatic attraction and repulsion.
The exploding watermelon activity drew the biggest crowd on the Main campus. It took 199 rubber bands to cause a watermelon to explode!
At the East Campus, students had the opportunity to explore the concept of density by making colourful lava lamps and make sherbet by using basic principles of acid-base reactions. The Year 8 Paper Plane Competition was also held at the East Campus.
Thank you to all teachers who volunteered to help coordinate and supervise these activities to enable students to take part in celebrating National Science Week. Also, thank you to Laboratory Technicians Karen Romari and Marni Beretta whose efforts made science week successful.
Jennifer Wallace
Science Week Assistant
EXPLORING NEWTON'S 3RD LAW WITH A SKATEBOARD AND A LEAF BLOWER
During one of our Physics doubles, Mr Stevenson presented us with a practical experiment involving Newton's third law, stating that "for every force in nature there is an equal and opposite reaction." 
Mr Stevenson then showed this to the class by sitting on a skateboard and proceeding to blow air out of a leaf blower in the opposite direction that he wanted to move. This led to him moving in the opposite direction as the force of the leaf blower on the air is equal to the force of the air on the leaf blower, which caused the leaf blower to push both the skateboard and Mr Stevenson, in turn moving him in the opposite direction.
Me, as well as my classmates, really enjoyed this experiment as it provided a realistic insight into the content we've been learning in class. This experiment also inspired me to think more about Physics in real life circumstances which made me more passionate about the subject.
Timothy Nicolaides
Year 11 Student