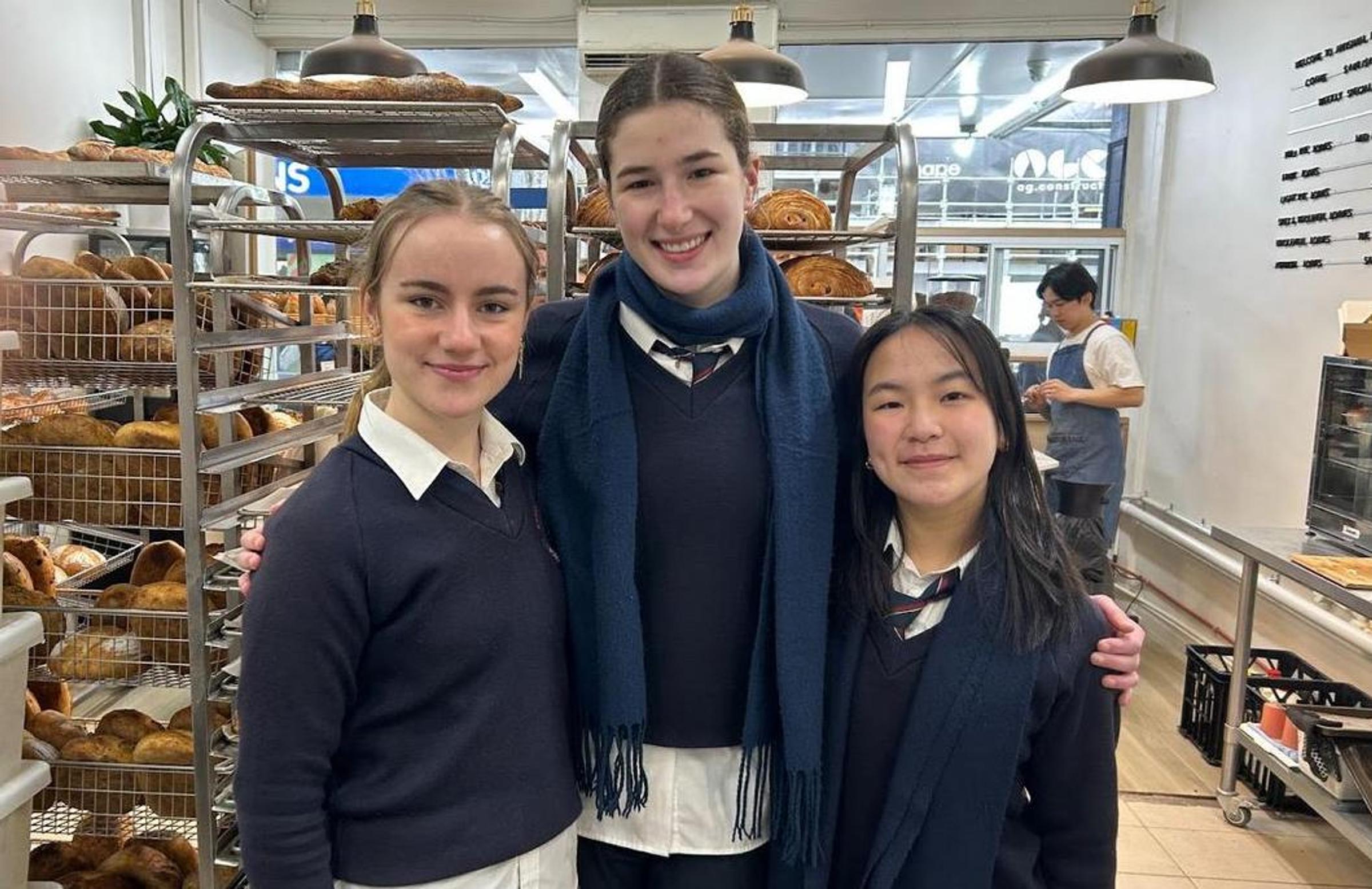 BIENVENUE! - NEW CALEDONIAN VISITORS
The New Caledonian visitors have arrived! They met their host families at Main campus on Thursday night, 7 September, and spent the day at school on Friday (one class at East, one at Main). There will be much more detailed reporting of their visit in the next newsletter. Huge thanks to our amazing McKinnon families who always rise to the occasion.
MORE ALLIANCE FRANCAISE BERTHE MOUCHETTE COMPETITION FINALISTS
We have three finalists in the VCE written exam section of the Berthe Mouchette Competition. Congratulations to them for this great achievement and best wishes for the finals.
Ewa Agboton (Year 11)
Diane Dixon (Year 11)
Luka Magee (Year 12)
WINNERS OF THE EAST CAMPUS BASTILLE DAY PHOTO COMPETITION VISIT ROULE GALETTE WITH THEIR PRIZE VOUCHER
Samedi, mes amis (Jack Horan & Jerry Lu) (both of Year 9) et moi sommes allés dans un restaurant français à Carnegie: Roule Galette. 
Nous avons mangé des escargots, des crêpes, et plus. En outre, nous avons bu des smoothies et du coca. 
Nous y avons passé de très bons moments et j'ai pu rencontrer mes amis qui étudient à Melbourne High, pour la première fois depuis des mois.
Jennifer Lynd
Learning Area Manager - Languages
STUDENTS TEACH LANGUAGES DURING CULTURAL DIVERSITY WEEK
To celebrate our cultural diversity in my Year 7 classes and to show their cultural background language, I encouraged my students with an activity to teach other students a basic greeting and a few introductory sentences in their languages.
Students were paired or grouped with other students who do not speak the same language. It was interesting to see that many students who were not born in Australia might still speak the language but were not able to write it anymore. In one of my classes, we also found three different Indian languages that students spoke. Some students, who were also able to read and write their languages, are still attending additional language schools to maintain their language skills.
It was a pleasure to see students, who are sometimes shy, blossoming in their role as teachers teaching others their language. Everyone in class enjoyed this experience showing off their background knowledge or showing off new words in a language that they had never heard before. 
If you would like to read more about the benefits of maintaining your background language visit the VIC Government's website Speak to your child in the language you know best
Andrea Fowler
German Teacher
VISIT TO BAKERY 
Notre excursion pour le français à l'Artisanal Bakehouse sur Centre Road était une excellente opportunité pour nous, comme étudiants de français pour pratiquer la langue dans un environnement informel. On pourrait acheter notre petit-déjeuner à la boulangerie et on l'a tous utilise bien. On a commandé nos pâtisseries en français et le personnel nous a beaucoup aidé quand c'était nécessaire. 
Regarder les boulangers quand ils préparaient le pain était suffisant pour nous faire rester des heures. Mais non, on devait retourner à l'école. On a conclu l'excursion avec une séance de <<Q and A>>  qui a nous donné un perspective pour les joies d' avoir un boulangerie et préparer les pâtisseries françaises. J'ai vraiment beaucoup aimé l'excursion et je crois que les autres étudiants aussi.
Our French excursion to the Artisanal Bakehouse on Centre Road was an excellent opportunity for us, as French students, to practise speaking French in an informal environment. We were also given the opportunity to buy breakfast from the bakery which almost all of us made good use of. We all ordered our pastries in French as well and the staff were really helpful, giving us hints to order in French if we ever needed it. 
Watching the bakers as they prepared the bread was incredible. The quality of the dough and the precision with which they handled it could have, by itself would have kept us at the bakery for hours on end. The whole excursion was concluded with a Q and A session with the baker which provided us insight into the joys of making and owning a place that makes French patisserie. I enjoyed the excursion greatly and I think all the other students did as well.
Joshua Aby Peediakal
Year 10 Student