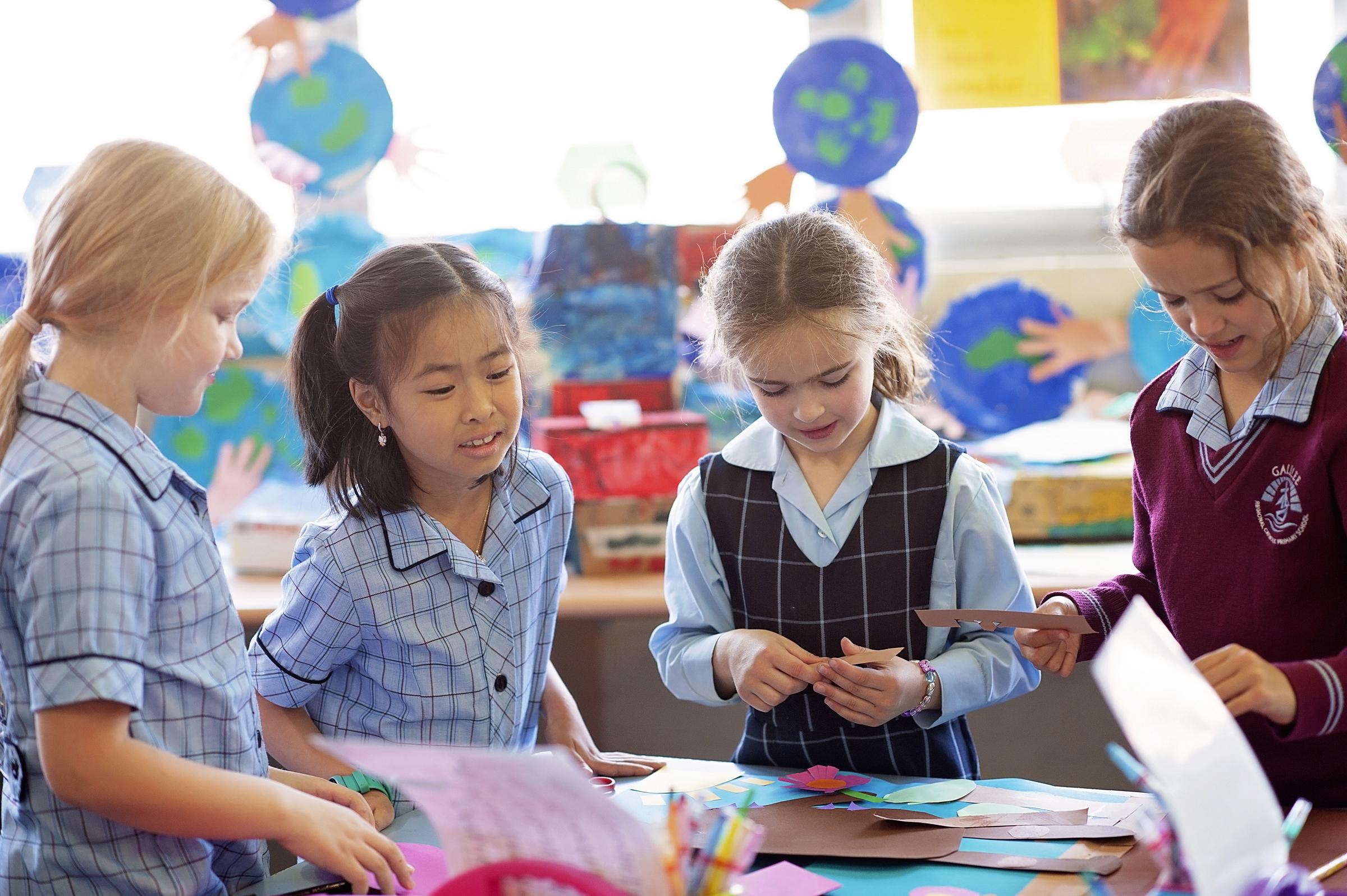 Homework Survey Summary
In Term 1, we invited parents / guardians, staff and students from years 2-6 to participate in a homework survey to be part of the conversation in developing Galilee's updated homework policy and procedures.  These survey results became part of the decision making process and informed a Homework Team on current thoughts and feelings around homework.  Current research in the space of homework was included.
Together with data collected from parents and guardians, staff and students in Years 2-6, alongside current research and educator's expertise, the committee made an informed decision on updating our homework policy and procedures.
This updated homework policy and procedures will be presented to the wider staff in the coming weeks and following that, will be shared with our parents and guardians.  Comprehensive communication will be sent alongside the new policy that is shared.
We thank everyone who participated in the surveys and were part of the process of reviewing Galilee's Homework Policy.
Please see attached document outlining some of the survey results.
Victorian Premiers' Reading Challenge
The Victorian Premiers' Reading Challenge is now open and Galilee is excited to be participating.
It is not a competition; but a personal challenge for children to read a set number of books by 8 September 2023. https://www.vic.gov.au/premiers-reading-challenge 
The Challenge is open to all Victorian children from birth to Year 10 in recognition of the importance of reading for literacy development.The Premiers Reading Challenge application offers a range of exciting features including:
access to a library catalogue (including book images and blurbs)
a modern user-friendly interface
rewarding students with badges as challenge milestones are achieved
the option for students to mark books as a favourite, give them a star rating or complete a book review
Children from Prep to Year 2 are encouraged to read or 'experience' 30 books with their parents and teachers. 
Children from Year 3 to Year 6 are challenged to read 15 books.
All children who meet the Challenge will receive a certificate of achievement signed by the Victorian Premier and former Premiers.  To read the Premier's letter to parents, view the booklist and for more information about the Victorian Premiers' Reading Challenge, visit: https://www.vic.gov.au/premiers-reading-challenge 
You will receive a letter with more information about the Premiers Reading Challenge and the login details for your child/children, within the next week. 
If you have any questions, please do not hesitate to let email Miss Evans- hevans@gsm.vic.edu.a
NCCD
The Nationally Consistent Collection of Data on School Students with Disability (NCCD) takes place every year in August.  The NCCD is a collection that counts: 
the number of school students receiving an adjustment or 'help' due to disability
the level of adjustment they are receiving to access education on the same basis as other students. 
Students are counted in the NCCD if they receive ongoing adjustments at school due to disability. This 'help' allows them to access education on the same basis as a child without disability. The NCCD uses the definition of disability in the Disability Discrimination Act 1992. 
Please see the attached PDF for more information about the NCCD.   
Congratulations to Roger and Ethen 
Roger and Ethen in Year 4 are the latest recipients of Principal Award stickers for smashing their reading goals. Well done boys! 
Murphy Slimes Millar
Last term Galilee held their first Colour Explosion Run for Fun.  With generous donations we raised over $35,000 towards renovating our Library.  
Our highest fundraiser, Murphy, raised over $3,000 and earned the honours of sliming our principal, Simon Millar.
Murphy said he loves his school and was keen to support the new library. Then, when some of the classrooms were damaged in the heavy rain, he was absolutely determined to raise as much money as he could for Galilee! He dressed in his Galilee uniform and stopped every passer by, every neighbour, every restaurant owner and local trader and told them about his school and how he needed their help to help his already amazing school become even better.  He did this every day after school.  He is very proud with himself and with what he managed to achieve!  He said the best bit wasn't the prizes he earned along the way, but helping his school (and of course sliming Mr Millar with the help of his little brother!)
We did a daily countdown for Murphy slimes Millar …. Friday was the day. In our recently finished basketball stadium, at our weekly assembly in front of the all the students, students and families, Murphy shared the limelight with his younger brother Albie and poured buckets of ice cold slime on Mr Millar.  The stadium was in stitches of laughter and the chanting and stomping was so loud we're sure the whole of South Melbourne heard us!
We thank everyone for their generous donations, well done Murphy and thanks to Mr Millar for being a great sport!
Mothers Day
See the Galilee Parents Association Page for more information. 
A Day in May
A Day in May On Monday 15th May, 
Galilee will be participating in a special fundraising day to raise money for Challenge.  Challenge is a not-for-profit organisation that supports children and families living with cancer. 
The support from Challenge is free and immediate, helping to lighten the cancer journey by addressing the practical, social, and emotional needs of all their members.
So on Monday 15th May, all students will be invited to come dressed in casual clothes and we will be having a whole school disco party!  We are really excited to be supporting a charity that is close to our hearts.  Students can make a gold coin donation on the day, but I have also included the link below to our school's fundraising page.  
https://fundraise.challenge.org.au/fundraisers/brighiddeamer/galilee-regional-catholic-primary-school
Make sure you start practising those dance moves!
Zagame Group Showroom
On Friday 28th April, Tae Yoon, Lea and Seol went to the Zagame Group Showroom! Tae and Lea saw lots of cars and were so very lucky to be able to sit in them as well as go for a drive!!! Some of the cars that were there were: Ferrari, Lamborghini, Pagani, Aston Martin and an F1 car!
Tae went into the mechanics room and even helped to screw the wheel on the car!
He also sat in an F1 car and was buckled in!!! He got lots of gifts including Lego and Ferrari, Lamborghini and Pagani hats!  Tae was so excited to spend the day at Zagame Group and he has been invited back whenever he wants to go!
We thank Nat Calafiore, Bec Zagame and all of Zagame Group for making a dream come true.
Diving Superstar
Last Monday Jensen in Yr 6 competed at the School Sports Victoria Diving competition.  On the 1m springboard in 12 & U, Jensen come 1st in the Regional competition, where he qualified for states.  Competing in states 1m springboard 12 & under Jensen came 2nd, proudly representing Galilee. Well done Jensen!
Galilee Immunocromised: guidelines for student attendance when unwell
Dear Parents,
We are writing to advise you that our school currently has a student who is receiving medical treatment and is immunocompromised.  This means that when he/she is exposed to viruses and bacterial infections, he/she can very easily contract the infection and become very ill.  The student is actively involved in the school community and recovering from treatments and their side effects.  We would appreciate it if you would notify the school by phone on 96992928 immediately if your child has an infectious disease such as gastroenteritis, chicken pox, measles or COVID-19.  In an effort to keep this child, as well as all of our children healthy this school year, we ask that you keep your child home for the following reasons:
1. Fever of more than 37.5C in the past 24 hours. Students must be fever free without the use of fever reducers such as Panadol / Nurofen for at least 24 hours before returning to school.
2. Vomiting or diarrhoea within the last 24 hours.
3. Cold with fever, sneezing and thickened nasal discharge.
4. Sore throat, especially when combined with fever or swollen glands.
5. Cough that keeps your child awake at night, worsens with activity, or is combined with other symptoms.
6. Redness in the whites of the eyes, yellow or creamy discharge and matted eyelashes. If your child is diagnosed with conjunctivitis he/she must be treated with an antibiotic ointment or drops for at least 24 hours before returning to school.
We sincerely appreciate your cooperation.  Please do not hesitate to contact us if you have any questions.
Kind regards,Brighid Deamer and Julie Ferguson
Thank you from the Katalyst Foundation
On behalf of the Katalyst and Kookai family, I would like to extend our heartfelt gratitude for your generosity in support of our foundation. We feel blessed that we have your support. The technical equipment you have generously gifted will no doubt be received with much excitement.
As a foundation we work hard to make inroads across the areas of Education, Health, Infrastructure and Social Welfare in underdeveloped regions of the Bua Province, Vanua Levu, Fiji.  Our initiatives are made possible due to support received from our generous donors who believe in the work we do.  Thank-you to you and the entire school community at Galilee Primary for sharing in our vision to empower these communities by assisting us in giving the people of Fiji what they need to build better lives.
We appreciate your kindness and look forward to sharing more information about what we continue to achieve. To stay up to date with our progress please follow @katalystfoundation on Facebook, Instagram and/or LinkedIn.
LIZ ZAMANIS-ROBINSON - GENERAL MANAGER KATALYST FOUNDATION
A big thank you to Paul who has faciliated partnership between Galilee & Katalyst Foundation.