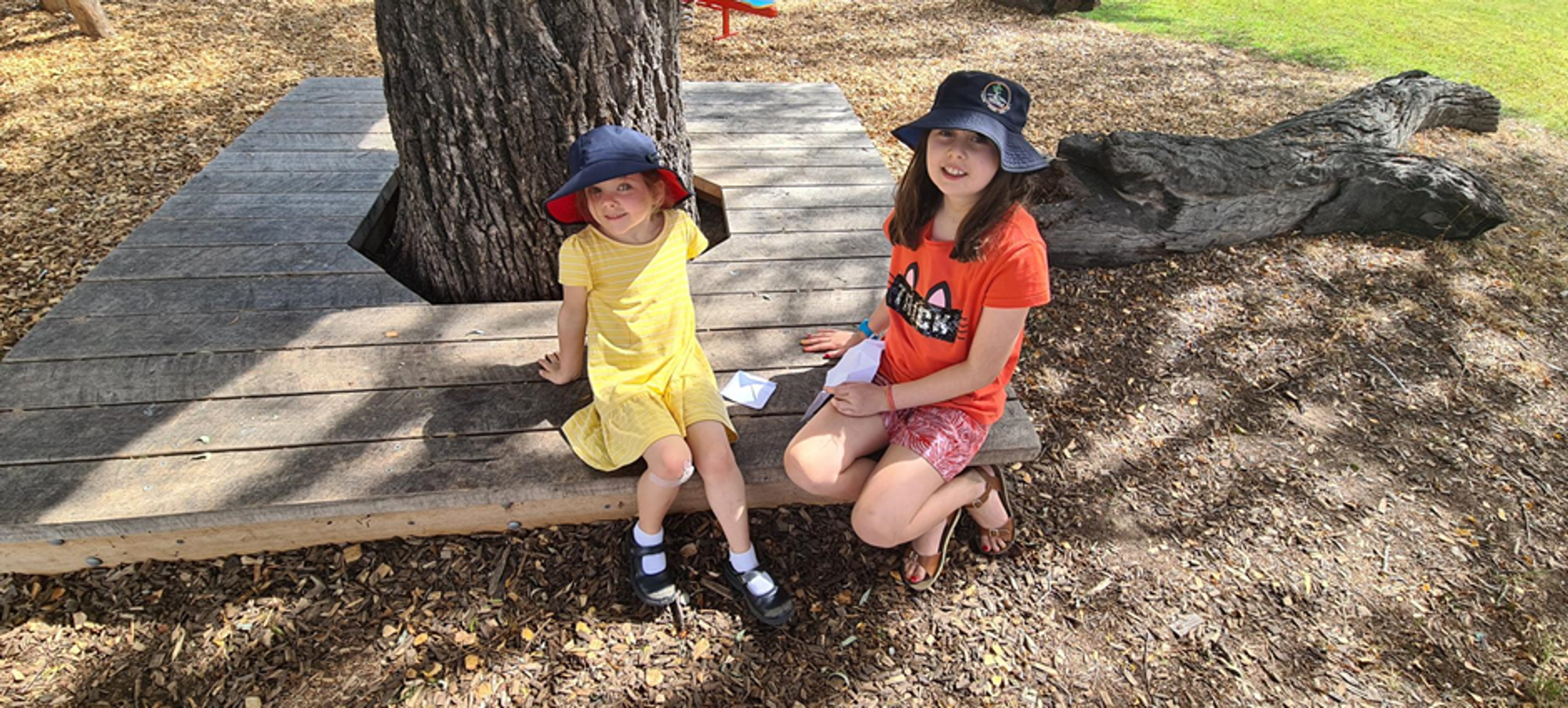 Fairy Garden request
Do you have any fairies or fairy furniture that you could donate to the Fairy Garden? We would love some new fairies to play with. 
We would also like things for the bases and for the mud kitchen. 
Thank you! from the SRC (Student Representative Council)
P&F Fundraising this term
Election BBQ 
Although it started slowly, our BBQ fundraising efforts on Saturday 19 ended up fairly fruitful. $387 was raised by our hardworking team - Alex, Lisa, Kate, Andrew and Amanda. A special mention also to the kids – who ran around the grounds spruiking the BBQ, squirting sauce and daringly asking for change to be donated (with some customers happy to oblige).   
We would also like to thank Cobbledick Produce for donating 5kg of onions and Stirling Woolworths for bread, napkins and sauces. 
 Kate, Jameson, Henry and Emily cooking and selling the snags. 
Second hand clothes sale
Earlier in the term Alex and Prue held a second hand uniform sale. This raised just over $100.
Any families new to the school throughout the year are more than welcome to contact the P&F to request to go through the clothes sitting in storage. 
Bulb and Hot Cross Bun Fundraisers
You will have all received a form, flyer or communication about these other two fundraising opportunities. You can still get your orders in for Keytons Easter goodies before Wed 6 April.
Easter Raffle 
The P&F will be conducting the traditional Easter Raffle which will be drawn on Thursday 14 April. We are asking each family to donate an Easter related item to enable us to make up a variety of Easter Baskets. We would appreciate donations as soon as possible to enable baskets to be made up. The more goodies we get, the more prizes we have.
Please ask your child to bring your donated items to the front office in a bag. 
As children are often prize winners please be mindful of donating prizes that are age appropriate.
Yesterday your child will have brought home a raffle book for you to sell . 
Tickets are $1.00 each. 
Please return all books (sold or unsold) by Friday 8 April.
Thanks to Amanda Preskett for making up the books.
Where does then money go?
Money raised by the Parents & Friends Committee (P&F) goes towards improvements made on the school grounds throughout the year. Have you noticed the revamped veggie beds by the gym, the new stone work seating or fairy garden? These projects are a part of the school masterplan and they improve the grounds for the enjoyment of the school and wider community. 
Thanks for your support over the year!
The P&F Committee 
OSHC News
Hi all, we are gearing up for another vacation care period - which will be on us sooner than we all probably imagine! Get your bookings in early as per the program (see link below) as  there are two days that are capped at a specific number of children.  We cannot wait to see what April Vacation Care brings and have missed everyone during a much quieter term.
Vacation Care program
In other news, we are looking for some casual workers in term two, due to a large amount of our staff taking absence for university placements. We are in need of a qualified worker - someone who has finished at least two years of an education degree, or someone who has a diploma in Early Childhood, for casual work on Tuesdays and Thursdays mostly. If you have a friend, family member or colleague who is looking for a bit of experience in the child-care world this could be a great option for them. We are also looking for an unqualified worker for term two - all they need is an up-to-date RAN, and a Working With Children Check. Any interest can be forwarded to the OSHC director email address which is oshc.director773@schools.sa.edu.au. 
See you soon everyone!
Disability Support Group 
A message from Emily Pedlar, school mum: 
I would like to reach out to other parents of kids with disabilities to offer each other support (and support for siblings) & potentially come up with ideas to work with the school and parent community in becoming even more disability aware.  
Please ring or text me on 0414 541 159 or email Emily.k.pedler@gmail.com to let me know you are interested in joining this group, or for more information. Once I hear from people I will organise a get together for us as a group. Thank you!
COVID restrictions
Here are the current recommendations from the Department for Education:  
COVID safe measures
All students and staff must stay home if unwell, even mildly. If students become unwell at school, we are unable to care for them here and we will be contacting you to collect them asap. Please have a plan in place for someone who can collect your child within a half hour. 
We will be maximising ventilation by leaving doors/windows open, using air conditioning and fans, and keeping doors and windows open. Please make sure your kids have a jumper - it might be cold in classrooms with the additional ventilation. We have had a number of students complaining about the cold this week, without a jumper. 
Outdoor learning will be encouraged where appropriate.
Adults will  practise physical distancing where possible.
We will do our best to minimise student/child intermingling across class groups inside for the time being – and spread kids out in the spaces we have available.
We have been asked to limit non-essential visitors on-site; allied health professionals, music teachers and student support services are an exception. 
We will continue to practise and promote hand and respiratory hygiene. Hand sanitiser will be provided for regular use, and disposable masks.
Extra cleaning of the school daily will continue. This means that high contact areas of the school will be cleaned twice daily. 
Students are being asked to fill up their drink bottles from taps in preference to drinking directly from the taps, so please make sure they have a labelled bottle every day. 
Face masks
We will be requiring everyone to wear masks, to minimise the risk of infection. 
Face masks are strongly recommended for students in years 3 to 6. We will be expecting all students in the Year 3-6 classes to be wearing a mask. 
Once we receive smaller masks, we will be asking our younger students to wear masks as well. Children can bring their own masks from home as well. 
Teachers will be wearing masks, except when it impedes the ability to teach. 
Can parents and carers come into the buildings? 
We have been asked to minimise the number of adults who come onto our site for the time being.  Please send notes back to school with children rather than dropping them off yourselves, and contact us by phone or SeeSaw in preference to meeting in person.
However, if you need to see us, yes you are welcome! You just need to ensure you do a COVID-Safe check in when entering the building and practise physical distancing from other adults. If there is another adult in the front office area, please make your presence known to front office staff and then wait outside until called.  
Please enter via the Kidney Street red door main entrance only.
Please note that all adults are required to wear masks when entering school or preschool buildings.
Pick up and drop off
In the morning please continue to drop children off at one of the entrances to the school grounds, and allow them to make their own way to their classrooms. If you need to speak to your child's teacher, please make contact through the SeeSaw app. 
In the afternoon please make a quick pick-up from the gate. Children are not allowed to play in the playground after school for the time being. 
Assemblies 
Assemblies are postponed until further notice.  We will invite you to a Zoom Assembly on the Friday of every odd week at 2:40 with each class in their own classroom.  
Flexischools App
We have taken on a new method of payments for the school. The Flexischools app allows you to pay for certain school services. Information is provided below. This is the preferred way to pay when available, but we will still accept cash and card. It is not available for all services, but we are hoping to streamline payments as much as possible. You can now pay your materials and services fees via the app, and soon instrument hire and book fees. Please call Sara on the school number if you have any questions.