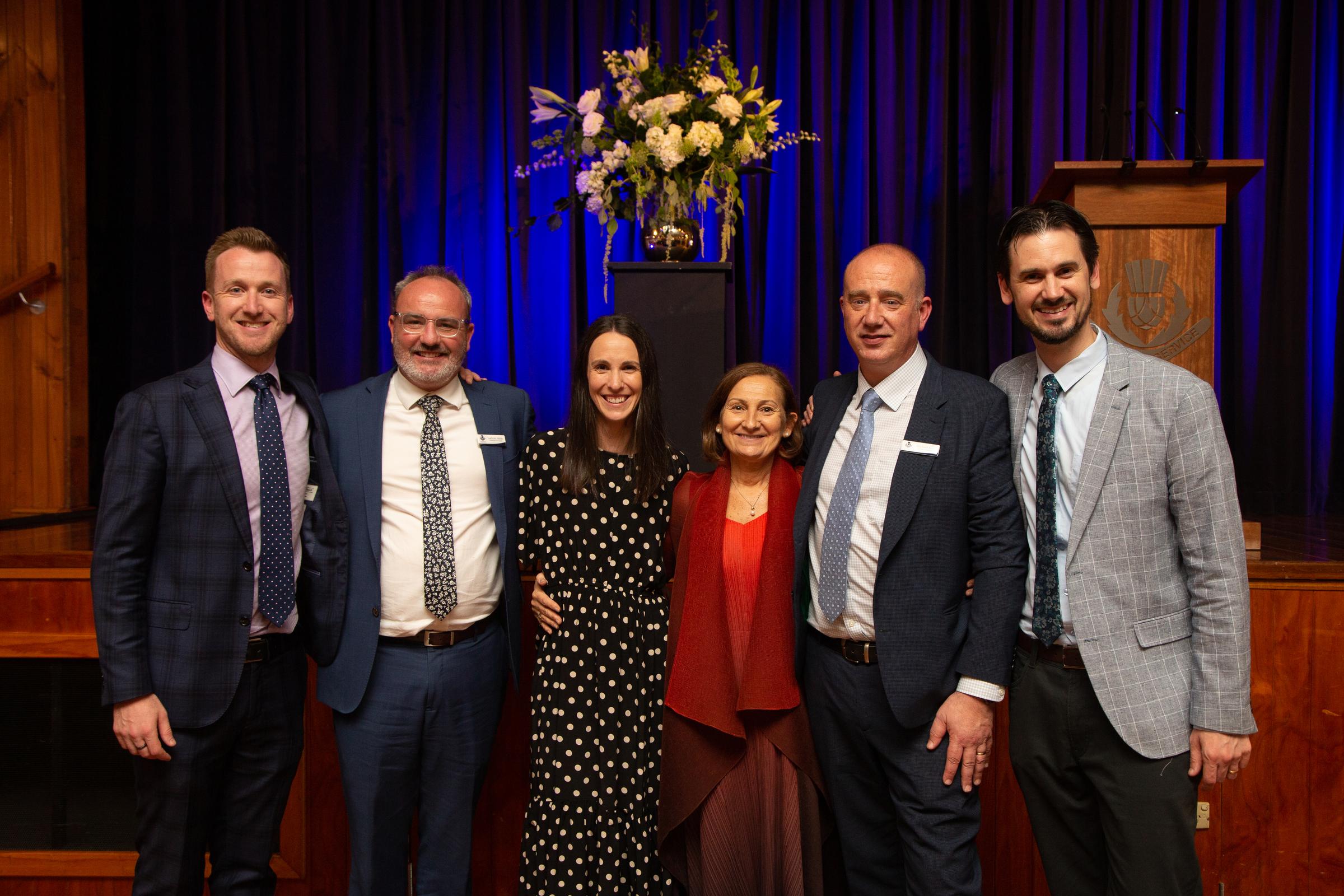 PRINCIPAL'S REPORT
A MESSAGE FROM THE PRINCIPAL
YEAR 9 MUSICAL PRODUCTION
The Musical Production course was a new initiative at Year 9 in 2022, and on Friday 25 November, its first participants presented a wonderful evening of musical theatre as a culmination of their hard work. 
The class worked together beautifully to interpret well-known songs from their favourite shows and wrote their own script to weave these songs together into an original plot. They also learned about the backstage elements of design and technical production for a performance. 
Congratulations to this talented class and many thanks to Megan Papworth for guiding them through this exciting new course. Thank you also to Lucy Angell for supporting their performance.
GREAT VIC BIKE RIDE
On Saturday 26 November we farewelled our Years 8 and 9 students together with some Year 10 student mentors as they left for their adventure on the Great Vic Bike Ride. 
Many enduring friendships have been forged on this event over the years. What an incredible experience for our students to enjoy the Great Ocean Road region, comradery, camping and of course cycling!
I would like to thank and acknowledge Paul King, Liam Adlington, Brett Howe, Andrew Stevenson, Carole Hooper, Daniel Farthing, Phoebe Ponsford, Hannah Sclarr, David Machin, Rachel Walker and Ashleigh Bell for all they have done to avail students to this wonderful opportunity.
VCE ORIENTATION WEEK
Congratulations to Ms Felmingham and the senior team for their exceptional work organising the VCE Orientation week.
Students have indeed immersed themselves into the learning and have enjoyed the opportunity to undertake tasks. I know teachers have provided everyone with work to get students started for a very successful 2023 program.
Much effort from all the Student Managers, Timetabling team and Assistant Principals assists this program to run smoothly.
TOMORROW MAN/TOMORROW WOMAN
I have received excellent feedback from students about this program. It was totally run by external facilitators and funded by an ex-student, Jordan Stout - Class of 2010, who raised money by running two marathons in one day.
The purpose of the program was to avail senior students time to reflect on what type of adult they want to be.
As a school we want young people to make good choices and always be respectful and provide their peers with support and encouragement. We will indeed continue to provide more of these sessions next year.
I applaud Jordan for his willingness to give back! An incredibly generous young man.
I want to particularly thank Mr David Machin for his work with this program to ensure successful implementation, relevance and an impactful message.
YEAR 9 GRADUATION ASSEMBLY
We held our Graduation Assembly for our Year 9 inaugural cohort from East Campus on Monday.
It was a wonderful celebration and I thank all the staff who have contributed to a very successful year for our Year 9s. In particular I thank the Student Managers Mrs Wilken, Mr Pantelios, Ms Pollock, Assistant Principal Mr Quinn and Campus Principal Mr Kan.
I wish all the Year 9s a smooth transition back to the Main Campus and I know they will work diligently to succeed in their senior years.
SCHOOL COUNCIL
I attended my very last School Council meeting this week and I wanted to acknowledge the tremendous support of this governing body.
The incredible support I have received from all School Councils over the years has been much appreciated.
The School Council President, Alan Bullas and Deputy President Gerd Diegelmann have been extremely supportive and we have together navigated the numerous challenges.
The subcommittee work is valued and contributes significantly to the continuous improvement of our school.
Some members of council have served for many terms and their guidance and support has truly been invaluable. Thank you to the volunteers investing in our school community: Alan Bullas, Gerd Diegelmann, Carly Griffin, Geoff Woolnough, Peter Quinn, Harriet Barrow, Andrew Brough, Dr Daphne Cohen, Vladimir Finn, Simon Hughes, Lana Kaper, David Nicolaides, Emma Mullane, Tim Stephens, Liana Kelemen and Thomas Wever.
We are in a very strong financial position as an organisation and can continue to invest in services and facilities for the students in our care.
The continuous investment in buildings and grounds and facilities has really improved the experience of all students. Through the strong parent support and school council advocacy, McKinnon has absolutely thrived.
YEAR 9 PEER SUPPORT TRAINING
The Peer Support program is a significant part of the Year 9s journey as they transition back to the Main Campus for their Senior schooling. For those unfamiliar, Peer Support is a whole-school initiative which links older Year 10 students with a group of younger Year 7 students. The older students act as mentors, educating younger students on how to handle peer pressures, provide support to each other and ultimately welcome them into the McKinnon school community. 
2022 marks the first year that East Campus Year 9 students undertake a two-day intensive training so that they may be selected as Peer Support Leaders for 2023. This is an opportunity for students to demonstrate enthusiasm, communication and leadership skills. In the following years Peer Support leaders are crucial in building a positive, inclusive and welcoming environment for the new Year 7s. Many Peer Support Leaders go on to embrace other leadership roles in senior school. 
The Peer Support Training program would not be possible without the support of teachers volunteering to run the program. They are able to build relationships with the students and help set high expectations as they start their Senior School journey. 
Special thanks to Mr Jack Gromer for coordinating this program and all the staff who enthusiastically train the students.
JUNIOR ENSEMBLES CONCERT
The Semester 2 Junior Ensembles Concert was a celebration event for all young musicians of the college. Congratulations to over 300 Junior school students who performed so beautifully on Wednesday night. They displayed an amazing array of musical talents and the skills they honed during the year both in ensembles and during lessons. 
This year we also welcomed guests from the East Campus who shared the concert stage in a collaborative and engaging manner. The audience were treated to performances from the Years 7 and 8 Bands, and Years 7 and 8 strings. Smaller ensembles were also featured, including Strings, Percussion and the Junior Stage Band. 
Thank you to Clare Bugeja and Dmitry Serebrianik for organising the concert and the music staff for their dedication all year and assistance on the day.
YEAR 8 MEDIEVAL DAY 
On Friday 9 December the Year 8 History classes will dress up in medieval costumes and participate in a range of activities for Medieval Day. Students will work in their MCK8 Challenge groups and completed creative activities, such as designing and building a castle, creating a class coat of arms, designing instruments of medieval justice, building a small siege weapon or completing a series of puzzles. After recess, students will move outside and can choose to play a modified version of medieval football or games such as quoits or skittles. 
In 2022, with the move to the new campus, classes worked in small groups to research a medieval topic, write a script based on their research and then create a short film using the greenscreen and any other technologies available on the new campus that they wish to include. These tasks were completed over a few weeks and on Medieval Day, a selection of these films will be shown to all classes to conclude the activities and celebrate the learning that these groups of students had produced.
Congratulations to everyone involved and I acknowledge and thank Mr Matthew Shaw for overseeing this event.
VOLLEYBALL VICTORIA JUNIOR OPEN
McKinnon Secondary College had 10 representative teams compete in the 2022 Volleyball Victoria Junior Open over Sunday 27 to Wednesday 30 November. Over 80 athletes represented the College, playing multiple games over the 4-day tournament.
The following teams are to be congratulated for the following medal matches:
Under 19 Boys Division 1 - Gold
Under 17 Girls Division 1 - Fourth
Under 16 Boys Division 1 - Bronze
Under 16 Girls Division 2 - Silver
Under 15 Girls Division 1 - Gold
Under 15 Boys Division 2 - Bronze
Under 14 Girls Division 1- Fourth
Under 14 Boys Division 2- Bronze
Congratulations to all athletes involved. We have enjoyed watching you grow over the years and cannot wait to see you back in action for the 2023 season. 
An honourable mention to our Year 12 student athletes Sam Kay, Will Kay, Tom Howells and Max Chilco-Burns who put on their McKinnon Volley uniform to represent the College for the very last time. We wish you all the very best for your personal and volleyball future endeavours. 
More of our athletes headed to the Gold Coast on Sunday 4 December where they competed in the Australian Volleyball Schools Cup Championship. These athletes are representing the College in a 6-day long tournament where they will be playing against some of the strongest volleyball schools in Australia and New Zealand.
The following teams were selected to attend the tournament after competing at the 4-day Schools Cup held earlier in the year where they won a medal to qualify for the top honours division:
Open Girls Honours 
Year 10 Girls Honours
Year 7 Boys Division 1
This is the first time McKinnon Secondary College has sent teams to compete at the school National level since the tournament was relocated from Melbourne to Queensland five years ago. 
We wish these athletes the best of luck and the safest of travels.  Thank you to Miss Parker, Mrs Hope and Ms Adler.
YEAR 7 BASEBALL STATE CHAMPIONS 
Congratulations to the Year 7 boys who played off in the Baseball State Finals last week. 
The first match was very close, with a narrow victory against Balwyn High, 9-7. The second match saw McKinnon win comfortably, 15-4 against Oberon College. The Grand Final was against Cheltenham and McKinnon played an awesome match, winning 11-0.
An incredible effort from all 11 boys involved, winning 11-0 to become Year 7 Baseball Champions! 
Harper Slattery is to be congratulated for his nearly flawless pitching, Ashley Hill for his role as catcher in the final, Harish Salwathura, the newly found pitcher and George Burgess Papasavvas for keeping a cool head as catcher and on first base.
I applaud this achievement and also thank Claire Weiss for her guidance and support.
PRINCIPAL AFTERNOON TEA
Thank you to the many parents and students who attended the afternoon session to say goodbye!
So many wonderful memories. The kindness and appreciation shown will never be forgotten.
***
This is the final newsletter for me as Principal, and my final message is one of gratitude.
I will forever treasure this community and this chapter in my life! Your unwavering support, encouragement and love has been much appreciated.
I have felt very privileged and honoured to serve this community and know it will go from strength to strength under the stewardship of Michael Kan.
I wish every staff member, student and parent/carer continued success and happiness. 
Goodbye!
Kind regards,
Pitsa Binnion
Principal
---