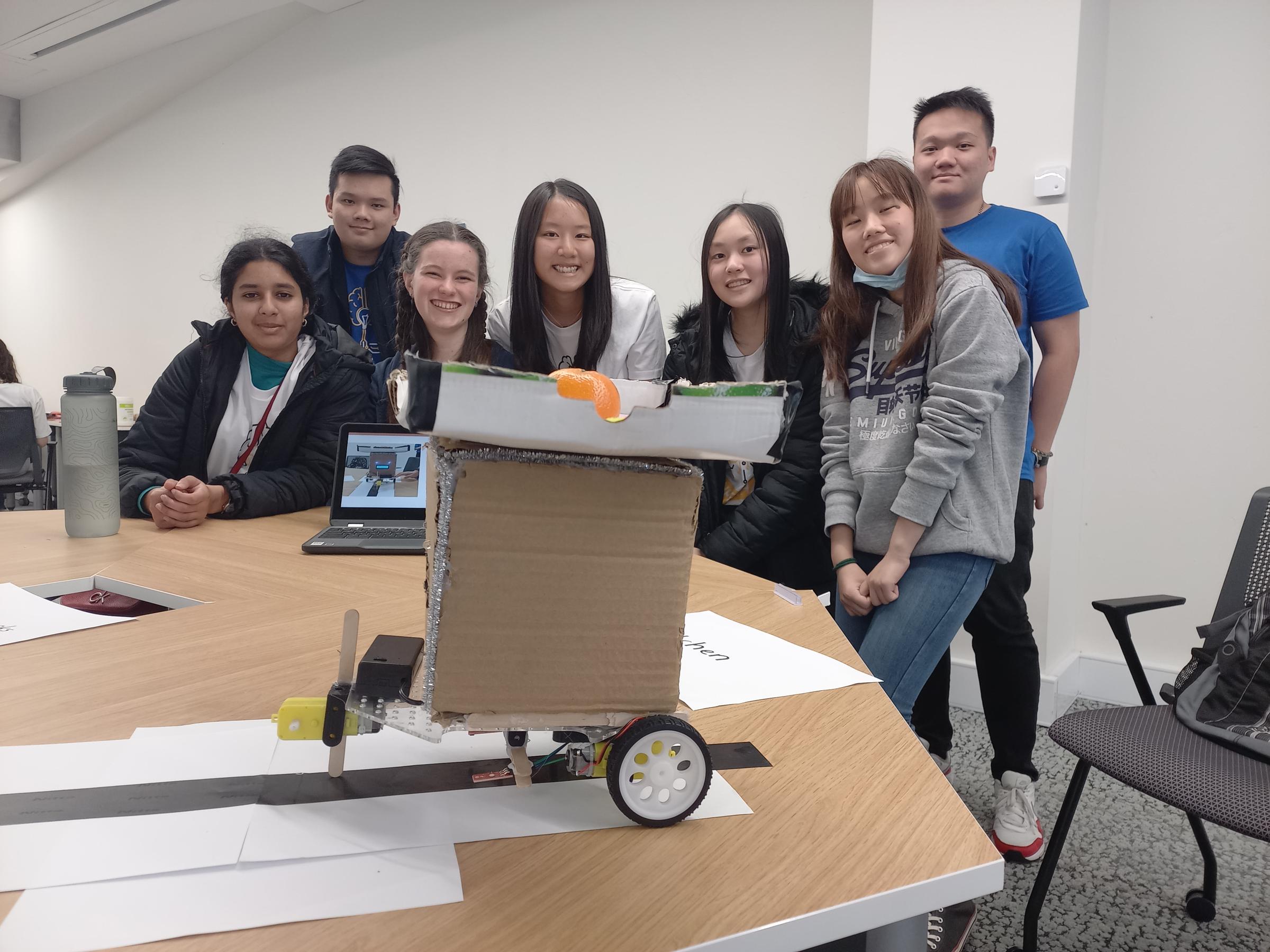 SUPERHACK 2022
SuperHack is a high-school engineering hackathon for young women, non-binary and gender diverse people hosted by the Melbourne University Electrical Engineering Club (MUEEC). Every year, the university invites girls, non-binary or gender diverse students from schools around Victoria to compete in teams to solve engineering design challenges based on a real industry problem. This year, fifteen Year 10 and 11 students from McKinnon worked in three teams and spent a weekend listening to industry speakers, problem solving, programming and creating with 80 other students from around Victoria.
Thérèse Sweeney
Science Teacher
"SuperHack is a hackathon which required groups to build prototypes that addressed a current issue which kept to the overarching theme of improving automation and productivity at home. There were three possible prompts to choose from, that is: increasing home security, decreasing electricity cost and consumption or a device which performed a chore. My group chose to address the third prompt, where we built a kitchen robot which delivered food from one location to another (such as the kitchen to the dining table). 
In addition to the motor system, we also included a temperature sensor which allowed the eyes of the robot, LED lights, to change colour depending on the heat released and a LCD display which showcased the name of the dish. What made the event even better was that it was not only the technical side of engineering, but also the marketing aspect of it too as teams were required to pitch their products to the judges (composed of industry leaders and University of Melbourne engineering students). Despite the fact that we didn't win, it was overall a great experience to learn about different mechanical systems as well as its corresponding code (Arduino), with the help of our dedicated mentors."
Suen Kee Year 10
"The SuperHack program which was held at Melbourne University has been a great learning experience for me. Not only did I expand my knowledge about engineering but I also learned about how the university helps aspiring engineers in reaching their full potential."  
Treya Venkatesh Year 10
"The thing about SuperHack, is that the first day is basically information overload, but the second is when it all comes together and the best part is when something that you have struggled to create actually works."
Isabelle Groom Year 10
"SuperHack 2022 was a truly rewarding experience! We not only got to work in teams and implement our very own ideas, but also had the chance to interact with experts in the industry. Everyone was very nice and the positive atmosphere really changed my view on Engineering. The weekend was tiring and challenging in many aspects, but I am truly grateful for being able to partake."   
Sofia Linardou Year 11  
"SuperHack 2022 was truly an unforgettable experience. Not only was the coding super interesting, but the industry and academic speakers' speeches were eye-opening, and the overall atmosphere was wonderful. The mentors for my team were extremely patient and made us feel right at home. This event gave us the chance to meet many new people and gain valuable insight into engineering as a potential career path."
Skylar Yuen Year 10
L'OREAL-UNESCO WOMEN IN SCIENCE FELLOWSHIP FORUM
Each year the L'Oreal Foundation and UNESCO (the United Nations Educational, Scientific and Cultural Organisation) award five exceptional female scientists in Australia and New Zealand with the L'Oreal-UNESCO Women in Science Fellowship.
Ten of our Year 9 students - Annabel Chan, Thea Dodos, Milana Gavrilenko, Alice Hollingsworth, Afroditi Ioannidou, Kayla Morgan, Susana O'Leary, Para Xinos, Olivia Yang and Zara Zulkarnain, attended this year's Girls in Science Forum, held at the Gene Technology Access Centre in Parkville. They heard inspirational 2022 winners talk about the science that they do and how they got to where they are today. Students were able to ask questions and learn more about the background and daily life of these role models.
After the talk, the students explore the unseen world of bees through the use of fluorescence microscopes, scanning electron microscopes (SEM) and light microscopes. By zooming in and observing the structural adaptations of bees and flowers they investigated what makes bees such great pollinators.
The students thoroughly enjoyed the experience and felt very inspired to continue their studies in Science.
Cherie Marks
Head of Science
VCE ORIENTATION WEEK IN SCIENCE
CHEMISTRY
When I walked into Chemistry after Monday lunch during orientation week, I was not expecting to jump straight into work. Almost immediately, we were divided into groups of three and we began the experiment of converting copper into its original elemental state. We saw a variety of chemical reactions on the way. 
In the experiment, we recorded the mass of copper turnings, allowing the metal to interact with nitric acid and sulfuric acid while later recording the new mass. It was interesting to see the fizzing and the vibrant colour changes that we had been learning about in class in action and to see the raw state of a chemical element. 
The class definitely had lots of fun doing an experiment instead of just theory, like we had expected and we hope to see a lot more of these experiments in the future!
Advaith Patil Year 10
PHYSICS
"I have learned the basic outline to AC/DC electricity and how it connects to the base electricity from 1/2 Physics. I found the connection to Methods (continuous sin/cos graphs) also interesting and the meaning of RMS too (practical use in real life). I am feeling pretty pumped and ready for this subject. "  
Joshua Jo Year 11
"I have learned about AC and DC currents and the differences between them. I have also learned about Cathode Ray Oscilloscopes and how diodes affect the AC current. I have learned about RMS voltage and how to calculate it, peak voltage, peak-to-peak voltage as well as the frequency and period and the relationship between them. I have learned about AC and DC graphs. I found the experiment on Wednesday's double interesting, and want to know more about the arrangement of diodes to get as close to DC as possible."
Donojang Koo Year 11
"Learning about AC Electricity and Oscilloscopes this week was a wonderful experience, previously it has been rather boring doing electricity in physics but the practical application of this knowledge over this week has changed my perspective on this topic. By far my favourite activity was using the oscilloscopes and measuring the voltage over time, and it has set a high bar for physics throughout 2023."
Hadyn Collier Year 11
"I have found the study of alternating current to be a compelling one. The classes not only included the theory but references to the real-world practices and applications of measurements such as RMS. While I was originally hesitant given my greater aptitude of theory over practical application, the value of real experience is not lost on me. I look forward to 2023."
Oliver Richards Year 11
"We mainly relearned how to use electronic circuits as well as learning SI units and scientific notations. I find relearning electronics interesting and want to learn more about basic circuitry. I feel this subject has a lot of potential for good learning opportunities and to be fun."
Jesse Sumarna Year 10
"This week we learned the fundamental skills of physics and circuits. I found circuits very interesting as we got to do a prac, which was fun........ Physics is my favourite science subject. I want to find out more about circuits."
Helen Chen Year 10
MISSION TO MARS
Across the Mission to Mars elective, students have been learning all about Mars and its capacity to host life in the future. The world has celebrated many achievements in space across the last few years that bring us closer to that reality, including the beautiful images provided by the James Webb telescope. 
We took a moment at the end of the term to reflect creatively on the beauty of space through a poem. Below is a poem from Lachlan Hicks (Year 9).
Ping Hu
Science Teacher
YEAR 7 VEGETABLE GROWERS CLUB
During the second semester a team of Year 7 students have been tending to the school vegetable patch. They successfully planted, cultivated and harvested beans, strawberries, radishes, choy sum, bok choy, cherry tomatoes and lettuces from seed.
While snails, caterpillars and white flies are always a challenge, Nesha Dona Gabadage, Charlie Robbie, Linh Nguyen, Danbi Cho, Vicky Bui and Matilda Ma managed the crops really well. The significant rainfall over the last few weeks was a big help.
A part of this project is to grow and learn about indigenous plants. Native basil, prostanthera rotundifolia, is about to be harvested by the students.  It will be dried out over the break and then cut up as a dried herb for culinary use.
Thérèse Sweeney
Science Teacher
---