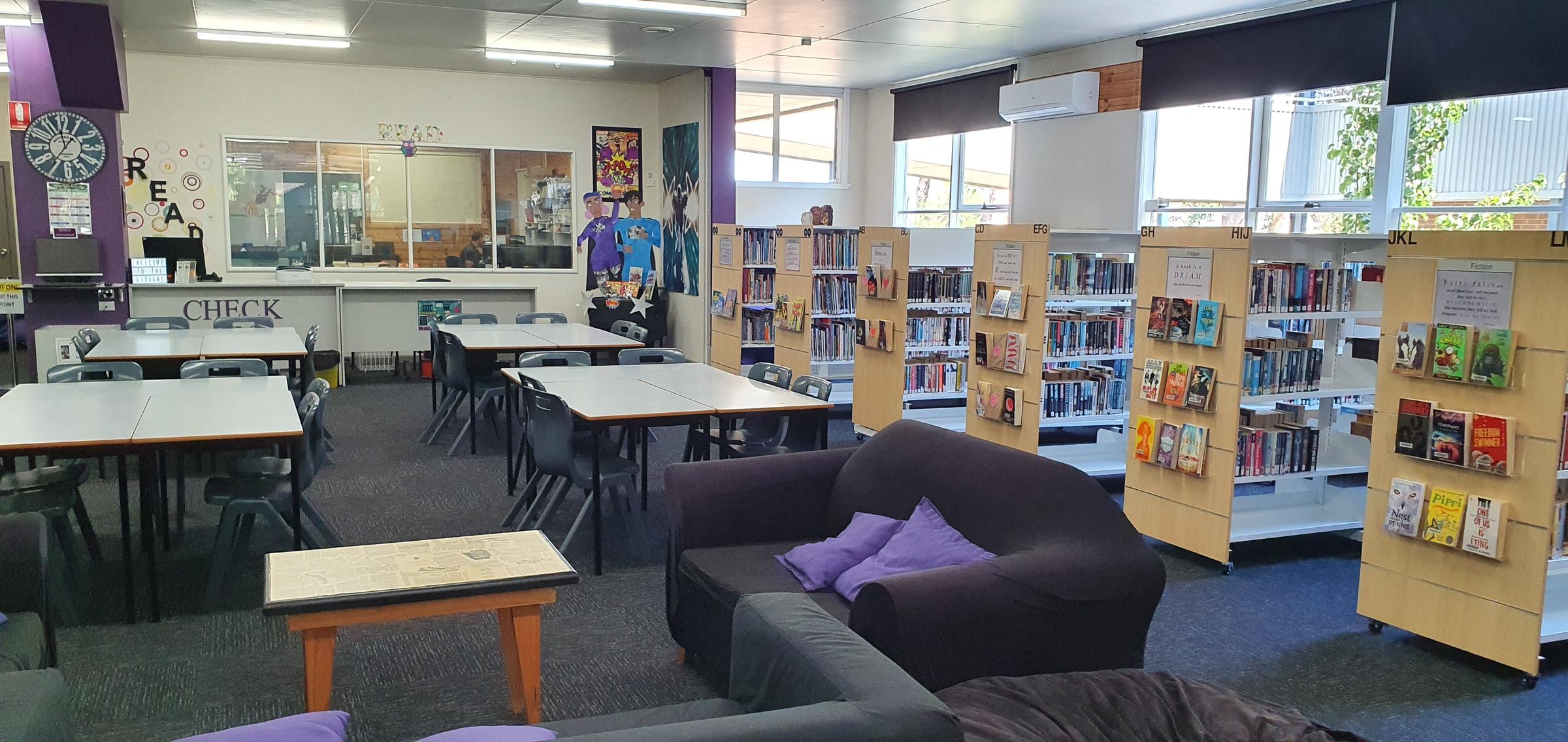 Welcome
The Library is open from 8.00am to 4.00pm each day, including recess and lunchtime for all students.
Librarian - Mrs Lynn Swannell
ICT Manager - Mr Kevin Hunter
ICT Technician - Mr Sam Karagiannis
Library Team 2022
Thank you to our Library Team for their work this term - Jake, Alex, Nicholas, Ruby, Ryan, Patrick, Charli and Harry (absent from photo).
Library Catalogue Online
Students can access our Library Catalogue via their Compass 'favourites' tab - look for 'Library Website'.  There is lots of information  on there, as well as access to the Library Catalogue in order to search for your favourite author, title, series - or just check out some of our new titles.  Students and staff also have access to audio and eBooks, as well as links to local public libraries and other organisations for their research needs.  
Victorian Premiers' Reading Challenge 2022
The Victorian Premiers' Reading Challenge is now open and MESC is excited to be participating. The PRC application offers a range of exciting features including:
access to a library catalogue (including book images and blurbs)
a modern user-friendly interface
rewarding  students with badges as challenge milestones are achieved
the option for students to mark books as a favourite, give them a star rating or complete a book review
The Challenge is open to all Victorian children from birth to Year 10 in recognition of the importance of reading for literacy development. It is not a competition; but a personal challenge for children to read a set number of books by 2 September 2022.
Children from Prep to Year 2 are encouraged to read or 'experience' 30 books with their parents and teachers. Children from Year 3 to Year 10 are challenged to read 15 books.
All children who meet the Challenge will receive a certificate of achievement signed by the Victorian Premier and former Premiers.
To read the Premier's letter to parents, view the booklist and for more information about the Victorian Premiers' Reading Challenge, visit: https://www.vic.gov.au/premiers-reading-challenge
MESC students who wish to complete the challenge this year will need to contact Mrs Lynn Swannell to register and for assistance with any queries.    
Book Reviews
Our Year 7 and Year 8 students have been contributing to the book reviews on our Library catalogue and some were also sent into 'The Great Accessit Book Review' for students (and school libraries using this system) around the world to read.
Congratulations to Patrick (7A), Nicholas (7A) and Sophie (7A) who have all had book reviews published on 'The Great Accessit Book Review' - showing a journey with reading 'The Hobbit', enthusiasm for 'The Last Wild' and amazement at enjoying 'We are Wolves' Congratulations to all three students - please continue to add your reviews for others to see and enjoy.