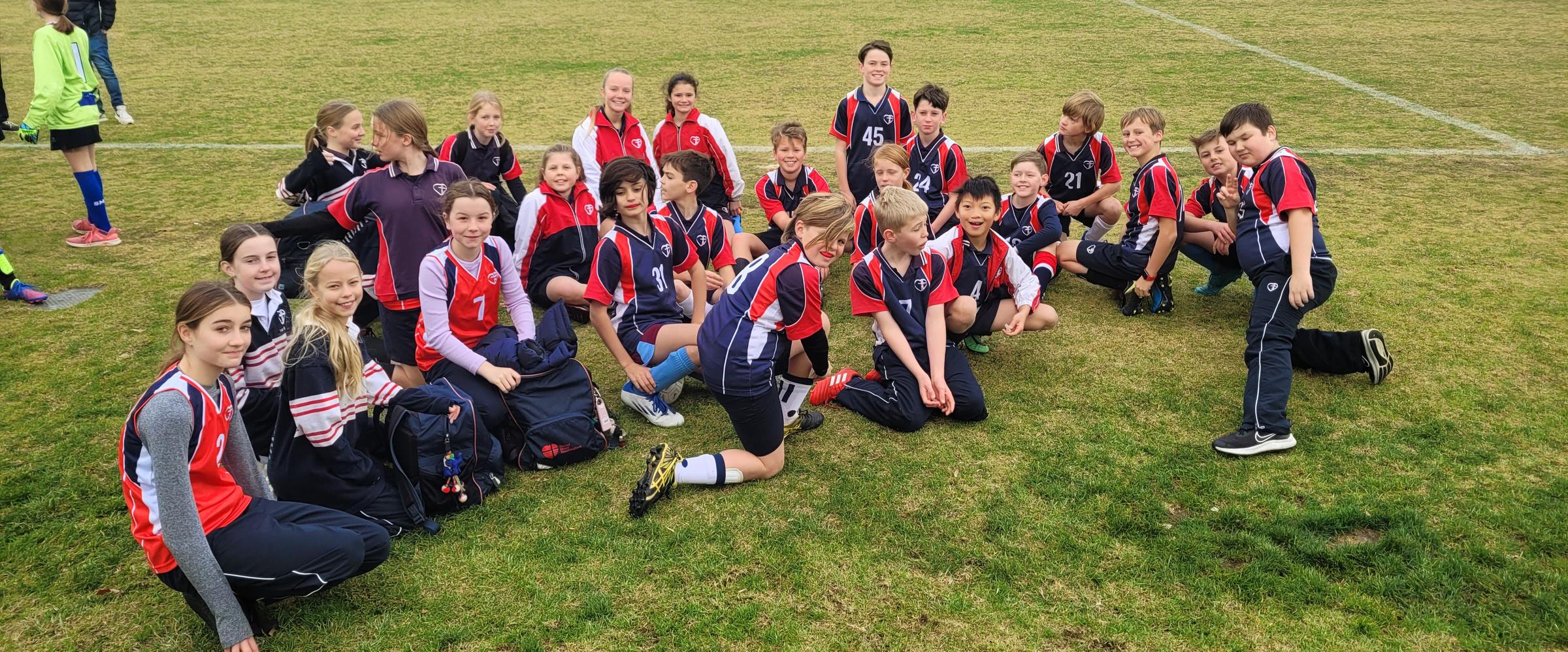 Sports News 
"Winning is something but participation is everything"
PE UNIFORM
Please ensure students wear their PE uniform on their scheduled day. With the cold Winter weather setting in, it's a wise idea to also have a long sleeved thermal/compression gear underneath their polo top in either white or navy. Students should also remember to bring their school jacket, casual wear hoodies are not acceptable uniform.
SOUTH METRO REGIONAL CROSS COUNTRY
Congratulations to Harry Hopgood for competing in the South Metro Regional Cross Country. Harry finished 27th overall - a fantastic achievement!
LIGHTNING PREMIERSHIPS
Grade 5/6 students had the chance to participate in Soccer, Netball & AFL Lightning Premierships last week and represented Sacred Heart fantastically each day.
SOCCER -
On Wednesday 15th June, Grade 5/6 students participated in the Soccer Lightning Premiership. The games took place at Dendy Park and although it was a cold and windy day, the weather didn't rain on us – so that was nice.
The boys team competed well, finishing with 2 wins & 2 losses for the day, finishing 3rd overall, just missing out on playing in the Grand Final.
The girls team, started the day asking "Which way are we kicking" and "What in the world does offside mean?" but through pure grit and determination they managed to secure 2 wins, 1 draw. Unfortunately they couldn't win 2 of their games, finishing 3rd overall, also just missing out on playing in the Grand Final.
A great day was had by all!
NETBALL -
Despite raining overnight, the weather held still and we were able to proceed with our Netball Lightning Premiership on Thursday 16th June. Sacred Heart entered 3 teams for the day, Girls, Mixed A & Mixed B.
Our mixed teams had a slow start but managed to gain a few wins throughout the day, most importantly enjoying themselves and showing great camaraderie.
The Girls team managed to win 5 games, draw 1 and lose 1 game during their qualifying rounds, which secured them a spot in the Grand Final and as runners up for the day!
AFL -
Our AFL team entered as the reigning champions from 2021 and were keen to perform up to that standard again.
They played well throughout the day, some enjoying splashing around in the mud more than others. Eventually our AFL team qualified for the semi-finals where they lost by 5 points to the eventual winners of the day. An excellent display of skills and sportsmanship by all students throughout the day!
TERM THREE SPORTING EVENTS
HOOP TIME
The first question I am asked at the start of the year is "When's Hoop Time?"
Basketball Victoria run the Hoop Time competition each year, allowing schools to enter teams in 3 different categories - All Star, for students that are very confident in Basketball, Future Star, for students that have experience in Basketball and Rookies, for students that have little to no experience.
This year 3-6 students have nominated if they would like to participate and will be placed into teams to represent Sacred Heart on the day. Students are extremely excited as COVID has not allowed us to participate over the last 2 years.
Hoop Time will take place at Melbourne Sports & Aquatics Centre (MSAC) on the following dates.
3/4 Hoop Time - Thursday 28th July
5/6 Hoop Time - Friday 5th August
We will require parent volunteers to help coach/supervise teams on the day, so please start checking calendars! Experience not necessary, just enthusiasm (and a valid WWCC!)
SCHOOL ATHLETICS - Tuesday 16th August
Our school athletics, at Sandringham Athletics Track, has also been victim to COVID over the past 2 years, and we're looking forward to once again being able to run this event!
Students will participate in their school houses and earn points throughout the day to see who is our overall winner.
Our 2019 reigning champions are Xavier house (red).
The School Athletics day is a mixture of fun events (such as the gumboot toss or the vortex throw) and athletics events (100m, shotput and long jump).
Once again, parent volunteers are essential and greatly appreciated for the day.
DENDY ATHLETICS - Tuesday 30th August
The Dendy Athletics will take place at Duncan McKinnon this year. Students in Grade 3-6 that wish to compete will need to attend trials at Sandringham Athletics Track from 7am - 8am.
Wed 17th August - 100m & Shotput
Thur 18th August - Long Jump & 800m
Fri 19th August - Triple Jump & 200m
Discus trials will be held at school (date TBC)
1500m participants will be chosen based on Cross Country results
Any students that wish to participate in hurdles or high jump will require a signed note from an athletics coach approving them, as these are specialised events.
Have a safe and fantastic holidays!
Yours in sport,
Trent Thiessens
---