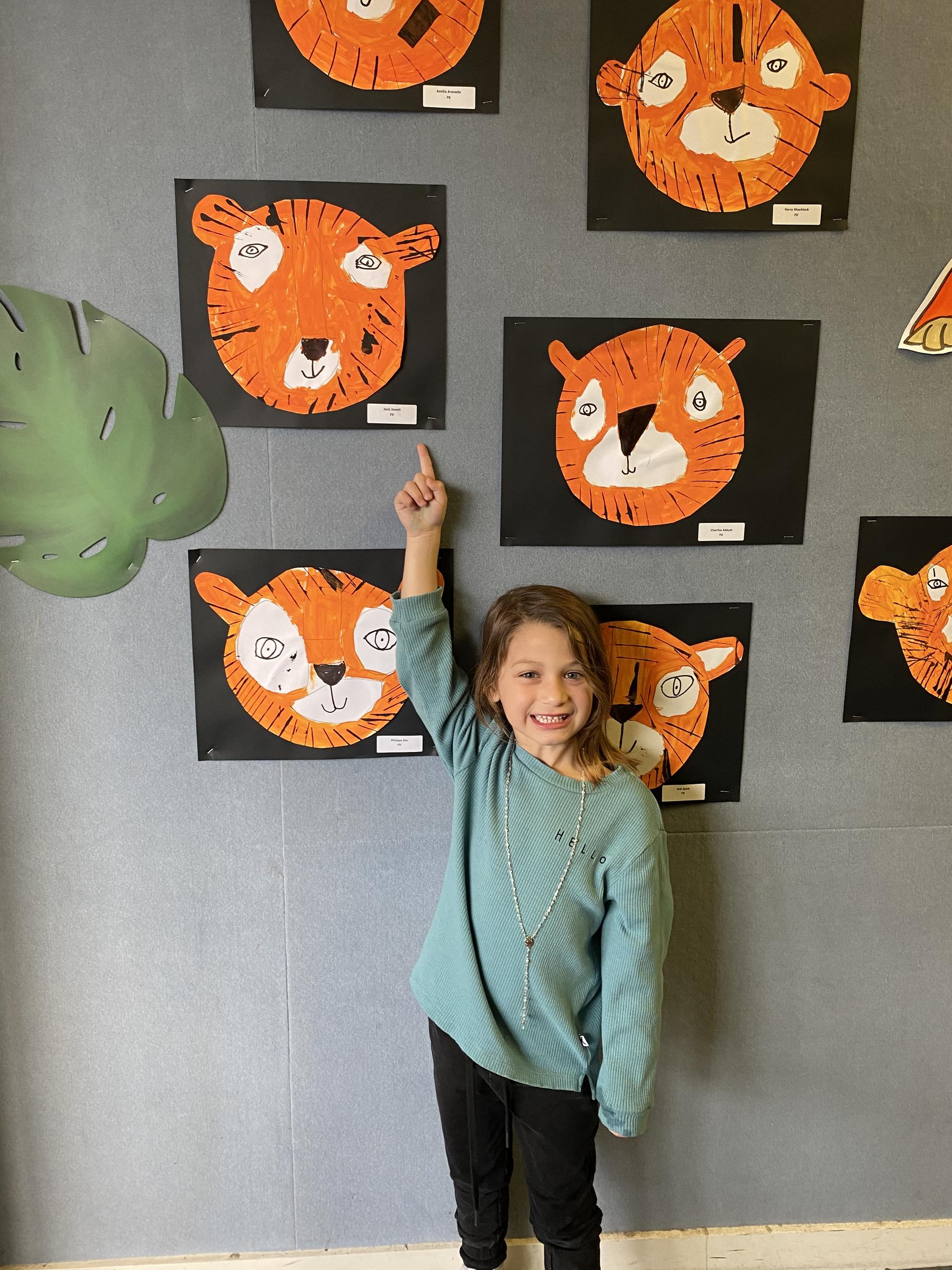 Principal's News
Where every child is known, challenged and supported to be lifelong learners.
Dear Parents and Friends,
Welcome back to Term 4, I hope you had a wonderful break and spent time resting, relaxing and catching up with friends and family.  It was lovely to hear so many families got to go away for the holidays. It seems like such a long time ago that we could get on a plane and take a well deserved break.
As with all terms, Term 4 is looking to be another busy term with lots of fun and engaging  cooperative activities planned for our children. 
Just a reminder that now we are in Term 4, we are in our summer uniform and hats must be worn. If your child does not have a hat please order one from the uniform shop. As of next week, if your child does not have a hat they will be asked to sit under cover of the verandahs until they purchase a hat.
ART SHOW
What a wonderful night we had on Tuesday. Thank you to all the families who attended to look at the fabulous art work that the children have been working on all year. The children were very proud to share their art work with you and Sarah was a very proud art teacher who was just as excited. 
The conversations and the reconnection between staff and families was lovely to see - it feels like we have not been together like that for such a long time. The conversations were lovely to hear and the feedback from the parents about the art work was amazing!  The Art Show will be sent home "virtually" Friday for those of you who could not attend and for those of you who would like to see it again.  The art work will be displayed for a few more weeks, so if you get a chance please pop in an have a look.
DENTAL VAN
We have booked a Dental Van to come to the school on Thursday 3rd and Friday 4th November (depending on how many families take up the offer).  Some families will be eligible for FREE dental care under the Child Dental Benefit Scheme (Medicare).  Families who are not eligible can still access the services for a $99 service fee (normally valued at $180). 
The service for Primary School students will include:
Full observation/written report
Clean
Fluoride treatment
(Added extra's including fissure seals, fillings etc are all subject to consent)
Please see the information attached regarding this service and how to book
NEW WEBSITE
We have launched our new website this week. We think it looks amazing and showcases our wonderful school!  Please jump online and have a look.
Click here for a look at the new St Brigid's website.
WALKATHON/FOOTY DAY - FRIDAY 14 OCTOBER
Our Year 6 Sports Leaders - Maddie, Roman, Marley, Ollie, Kaya, Beau have organised a fun footy morning to coincide with our Walkathon on Friday 14th October. The Sports Leaders have planned this day to raise money to buy new sports equipment for the classrooms - eg basketballs, tennis balls etc.  We are very proud of their initiative to come to me and discuss their plans and why they wanted to do the Walkathon and then go ahead and plan the day's activities. 
The day starts with a footy colours parade (I hope there will be lots of black and white!) followed by some football activities. After recess, we will start the Walkathon with the Foundation students heading off first for a walk around Mordialloc. 
A very big thank you to Pino (John and Nic's dad)  for the kind donation of sausages for the sausage sizzle that we are putting on the for students when they get back to school.  Thank you to Ryan and the team at Baker's Delight Mordialloc for donating the bread. The children will still need to order lunch (the Tuckshop will be open) or bring their lunch as they will only be receiving one sausage and a zooper dooper each. 
We are asking for a gold coin donation from each student in order to purchase the sports equipment.
STUDENTS NOT RETURNING TO ST BRIGID'S IN 2023
If you are not returning to St Brigid's next year can you please let me know as soon as possible as we are now in the process of looking at classes and class structures for 2023. (This does not include students exiting in Year 6). Can you please email me (not the office) and mark private and confidential at  wsullivan@sbmord.catholic.edu.au. Thank you in advance.
AIDAN DONNELLY
A very big congratulations to Aidan who represented Victoria in the Victorian Primary School team for Squash. Below is a little blurb from Luke (Aidan's dad) about the event.
Hi Wendy
Thanks again for all the support for Aidan and his squash trip.
In the Australian teams titles his Victorian team were competitive and going into the last day still had a chance of a podium finish but ended up 4th overall.
On a personal level Aidan played really well. Initially he was the 3rd ranked Under 13 boy in the Victorian ream but on the back of his performances in the individuals, by the time the team event came around he was promoted to number 1. Unfortunately for him this meant he was playing the best Under 13 boys (mostly twice his size and 18 months older) in the country but to his credit he preferred that to playing in a lower position where he would have had easier games.
One big plus was he made lots of friends with kids from all around the country and he already have invites to tournaments everywhere from Parkes to Cairns.
I've attached 3 photos, one is from his match against the NSW number 1 (Henry Cross from Parkes who is ranked 2nd in Australia under 13s - note the size difference!) one is with the Vic squad during a pre-match warm-up session and the 3rd is his U13 team mates.
Note - he lost against Henry but put up a great fight.
Yours in partnership
Wendy Sullivan
Principal
---