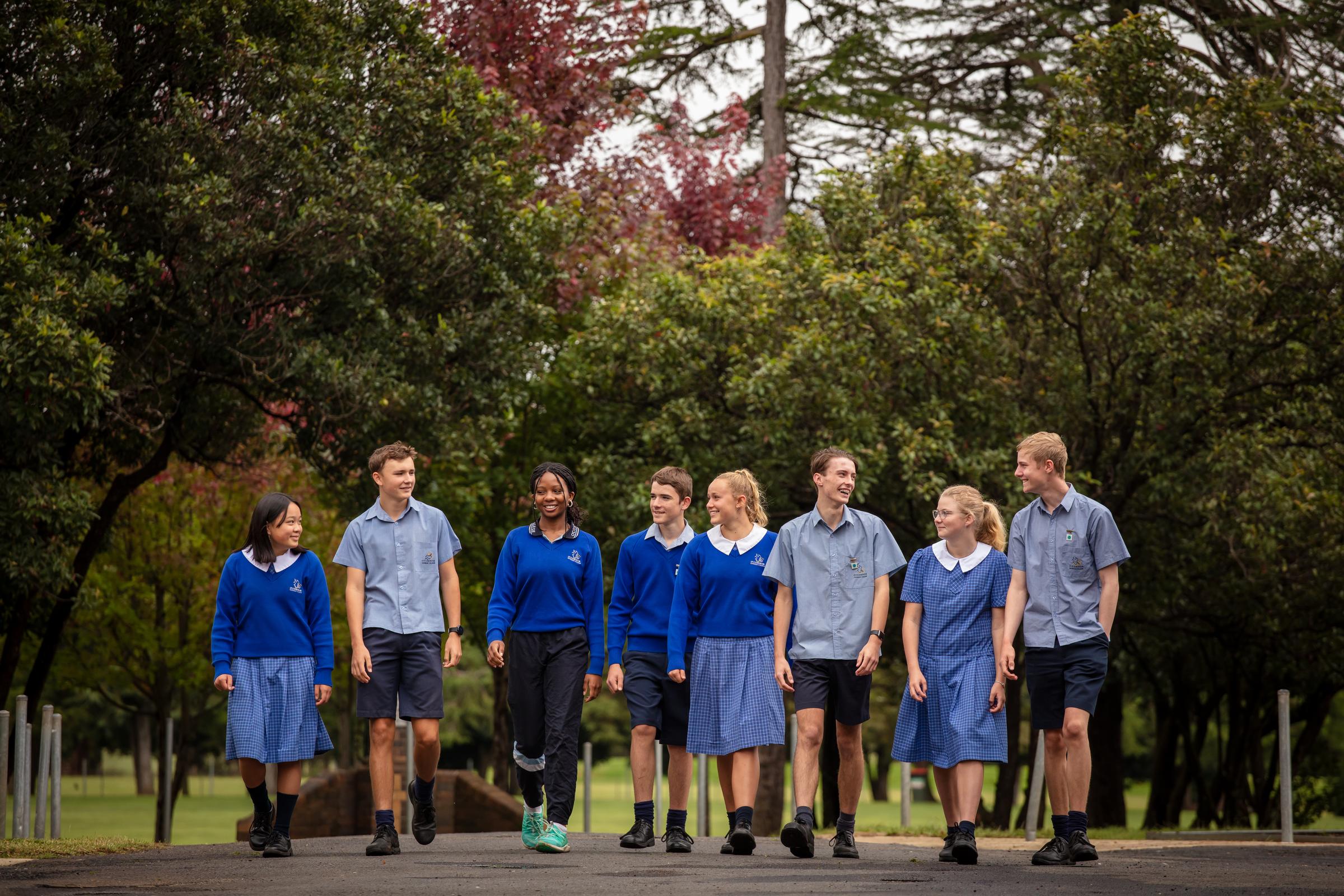 Assistant Principal / Leader of Pedagogy
To teach is to touch a life forever
The focus of my newsletter article in this issue is a bit different to normal.  Today, I'd like to write about our teachers. There are a few reasons for this focus.  I'm having a whole term off in Term 4 on long service leave.  Perhaps it's because I won't be in the classroom for so many months and I'm reflecting on this: What's it like being a teacher?  Also, there are three great teachers moving on with this term being their last with us.  Finally, we're celebrating Year 12 this week as they finish their formal schooling and graduate today.  There are no words that can describe the feeling of seeing young people grow from little Year 7 students into the young adults that leave us at the end of school.  Our school staff play a huge role in this development, and I thank them all for this.
To help put some faces on this story, I walked around the school this week and took photos of some of our great teachers in action.
The changing role of a teacher has been well documented.  Here are the official aspects of the role of a teacher:
Teach the Curriculum
Lead lessons for students of different abilities
Plan and prepare learning programs
Assess and report student progress
Develop teaching and learning materials
Liaise with colleagues, non-teaching staff and parent
These are each enormous jobs with many aspects.  I've been thinking of other parts of the role of a teacher.  Here are some.
Attend meetings.  Lots of meetings.  With actions needing to be done as a result.
Complete the teacher's accreditation and maintenance process 
Be a counsellor for students.  And fellow staff, parents and friends
Do playground duty, somehow being responsible for many students
Be an expert in the use of technology
Having resources for students who have forgotten to bring their devices so they can still access their learning
Having discussions with sometimes difficult parents who defend their children's actions
Organise events and excursions
Complete professional learning, sometimes in their own time
The above list would continue for more time than I have to write this article, but the editor is breathing down my neck!  As I'm married to her, I'd better do as she says.  Time to move on.
Unfortunately, there is a shortage of teachers around the nation.  This is in no small part due to the pressures the above job description brings.  Here are some statistics and predictions to help us all learn how bleak the future is.
It has been predicted that 50 000 teachers will leave the profession in Australia in the next five years, with around 5 000 of these aged 25 to 29. Another prediction is even worse. The Australian Institute for Teaching and School Leadership (AITSL) research found one in three teachers under 30 – and almost 40% of teachers aged between 30 and 39 – intended to leave the profession in the next decade. Low pay, heavy workload, stress and an inability to control the student population were among the top reasons given for planning to leave (Guardian, 2022).
O'Connor is not immune to the teacher shortage, but I'd have to say that I'm impressed at the dedication of our staff to keep turning up every day.  It's a hard job.  Further to this, our staff don't just turn up, they are working hard to deliver an excellent education to their students.
"Teaching is an exciting and rewarding career where you can help transform student lives through the delivery of quality education." (P. 1, Qld Dept of Education, 2020)
So, if it's all so hard, and the future is scary about it becoming harder, why do we do it?  It's because it is a great job!  It's wonderful to come to school each day and see the smiling faces of the students as they come in the gates.  Listening to the laughter of young people as they play handball in the quad outside my office is one of my favourite sounds. In the classroom, seeing the development of skills in students as they learn new things is a real buzz.  Sometimes, we meet students who walk in at the start of the year saying they hate this subject and can't do it.  Later in the year, they are asking for extra work to take home as they love learning.  That's an amazing feeling as a teacher.  Ringing a parent to give them food news, saying how hard their son or daughter is working with the student listening is a great feeling.  Seeing groups of teachers work together to improve the life of a student is awesome.  To teach is to touch a life forever!  
As I mentioned in the introduction, we have three teachers who are leaving us.  Dave Lush, Dea Trigwell-Lindley and Melita Roache.  All of these teachers are excellent practitioners who have given their all over their careers.  Dave is retiring after an excellent career and will be missed in our Science classrooms.  Dea is moving into the next stage of her life.  She will hopefully be back in the classroom in the future as she is a brilliant, caring and very effective young teacher.  Melita is continuing her school leadership journey as she moves to St Philomena's in Moree to take up the REC - Leader of Curriculim position.  Melita is an outstanding school leader who will add to to the learning culture at Moree.  If you would like more information about these three awesome teachers, read Mr Roff's article in this issue.
So, as our Year 12 students move on to the next stage of their lives, it's a time when teachers reflect on their profession.  Being a teacher isn't just a job; it's a vocation.  We are not teachers just from 8.30 am to 4 pm.  We are teachers who care for our students constantly: Thinking, analysing and reflecting all the time.  We are part of a team who works hard to help the students in our school to grow into fine young people who have a hope-filled future.  Young adults, ready to make a real difference in the world.  So, well done, Year 12!  You have made it!  Work hard as you get ready for your HSC exams.  Importantly, thank your teachers for everything they have done for you.  Finally, to our teachers: Thank you for everything you do.  Remember: To teach is to touch a life forever.
Stephen Chapman
Assistant Principal - Leader of Pedagogy
Never stop learning; for when we stop learning, we stop growing  - Jack Lewman
References
Life as a teacher: What do teachers do? Queensland Department of Education, 2020. Retrieved from: https://teach.qld.gov.au/become-a-teacher/life-as-a-teacher
'A perfect storm': government forecasts shortfall of 1,700 teachers in NSW.  Rose, T. and McGowan, M. The Guardian. March 16, 2022. Retrieved from https://www.theguardian.com/australia-news/2022/mar/16/a-perfect-storm-government-forecasts-shortfall-of-1700-teachers-in-nsw