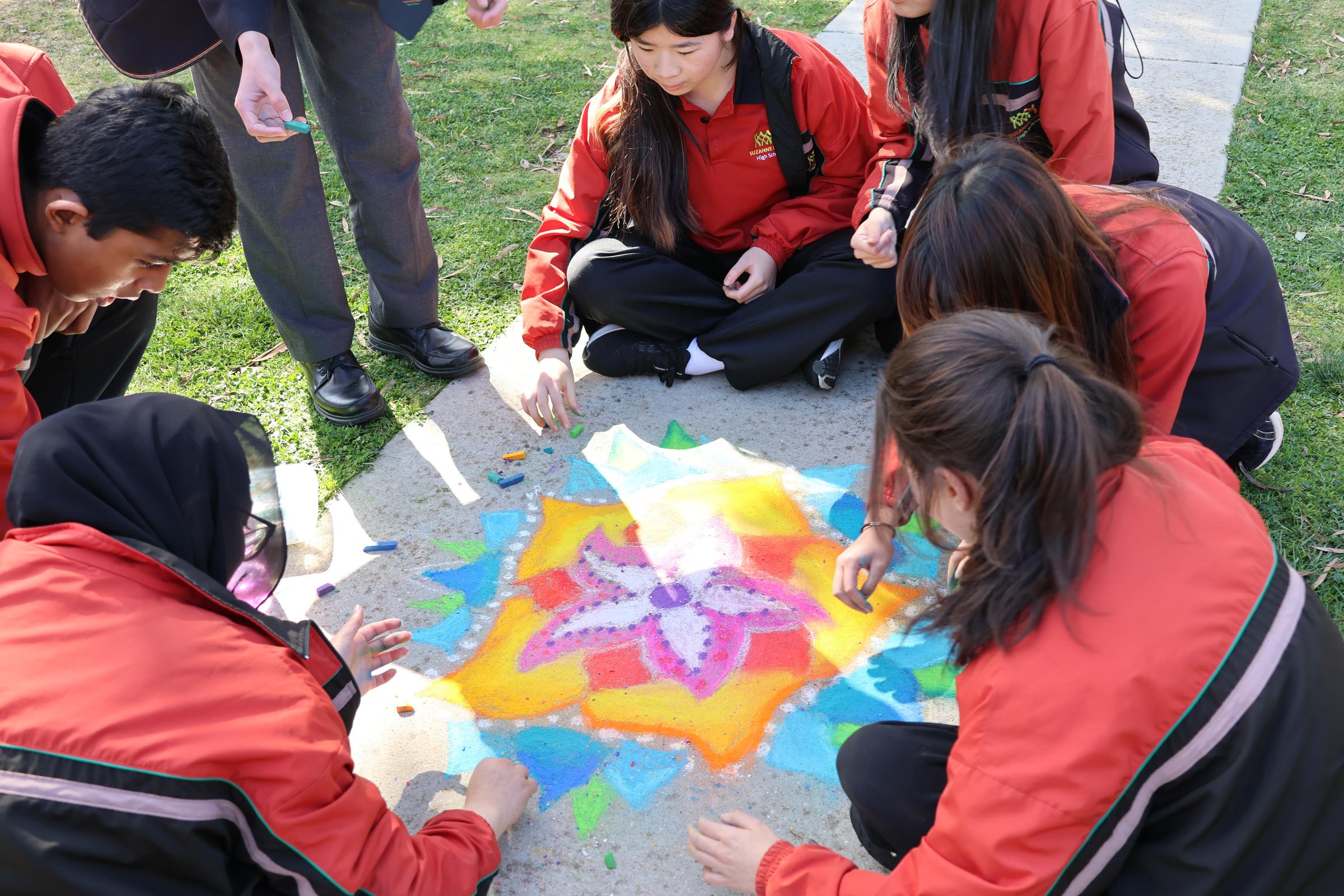 2024 Student Leaders
It is with great pleasure that we can announce the student leaders for 2024. Please find below the list of successful students who are stepping up for a leadership role in 2024. Thank you to all the teachers and students involved in this process. 
We had a huge volume of applications and the decision of who to appoint to each role was a tough one to make. A big thank you also to the outgoing student leaders from 2023. 
The changeover in leadership will officially occur after the year 12 celebration day (term 4 week 3) and some time for a handover will occur early in term 4. 
Congratulations to all successful students!
Meet our Whole School Captains and House Captains below.
Year 11 Psychology Excursion
Recently, our Year 11 Psychology students spent the day in Docklands to participate in activities designed to reinforce their understanding of Unit 2 concepts. The day began with a highly competitive scavenger hunt, which tested students' abilities to maintain specific social roles and influence the social behaviour of others around them. Congratulations to Tam, Shresty and Alesha for absolutely decimating the competition in the scavenger hunt! Then the afternoon was spent at the ArtVo gallery exploring visual perception principles and taking as many photos as possible. Overall, it was a fantastic day!
Our recent school excursion to ArtVo, the enchanting art museum known for its mind-bending murals of visual illusions, was nothing short of extraordinary. The Year 11, Unit 1&2 Psychology students embarked on a journey of creativity and wonder, as they explored immersive artworks that challenged perceptions and ignited imagination. From walking on walls to diving into whimsical landscapes, every corner offered a new adventure gaining hands-on experiences with the content that has been covered in class. The primary topic we covered was visual perceptions and illusions. We got the opportunity to pose and take some really cool pictures some of us were even able to travel to the Marvel universe and try lifting Thor's hammer. 
Amazement echoed through the gallery as students interacted with the art, capturing unforgettable moments through photographs. Overall each Artvo painting portrayed a different illusion, such as depth perception, top-down processing and a variety of pictorial cues. For example, the interposition in the beach-inspired mural with the jetski and the dolphin and the texture-gradient seen in the Arctic mural. ArtVo provided a unique opportunity for our students to appreciate the power of art in a playful and engaging manner, making learning a joyous experience. It was a day of delightful discovery and creativity, leaving everyone with cherished memories and a newfound appreciation for the world of art.
Trisha Vinesh Vijayan (K3
Year 10 Social
After three terms at school, the Year 10s finally got their long awaited Social on Wednesday September 6th. Everyone rocked up to Pelican's Landing in Williamstown and left with memories that they would cherish forever. With the popular photo booth, DJ and food, there was nothing holding anyone back. Us Year 10 SRCs also planned some awards for the cohort and below you can find the winners that got voted:
Social King - Jayesh Mohan
Social Queen - Anees Mahmoud
Life of the Party - Chinwe Ofoedu
Class Clown - Leo Wang
Most likely to drop out - Nior Khan
Best Duo - Bea Payla and Annakita Dowling
Cutest Couple - Sally Nguyen and Terry Nguyen
Best Dressed (Male) - Malcolm Felipe
Best Dressed (Female) - Ashmi Sarkar
The Social King and Social Queen gave us the most amazing speeches and the most entertaining slow dance too. The night ended with "A Thousand Years" as friends and couples jumped for the chance to showcase their love. Everyone went home with lost voices (from screaming song lyrics) and sore feet (heels were no joke) but nevertheless, still loved their Year 10 Social.
Your Year 10 SRCs (and your Year 11 SRCs for 2024)
Diya Sonu (B9), Rithvik Yadav (C6), Bea Payla (K1) and Jayesh Mohan (R7)
Book Week
During Week 7, the English faculty and the Library worked together to host a variety of Book Week events celebrating reading and writing.
The staff are chuffed to reveal they won the Staff v. Students trivia event. However our students still got to impress us with their literary talents. These students include Sebastian Herlihy and Nicole Nguyen who worked together to illustrate a chilling short story about a horrific crime (see Mr Pav if you want to read it!). Meet Shah took out the spelling bee and Kororoit and Blackwood were the winners of the debates; with Anjali Bijukumar (Rothwell) and Wen Shue (Blackwood) awarded best speakers.
We look forward to seeing even more participation next year, and put out the challenge for some students to try and dethrone the staff as Literature Trivia champions!
Science Week
National Science Week took place this year from Saturday 12th August to Sunday 20th August. The 2023 theme was 'Innovation: Powering Future Industries'.
Every day during Science Week, there were a variety of activities that our Science enthusiasts took part in. 
On Monday, we started off with a general Science Kahoot in which our amazing students Heli P, Tanisha B and Sinali U succeeded as Top 3 - well done!
On Tuesday, we had a challenge where students will try to break an egg by throwing it. And believe it or not - there was not a single student who managed to break any eggs! Better luck next year kids!
On Wednesday, we had a Taste Perception Test where students tried a number of food and drink items whilst blindfolded. Congratulations to Cottrell for gaining the most points!
On Thursday, we ran the highly anticipated Chemistry Drop the Base competition where Science teachers competed against student pairs to perform a perfect titration. Congratulations to Ms Cook who won and danced her heart out (a requirement for this competition, of course).
On Friday, we ran a Staff vs Student Biology Family Feud hosted by Mr Duckworth. Our students were outwitted by our Science teachers - a redemption from last year where our teachers lost. 
Lastly, we ran a Photography competition where students submitted a photograph that related to the Science Week theme, 'Innovation: Powering Future Industries'. Congratulations to Bea P who won with her photograph titled 'Discovering a Way to Seize Time'.
Thank you to all the students and teachers who participated in Science Week!
Ms Lam (Science Faculty Coordinator)
Nilumbik youth writing competition
Attention keen writers, there's a writing competition run by the local council for Nilumbik (north-east of Melbourne) which has two categories open to youth writers. 
Details as follows, and at Nillumbik Prize for Contemporary Writing - Nillumbik Shire Council- closing date 5pm on October 2- short story category 
- stories of up to 2500 words with the theme 'resistance'  (Year 11s - any climate change 'resistance' stories you're proud of?)
- memoir category - personal / biographical writing up to 2500 words with no theme
- each of these categories has a youth section for writers aged 11-21
- entry is free, and you can enter up to 3 pieces into each category
- entries must not have won prizes in any other competitions
- prize money for each category is $1000
- anyone who's under 18 entering the youth category must have parental permission
If you're interested, you've still got 2 weeks to polish a story and get it in. Submission is through the Submittable app - you'll need to set up an account for this, but it's simple and free.
The Age essay competition
If you're passionate about issues, this writing competition may be one for you. This is essay writing rather than short story writing, but they're still looking for a personal voice: 'The judges will be looking for original, compelling content that has not been previously published (including in school newspapers or other competitions), that demonstrates excellent writing skills, has an engaging voice and style, that makes a compelling argument and that is topical and thought-provoking.
'Winning entries will be published in 'The Age' and will win $1000 ($500 for runners up) as well as other prizes.
Divided into two age groups - 14-18 (up to 800 words) and 19-24 (up to 2000 words) - entrants are invited to respond to current issues, choosing from one of the following essay topics: - what makes you optimistic about the future of Melbourne or Victoria?;- how is Victoria different from the rest of the country and how have those differences been established?; or - What is the one law you would change and why?Competition closing date October 2See this article for the details and the link for submissions: https://www.theage.com.au/politics/victoria/the-age-launches-new-essay-award-for-young-writers-20230814-p5dwai.html?utm_medium=Social&utm_source=Facebook&fbclid=IwAR1HYs3CUrq4QCBrbVXuKCrB14DUb44NQalycfZ9DDazdjEjxtvu2MnPLW8#Echobox=1693183192
Year 11 students - if you wrote in a compelling way about a climate change issue earlier this year, this could be the place for it.
Chamber Strings Ensemble
On Friday September 1st, the SCHS Chamber Strings ensemble performed at the Wyndham Learning Festival launch at Wyndham Cultural Centre.
These students have attended weekly rehearsals all year with our string teacher Ms Odgers, and put a great deal of effort into refining their ensemble skills and improving their musicality. The learning festival was a great opportunity for our hardworking instrumentalists to demonstrate how their hard work has paid off. Well done to Keerthana, Elina, Grace, Milica, Muhtasim and Zaeena.
State Schools Spectacular
The Victorian State Schools Spectacular is an annual production featuring talented student musicians, dancers and singers from all around Victoria. This year six students from Suzanne Cory High School participated in the event. Keerthana Karthik was in the choir, Mandy Diep and Elina Widjojo played violin in the orchestra and Ojas Panat, Vijval Jain and I were in the Drumline. It's my second year of being part of something so special and the feeling of performing in front of 14,000 people over two shows will never ever fail to leave me stunned. The lights, cameras, costumes, bustling atmosphere and the close friendships we've formed made the show truly spectacular (pun intended)! 
Table Tennis Club
I want to extend my heartfelt gratitude to students who were part of the Table Tennis Club at Suzanne Cory High School over the past few years. Your enthusiasm and participation have contributed immensely to the success of our club. Last year, I initiated Table Tennis Club to promote the physical activity of students at our school. It has been an incredible journey watching our club grow and thrive. Every Monday lunchtime in the Gym, we came together to not only play table tennis but also to foster an inclusive and vibrant community within our school.
Our club has not only provided a platform for fun and physical activity but has also been a place where we learned and honed new skills. We've also facilitated training sessions for both interschool girls and boys table tennis teams. Last year, thanks to the support of Reclink Australia, we were able to expand our club's resources. We secured sponsorship for two new table tennis tables along. This year we bought  additional equipment like bats and balls. This support has been instrumental in elevating our club's experience and opportunities for all members.
I would also like to express my deep appreciation for Ms. Guastella, whose unwavering support has been instrumental in the club's success. Her guidance and encouragement have been invaluable.
Signing off, your table tennis club leader, 
Aanchal Sharma
Tarneit Co-design Project
Aanchal Sharma and Gayathri Prakash worked with a group of young people on a co-design public art project in Tarneit with YLab, Wyndham City Council, Fireflies Festival and the Department of Jobs, Skills, Industry and Region. Our team crafted a sign, comprised of individual letters that spell out the word 'Tarneit'. The letters were showcased at the Fireflies Festival in Tarneit, where festival attendees were encouraged to paint on the letters to promote creative input from locals. During the co-design process, we recognised that young people felt there was a lack of public art that represented local creativity. I was involved in communicating with Wyndham Council members, local organisations and community members and Gayathri was involved in marketing and promoting the event.
I believe that this sign empowered locals with the opportunity to feel invested in a piece of public art by expressing themselves creatively as a community.
Aanchal Sharma R8
Onam Chalk Art winners
As the weather has been warming up, students participated in the Onam chalk art competition. Each group created such beautiful design.
Students voted on
The results are in... the winning design is... Artwork 1!
Members of the winning team can collect their prize at the beginning of term 4.  
- Cultural Celebrations Committee
---