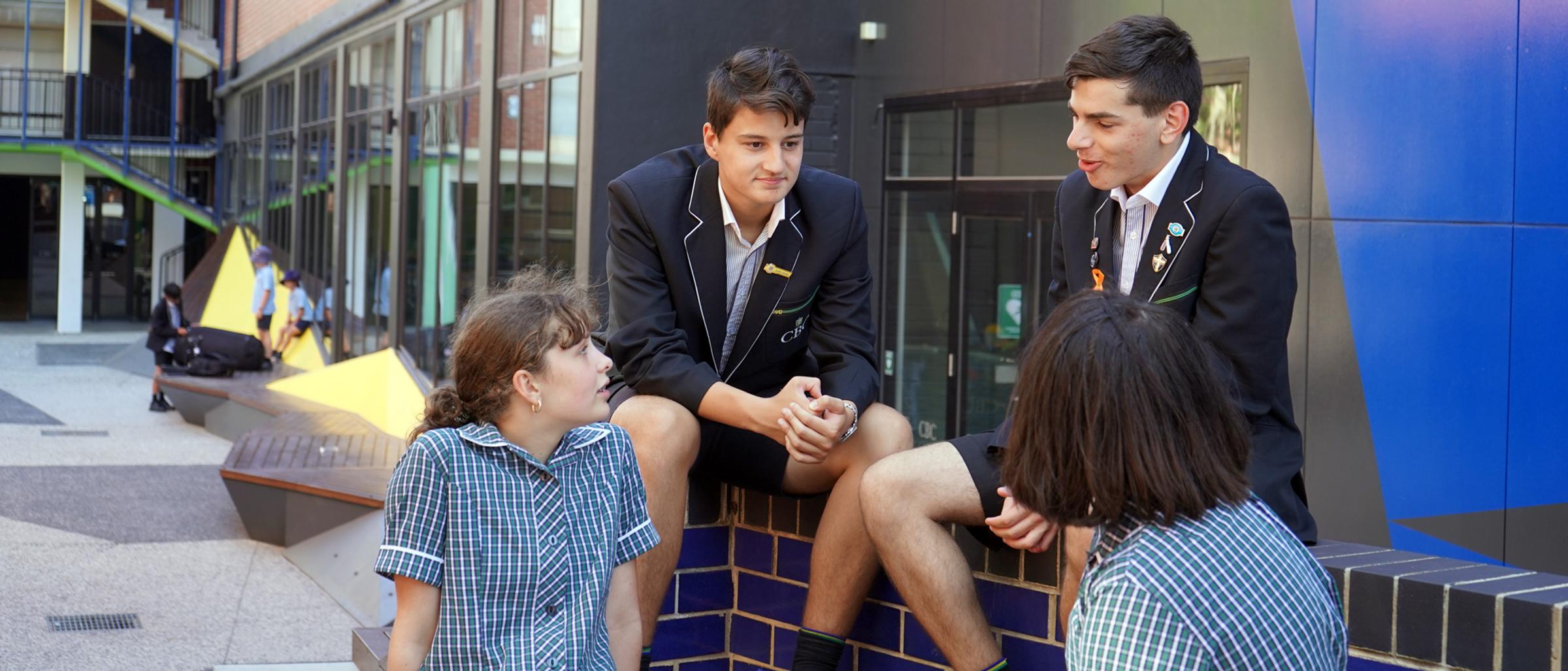 Reimaginings:
CBC Futures Update
FREQUENTLY ASKED QUESTIONS  #3
We've put together some FAQs on the latest developments in our transition to becoming a co-educational College. 
Q Is the College school changing its name?
Yes! 
In 2021 CBC St Kilda will be enrolling girls for the first time in its 142 year history and we are really excited about this prospect! This will be the first co-educational, mainstream EREA school in Victoria and the only co-educational Catholic school in central Melbourne. In light of our new context as a reimagined school with a new, inclusive identity, it has been proposed that the name of the College change.
We've asked our students, staff, families, friends, prospective families and alumni what they think and the large majority are in favour of a name change to fit our new context. We have shortlisted names and presented them to focus groups including our Student Representative Council, P&F and College Board. The final name will be approved by the EREA Board and Catholic Education Melbourne and will be released very soon! 
Q Which education model will be followed? For example, will it be co-education or parallel education?
Watch this space - we've just about finalised a model.
Our model of education will be determined by our context, our consultation, our research, our student numbers and our overall vision for education. We've worked through a lengthy process to come up with a number of different models which will be presented to parent groups over the coming weeks. 
Whatever model is decided on, there will be some mixing of girls and boys. This will help to prepare them for our senior classes which have been co-educational in our partnership with PCW for many years.
Q Which campus will my child be based at?
Students will have a 'home' campus. 
Each year level will have a home campus where they will have the majority of their classes. There will be some movement between campuses to make the most of the amazing facilities and grounds we will enjoy in 2021. Take a tour of our campuses here:
Q Will I need to buy a new uniform? 
Not yet. 
Next year, students will help us design our new uniform and we will have a phasing-in period.  In the meantime, girls will be able to wear and purchase the PCW uniform.
Q How will my child be prepared for a co-educational school?
Through a Transition Program.
With help from parents, students and staff, we have developed a Transition Program that will help all students feel comfortable and ready to be a part of a co-educational school. 
The program will feature student-led tours of both campuses, 'taster' elective classes, afternoon teas with Program Leaders and key staff, coeducational activities, a forum for students to raise ideas, suggestions and concerns, combined student leadership initiatives and activities, and the subject selection processes which includes careers and subject counselling. 
Respectful relationships will feature in our pastoral care program this year and into the future. 
Q How are staff being prepared for a co-educational school?
Through planning and professional learning. 
Much of the focus of our professional learning this year focuses on preparing to educate girls as well as boys. Staff are considering things like text choices, sports offerings, and subject choices. We are concentrating on how to foster a sense of belonging and engagement in classes, how to challenge stereotypes and how to cater to the individual learner. We are partnering with Leanne Higham from La Trobe University and Catholic Education Melbourne to help us with this. 
Q Will there be PCW staff in the new school?
We hope so.  Staffing arrangements depend on student numbers. Where possible, we would love to have PCW staff join us to provide a sense of familiarity to the girls. Our future recruitment will always focus on getting highly professional and effective staff who can best meet the needs of our students. The more our enrolments grow, the more our staff will grow too. 
Q How do I enrol my child? 
It's easy! 
For girls currently enrolled at PCW - a place has been reserved if enrolment is sought. Families will still need to complete an enrolment form, found on the CBC website. The application fee will be waived for 2021. Enrolments are subject to CBC gaining VRQA approvals for co-education. For all other enrolments – please refer to the CBC website for information. 
Q How can I find out more information? 
Our fortnightly Newsletter has updates in each edition in the 'Reimaginings' section. Also follow us on Facebook for regular updates. We are also happy to answer any questions you might have if you contact us via email or on the phone. 
We also have three Virtual Tours on our website.
Jenny Knox | Director of Innovation and College Development
---